Man killed by crocodile in East Kutai

Balikpapan |

Fri, March 2, 2018

| 06:39 pm Fatal attack: Local residents catch a crocodile on Thursday, which had attacked a man in Marukangan village, Sandaran subdistrict, East Kutai, East Kalimantan. (Courtesy of the Sangkulirang Police/File)
A resident has reportedly been killed in a crocodile attack in Marukangan village, Sandaran subdistrict, East Kutai, East Kalimantan. The remains of the man's body, identified as Andi Aso Erang, 36, were later found inside a crocodile caught on Thursday by local residents in Kabuyahan River near the village.
Aso Erang was reported missing on Wednesday after he told his family he wanted to search for clams in the river. Accompanied by several villagers, Aso Erang's wife Annisa went looking for him at the river on Wednesday evening, finding his flip-flops and motorcycle on the riverbank.
Aso Erang's body was found on the riverbank at around 3 a.m. local time on Thursday, with no legs or left arm. The residents later brought the body to his parents' home in Sandaran.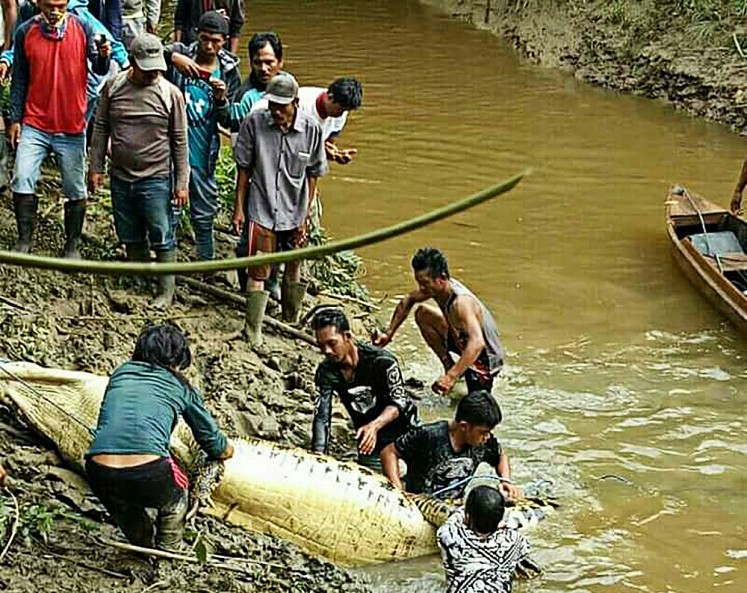 Mauled to death: Local residents prepare to cut open the stomach of a crocodile presumed to have killed a villager in Marukangan, Sandaran subdistrict, East Kutai, East Kalimantan. (Courtesy of the Sangkulirang Police/File)
Continuing the search, Sangkulirang Police officer Eko Supraptono spotted a six-meter long crocodile, with a diameter of almost one-meter, near the location Aso Erang was reported missing. He shot the crocodile five times, suspecting it was the one that had attacked the Marukangan villager.
The police and several villagers then pulled the dead crocodile out of the water and cut open its stomach, where they found Aso Erang's left arm and legs.
"The rivers in East Kutai are the natural habitat of crocodiles. So we urge residents in the surrounding areas to be extremely careful when entering the river," Sangkulirang police officer Teddy Ristiawan said.
In 2016, seven people were killed in ten crocodile attacks in East Kutai. (sha/ebf)
Join the discussions