Candidates vow to improve welfare in Papua
Nethy Dharma Somba

The Jakarta Post
Jakarta |

Tue, March 6, 2018

| 05:45 pm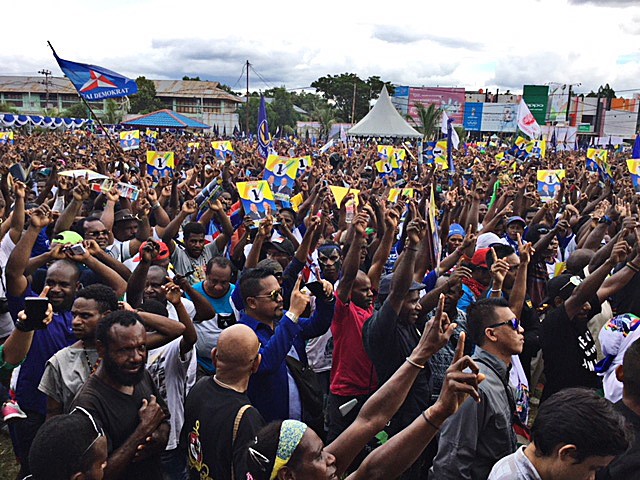 Showing support: Thousands of supporters attend a campaign event held by Papua governor and deputy governor candidates Lukas Enembe and Klemen Tinal at Theys Hiyo Eluay square in Sentani, Jayapura, Papua, on Thursday (JP/Nethy Dharma Somba)
Papua gubernatorial candidates have promised to prioritize programs to improve the livelihood of Papuan people.
With fewer than four months left before regional elections are held, two gubernatorial candidate pairs stated on Tuesday their vision and mission in an event held at the Papua Legislative Council. Acting Papua governor Soedarmo attended the declaration.
Lukas Enembe and Klemen Tinal said they would continue to build upon programs they had initiated, claiming to have achieved targets set during their term, in which they disbursed more special autonomy funds to regencies and municipalities across the province.
"This is because Papuans are concentrated in regencies and municipalities," the pair said on Tuesday.
The two candidates promised to focus on the health and education sector should they be elected. Meanwhile, candidate pair John Wempi Wetipo and Hebel Melkias Suwae promised they would also focus their works to boost people's confidence and sovereignty in all aspects of life, as well as to build a clean administration.
Appreciating both candidate pair's campaigns, Soedarmo said every Papuan must maintain order and security during the election. Several surveys show Papua is among vulnerable regions in the 2018 simultaneous regional elections. (kuk/ebf)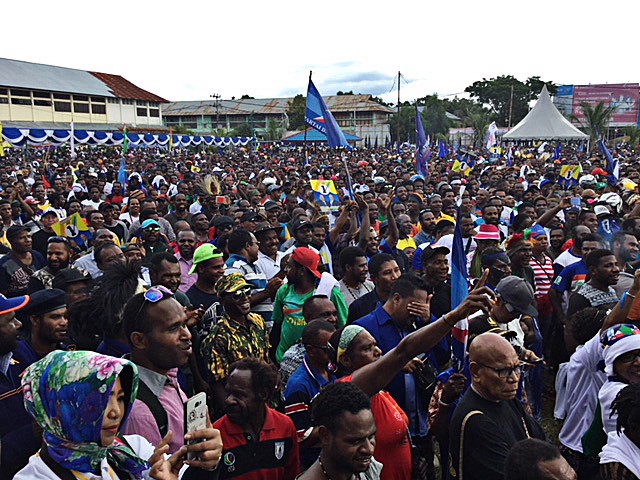 Enthusiastic: Thousands of people show their support for Papua governor and deputy governor candidates Lukas Enembe and Klemen Tinal (Lukmen) in a campaign event at Theys Hiyo Eluay square in Sentani, Jayapura, Papua, on Thursday (JP/Nethy Dharma Somba)
Topics :
Join the discussions