Indonesians in Sydney welcome Jokowi
Anton Hermansyah

The Jakarta Post
Sydney, Australia |

Fri, March 16, 2018

| 07:22 pm Warm welcome: Indonesian students and workers welcome President Joko "Jokowi" Widodo upon his arrival at the Four Seasons Hotel in Sydney on Friday. (JP/Anton Hermansyah)
Indonesians residing in Sydney, Australia, packed several locations across the city on Friday to welcome the arrival of President Joko "Jokowi" Widodo.
Hundreds of Indonesians comprising students and workers gathered at Sydney's international airport from 5 p.m. local time, with President Jokowi scheduled to arrive at 6 p.m.
Gabriel Kenley Tjhin Hartanto, 20, the president of the Indonesian Students Association at the University of Sydney, told The Jakarta Post that many students living in other cities such as Wollongong and Newcastle had also come to welcome Jokowi at the Four Seasons Hotel, Sydney.
"We want to give our support to the President and the Indonesian government."
(Read also: Indonesia, Australia to revisit maritime border agreement)
Jokowi is in Australia to attend the ASEAN-Australia Special Summit, which will be focused mainly on economic cooperation and counterterrorism.
Kenley said he hoped Indonesia could increase exports to Australia, especially since both countries were working on the Comprehensive Economic Partnership Agreement (CEPA). Currently, Indonesian products face difficulties in entering the Australian market, he said.
"We hope more Indonesian products can enter the Australian market because this is one of strictest markets in the world," he said.
Yosi Sianturi, 40, a housewife, said she monitored updates of the political, social and economic situations in Indonesia every day and she felt the current government had made a lot of progress.
"When Indonesia's economy gets more advanced, I will return there," said Yosi, who has been living in Australia for nine years and has permanent residence. (ebf)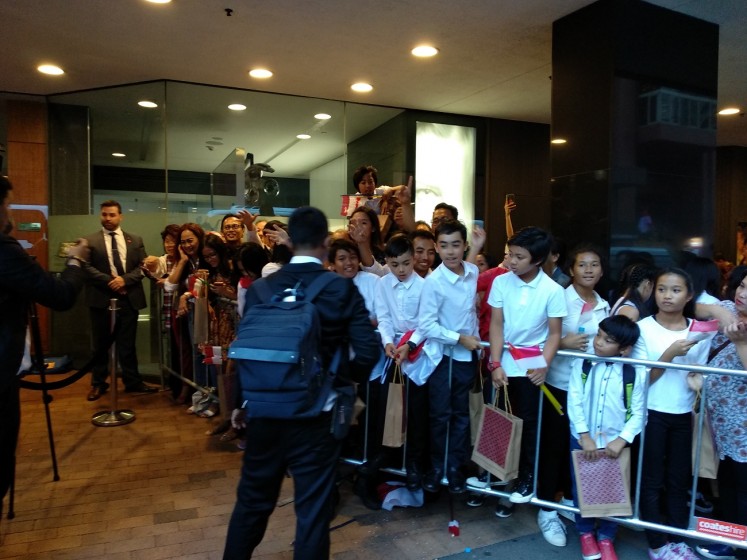 Welcome Mr President: Indonesiansliving in Sydney, Australia, prepared to welcome President Joko "Jokowi" Widodo at the Four Seasons Hotel on Friday. (JP/Anton Hermansyah)
Join the discussions