Will internet access in Bali be turned off at Nyepi?
Ni Komang Erviani

The Jakarta Post
Denpasar, Bali |

Fri, March 16, 2018

| 06:59 pm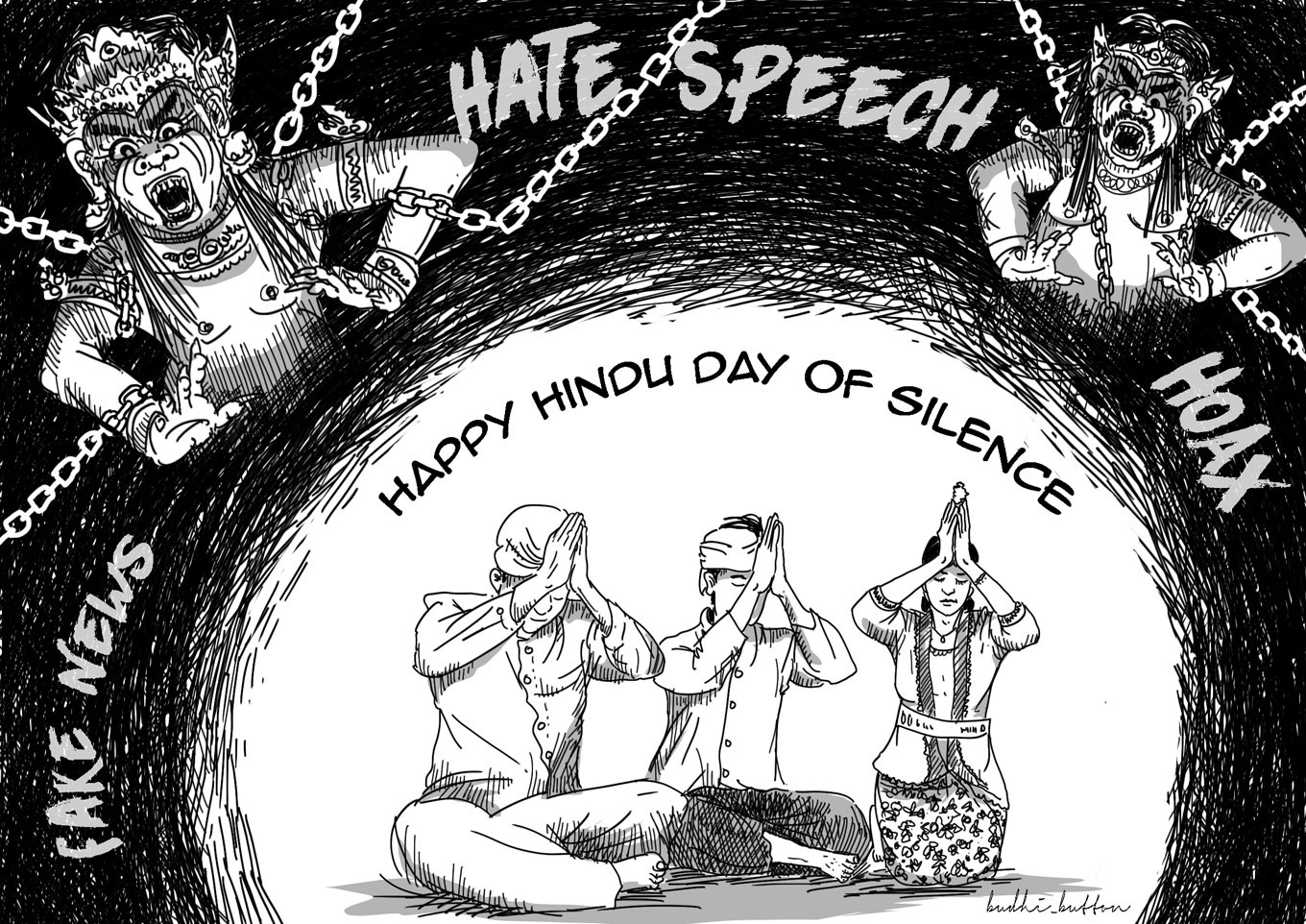 For the Balinese, Nyepi is a day of reckoning and resolution. It is a time to recollect and make amends for past mistakes and a moment to make steadfast commitments for the future.  (JP/Budhi Button)
Nyepi (Day of Silence) will see Bali with no internet access. The internet will be limited or even shut down on the island for 24 hours from 6 a.m. on Saturday to 6 a.m. on Sunday.
Strategic facilities like hospitals will be spared from the restriction.
The policy, issued by the central government, was made after the Bali Religious Council called on internet providers to shut down operations in Bali to ensure Nyepi, a holy day for Hindus, ran smoothly.
The Communications and Information Ministry responded to the call by sending notices to internet providers, requesting that they respect the call. The ministry, however, is not forcing providers to turn off internet access.
"However, we hope the providers will oblige for a more peaceful Nyepi," said the head of the Bali Communications and Information Agency, Nyoman Sujaya.
Telephone and short text message services will operate normally at Nyepi.
The chairman of Bali Internet Providers Association (APJII Bali), I Gede Yudhatama, said the association had agreed to block only social media in Bali during Nyepi on Saturday.
"From several meetings, we found the urgency is to block access to social media, not to turn off all internet access," the APJII Bali chairman I Gede Yudhatama told The Jakarta Post on Thursday.
The social media platforms to be blocked during Nyepi is still being discussed. However, he said it would at the very least affect Indonesia's top five: Facebook, Instagram, Twitter, Line and WhatsApp.
Gede said the decision was made after the APJII heard the explanation from the inter-religious leaders regarding their call to turn off internet access.
Operators have said turning off the internet service would be technically difficult. Gede said it could have a serious impact on customers as many, like hotels and hospitals, stored their data on the internet.
Gede expressed hope that the call would be met by all members of APJII Bali, with a total of 53 providers.
Telkom Indonesia has announced that it will turn off its Indihome internet and TV service for 24 hours. "Telkom as a state firm providing digital communication service will follow the government's policy," said the general manager of Telkom Denpasar, I Komang Widnyana Karang.
Internet provider Tri has also announced through text message to customers that internet access will be limited. Telkomsel has done the same.
Bali Interfaith Communication Forum (FKUB) chairman Ida Pengelingsir Agung Putra Sukahet said the religious leaders felt the need to block social media to make the Day of Silence more solemn. "Social media have become distracting and they disrupt Nyepi," he said.
The chairman of the Bali Hotel Association, Ricky Putra, said the hotel management expected to obtain clear information about internet access and relay it to hotel guests.
A Denpasar resident, Tri Wahyuni, said she hoped she could still access the internet on Saturday. But the native of Palembang did not mind not accessing Facebook for a day. (evi)
Topics :
Join the discussions