Arief Hidayat inaugurated as Constitutional Court judge despite criticism
Marguerite Afra Sapiie

The Jakarta Post
Jakarta |

Tue, March 27, 2018

| 07:01 pm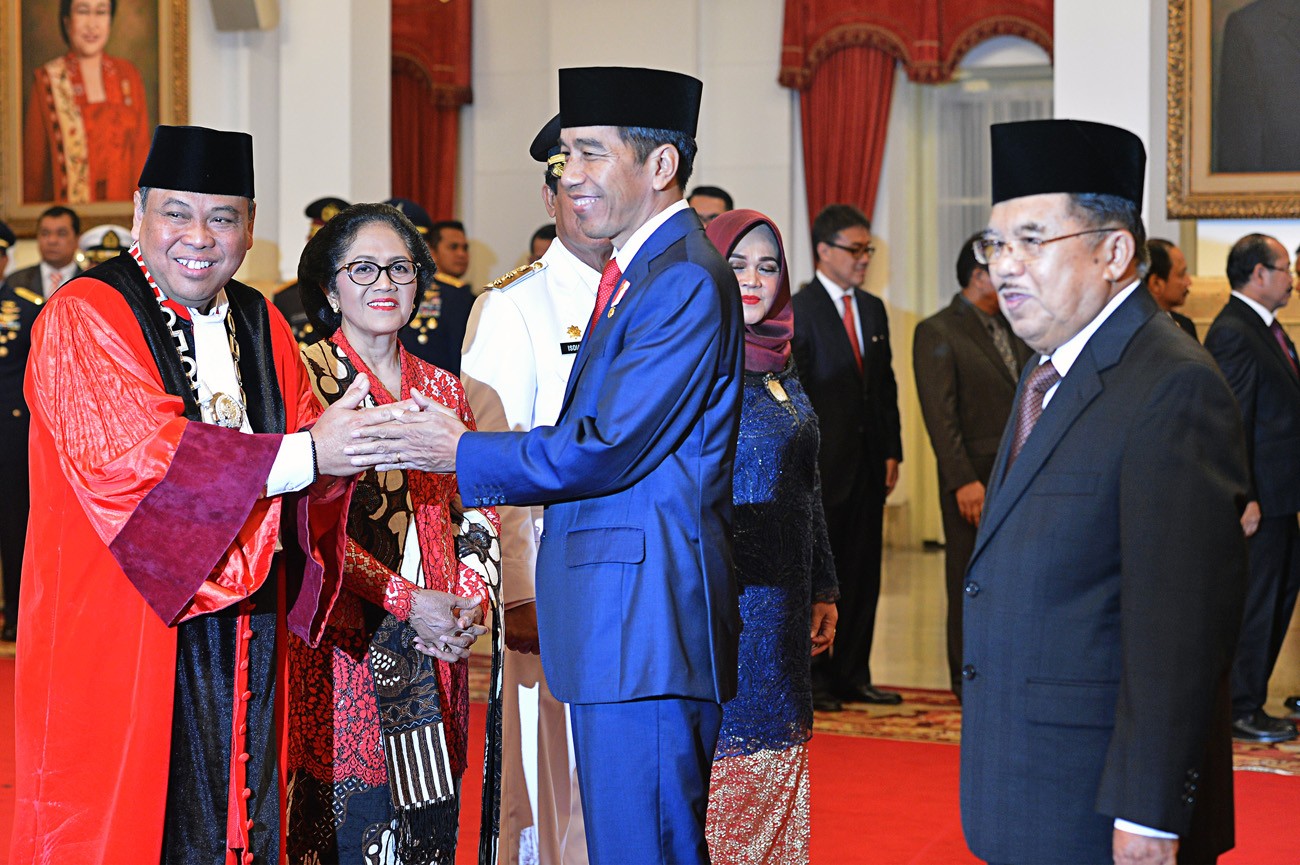 New task: President Joko "Jokowi" Widodo (second right) congratulates Constitutional Court chief justice Arief Hidayat (left), witnessed by Vice President Jusuf Kalla (right), after his inauguration at the State Palace in Jakarta on March 27. Arief was inaugurated as Court chief justice for the 2018-2023 period. (Antara/Wahyu Putro A.)
President Joko "Jokowi" Widodo inaugurated on Tuesday Arief Hidayat as the Constitutional Court chief justice for his second and final term despite mounting public calls for the justice to step down from his post.
Elected by the House of Representatives, Arief will serve in the post for the next five years. He has already served at the court for five years since 2013.
The 62-year-old justice was elected as the Court chief justice, replacing Hamdan Zoelva, in 2015. Arief was re-elected to serve his second term as chief justice in July 2017.
During his first term on the nine-panel bench, Arief drew criticism for violating justice ethics twice — in 2016 and last year. He was given light sanctions in both cases.
The recent ethics violation case arose when Arief allegedly committed political lobbying with several members of the House's Commission III, which oversees legal affairs, related to Arief's attempt to extend his position as a court justice.
The court's ethics council found Arief guilty of ethics breaches for attending a meeting at a hotel with House members without any official invitation. However, the council found no evidence of the alleged backroom deal.
Anticorruption activists and legal experts subsequently called for Arief to resign from his post, on the grounds that the justice had tainted the court's legitimacy and reputation. More than 70 professors and academics have signed a protest letter against Arief and delivered it to the court. (ebf)
Join the discussions