Balikpapan declares emergency status after oil spill

Balikpapan, East Kalimantan |

Mon, April 2, 2018

| 06:38 pm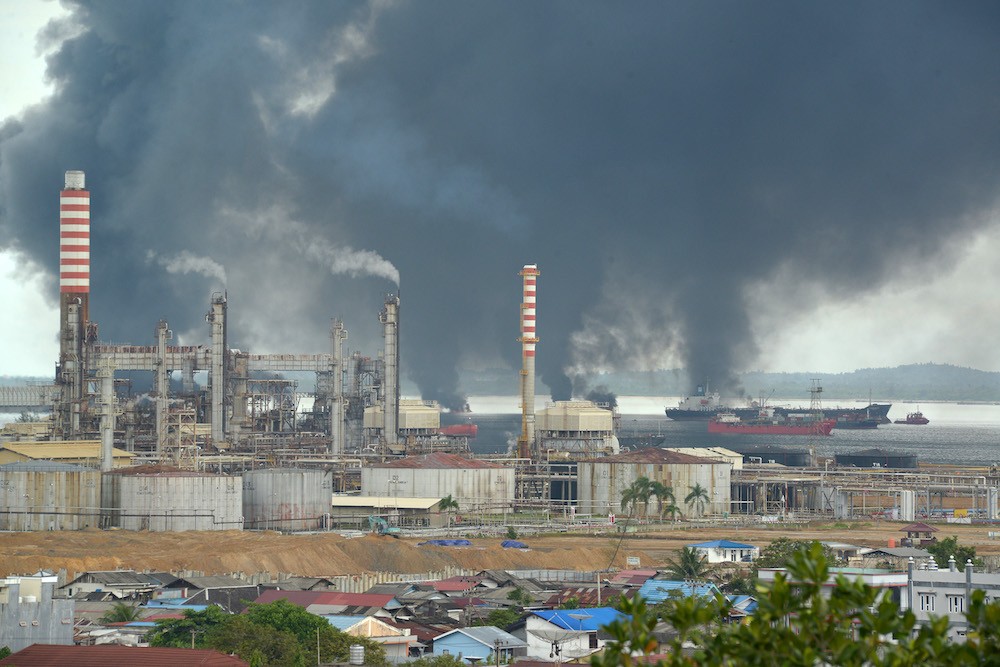 Black smoke billows from a huge fire in Balikpapan Bay, following an oil spill in Balikpapan, East Kalimantan, on March 31. On Monday, the city administration announced emergency status. (Antara/Sheravim)
The Balikpapan administration in East Kalimantan has declared an emergency status in the city following an oil spill on Saturday that triggered a fire on Balikpapan Bay.
"We are in an emergency situation because of the oil spill," municipal secretary Sayid MN Fadli said at City Hall on Monday.
Two people died in the fire on Saturday and another was severely injured. Authorities found two more bodies on Monday, while one person remains missing.
Fadli urged residents who conduct activities around the bay to make safety a priority, then specifically warned smokers to refrain from lighting cigarettes.
"I may be exaggerating [with regard to smokers], but the bay is now like a gas station," he added.
The city has distributed masks to protect residents from the overwhelming smell of fuel.
The Semayang Port Authority is coordinating with private oil company PT Chevron Indonesia and state-owned oil and gas company Pertamina to clean the spill.
As Balikpapan Police continue to investigating the source of the spill, Pertamina has denied it had anything to do with the incident. Based on tests the firm conducted on oil samples found in the bay, the spill comprises marine fuel oil, not crude oil, Pertamina said.
Marine fuel oil is used as fuel for ships, it added.
According to most recent reports, the spill has spread to the Makassar Strait in South Sulawesi.
Residential areas on the coast have also been affected.
Residents of Kampung Atas Air Margasari, who live in stilted houses, have reported a strong, fuel-like smell in the area, with Mukmin Azis claiming that a black substance was spreading in the waters beneath his house.
Health authorities in Penajam Paser Utara regency reported that some 1,200 people in Penajam subdistrict had complained of experiencing nausea, difficulty breathing and vomiting over the weekend.
Coastal residents have said they were afraid of lighting fires, including to cook and grill fish, in front of their houses.
The Balikpapan administration provided them with ready-made meals. (evi)
Topics :
Join the discussions