Burst undersea pipeline caused oil spill, says Pertamina

Balikpapan, East Kalimantan |

Wed, April 4, 2018

| 08:01 pm In crisis: State oil and gas company Pertamina Refinery Unit (RU) V general manager Togar MP (left) and East Kalimantan Police's special crime director Sr.Comr. Yustan Alpian talk about the oil spill at a press conference in Balikpapan on Wednesday. (JP/N. Adri)
State oil and gas company Pertamina said on Wednesday a burst pipeline -- which it used to transfer crude oil from the Lawe-lawe Terminal in North Penajam Paser regency, East Kalimantan, to an oil refinery facility in Balikpapan -- caused the oil spill that polluted Balikpapan Bay on Saturday.
"The pipeline is located 25 meters under the sea," said Pertamina Refinery Unit (RU) V general manager Togar MP in Balikpapan on Wednesday.
He added that the pipeline was still wrapped in a cement casing to prevent it from rusting and to make it withstand water pressure. The crude oil distribution pipeline was installed in 1998.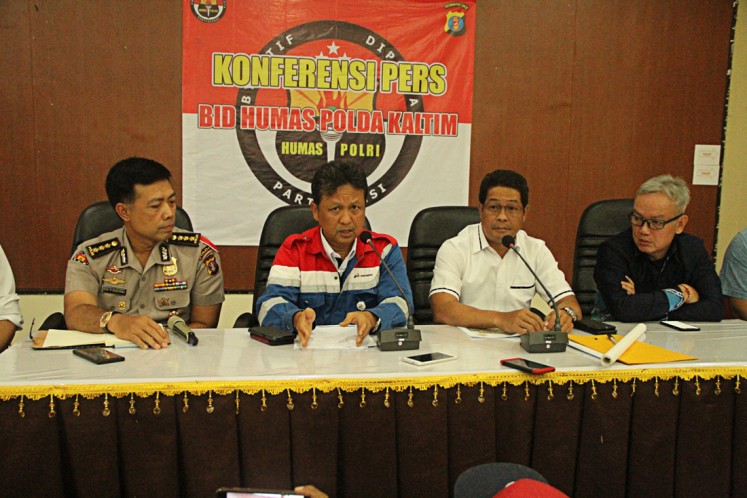 Under investigation: Togar (center) says the company is investigating the cause of the burst pipeline. (JP/N.Adri)
Divers dispatched to investigate the incident reported that the pipeline had moved around 120 m from its initial location. "We are still investigating the cause of the burst pipeline," said East Kalimantan Police's special crime director Sr.Comr. Yustan Alpian.
Pertamina was still calculating the volume of oil leaked into the sea, Togar said.
"When the leakage was first detected, we closed the distribution line of crude oil from Lawe-lawe to Balikpapan straightaway to prevent it from getting worse," he added.
It was only after Pertamina checked the 10th oil spill sample that it confirmed that it was crude oil and not Marine Fuel Oil (MFO) it had first suspected.
Following the finding, Pertamina dispatched a team of divers to carry out a comprehensive assessment of the oil pipeline from Lawe-lawe to Balikpapan. (ebf)
Topics :
Join the discussions