Eight people die from bootleg liquor in Papua
Nethy Dharma Somba

The Jakarta Post
Jayapura, Papua |

Thu, April 5, 2018

| 05:31 pm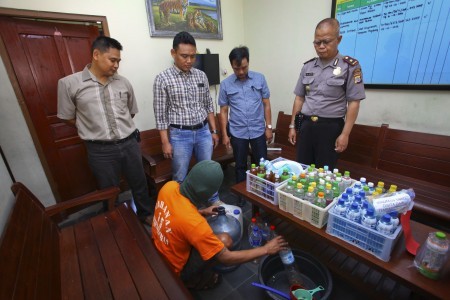 Dangerous drink: Police officers watch a suspect demonstrate the production of bootleg liquor, locally known as oplosan, in Yogyakarta's Sleman regency on Feb. 10. At least 26 people have died in several areas of Yogyakarta after consuming oplosan containing various chemicals, such as methanol. (Antara/Andreas Fitri Atmoko)
At least eight residents of Keerom and Lanny Jaya regencies in Papua died of consuming unlicensed alcohol (oplosan) in the past week.
"In the latest case, two people died after consuming oplosan in Lanny Jaya. Previously, six people died in Keerom in a similar incident," said Papua Police spokesperson Sr. Comr. M. Kamal on Thursday.
The two Lanny Jaya residents, Lapis Wenda, 26, and Yondiron Tabuni, 28, died after they, together with several other residents of Kampung Popome in Mokoni district, consumed six bottles of a highly alcoholic drink called cap tikus.
"Lapis died on the scene while Yondiron passed away at Tiom Regional General Hospital (RSUD), which he had been taken to for medical treatment," said Kamal.
Two other residents, Malik Tabuni, 35, and Obed Murib, 42, are still undergoing medical treatment at the same hospital.
Meanwhile, the six Keerom residents died of bootleg liquor ostensibly containing brandy and whiskey of global brands, which they consumed on Sunday.
Keerom Police's criminal investigation head, Second Insp. Hotma Manurung, said nine other residents were receiving medical treatment.
Indonesia Papua Female Journalists Forum head Yuliana Lantipo said alcohol misuse in Papua had grown to an alarming rate.
"The government and security authorities must take tougher measures to ban the distribution of alcoholic beverages and sweep suspected locations of bootleg liquor manufacturing." (ebf)
Join the discussions