PPP ready to counter hate speech against Jokowi: Chairman
Suherdjoko

The Jakarta Post
Semarang, Central Java |

Fri, April 13, 2018

| 11:42 pm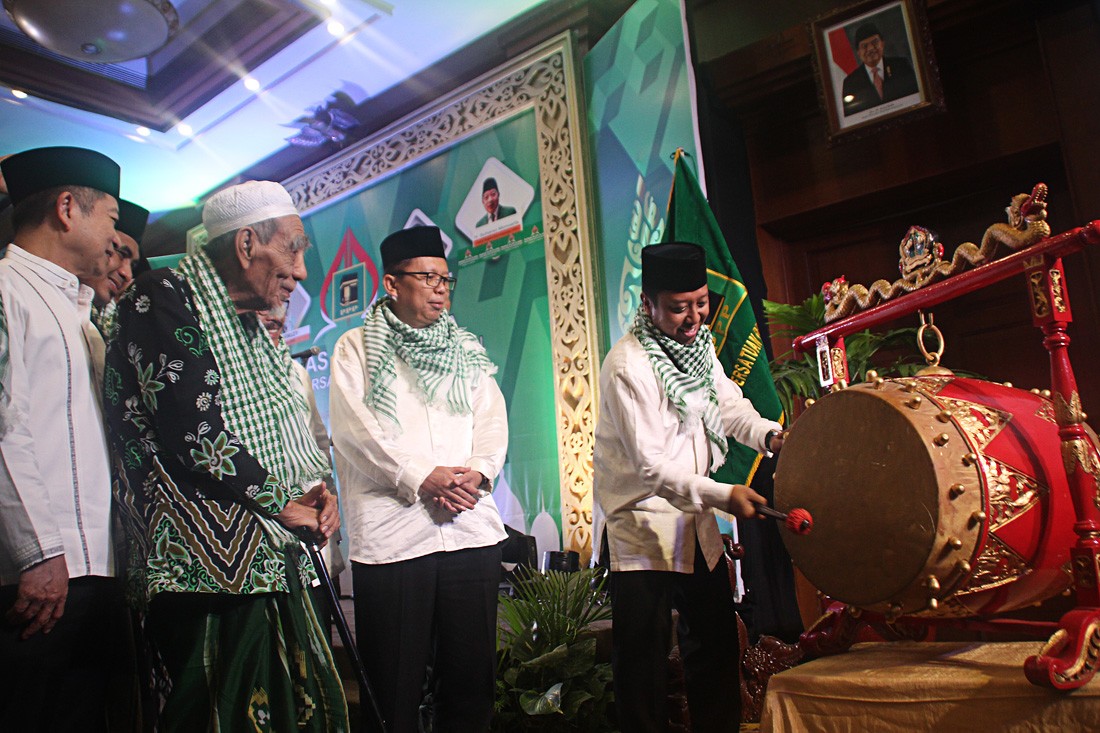 All set: United Development Party (PPP) chairman Romahurmuziy strikes a gong to mark the opening of the second Ulema National Working Meeting (Munas) in Semarang, Central Java, on Friday. (JP/Suherdjoko)
Underscoring its support for President Joko "Jokowi" Widodo's re-election bid in the 2019 election, the United Development Party (PPP) has said it is ready to counter any hate speech based on ethnic, religious, racial or social group affiliation (collectively referred to in Indonesia by the acronym SARA) that may be directed at the President by political opponents.
PPP chairman Romahurmuziy expressed as much at the second Ulema National Working Meeting (Munas) in Semarang on Friday.
"Pak Jokowi is still often portrayed as a leader who is pro-China and communist and anti-Islam. Ulemas [attending the Munas] have their own perspectives about labels attached to Pak Jokowi. They all agree most of those labels are libellous. What matters now is how we can counter such hate speech and give support [to Jokowi]," said Romarhurmuziy.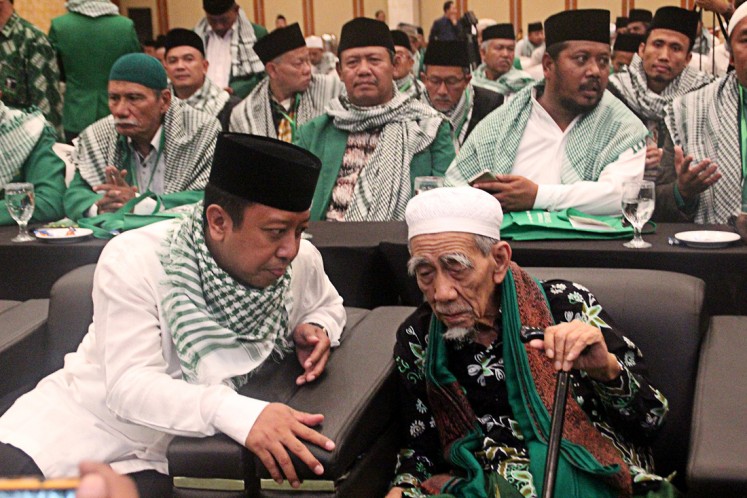 Respect your elders: United Development Party (PPP) chairman Romahurmuziy (left) talks with a notable, charismatic ulema, KH Maemoen Zubair (right), during the Second Ulema National Working Meeting (Munas) in Semarang on Friday. (JP/Suherdjoko)
Romahurmuziy said the 2019 presidential election would be a re-match between Jokowi and his strongest contender, Prabowo Subianto.
"Therefore, we, from PPP, call on all political parties and societal elements to hold a presidential election that is civilized, dignified and free from SARA-related hate speech," said Romahurmuziy.
When asked whether he would nominate himself as Jokowi's running mate, Romahurmuziy refused to answer. "It is up to the party's ulemas to make a decision on that matter," he said.
The Munas in Semarang discussed the requirements of figures deemed suitable to run alongside Jokowi as vice-presidential candidates.
"This will also depend on Pak Jokowi as to whom he deems appropriate to join him," said Romahurmuziy. On Saturday, President Jokowi is scheduled to attend the PPP's 25th anniversary. (ebf)
Topics :
Join the discussions