Nation of dunces? Indonesian parents beg to differ
Moses Ompusunggu

The Jakarta Post
Jakarta |

Sat, April 14, 2018

| 12:03 pm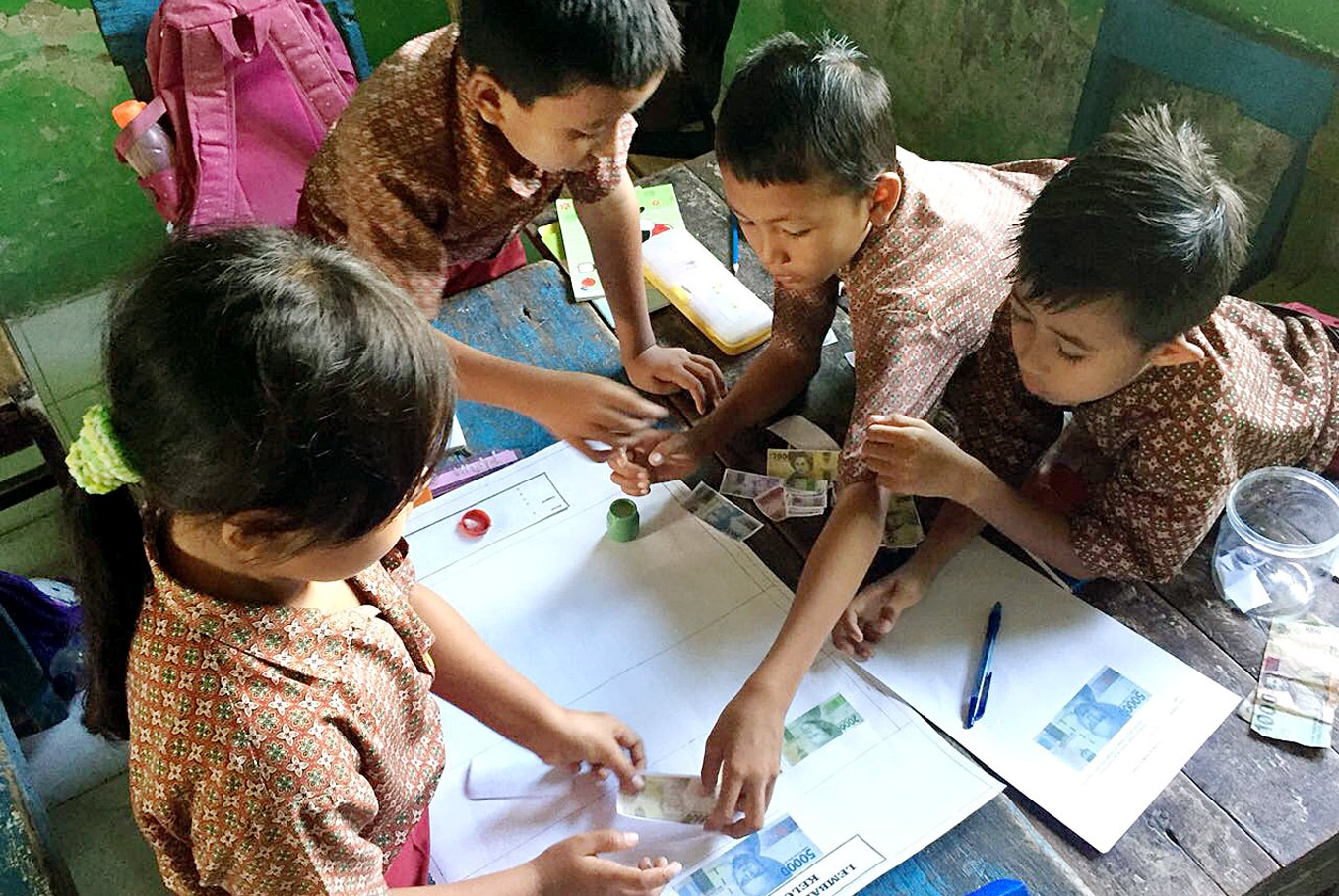 Teamwork: Second-graders work in groups using actual objects in the process of learning their day's lesson at SDK 1 Lopok elementary school in Sumbawa, West Nusa Tenggara. (Courtesy of Benita Chudleigh/-)
While many surveys have shown Indonesia has a lot to do to improve its education, particularly when compared to its regional peers, most Indonesian parents, at least in urban areas, are optimistic the nation's education is good enough to ensure a safe future for their children, according to a recent survey.
Almost nine in 10 Indonesian parents believe the country's schools are preparing their children well for the world in 2030 and beyond, according to the recently released Global Parents Survey.
The result offers another viewpoint of Indonesian education, which officials and experts said remained subpar in terms of quality based on the poor performance of Indonesian students in international and national competency assessments of late.
The survey, conducted online by London-based education nonprofit Varkey Foundation, interviewed 1,000 parents of children aged four to 18 in Indonesia between Dec. 8 last year and Jan. 15, with equal views from mothers and fathers. The Indonesian parents were among 27,380 parents from 29 countries interviewed for the survey.
In the aforementioned category, Indonesia ranks second behind India, where the result was 88 percent.
The foundation admitted that as Indonesia was among the countries in the survey that had low internet penetration, the results were rather representative of only the urban online population, which "tends to be better educated and financially better off".
The survey highlighted how Indonesian parents believed there was no real concern in enrolling their children in Indonesian schools.
Some 68 percent of Indonesian parents said education standards had improved in the last 10 years, ranking fourth in the category behind India, China and Singapore. By contrast, only 8 percent of surveyed parents in France thought so.
Meanwhile, the percentage of Indonesian parents who thought education standards had worsened was 14 percent, higher than the 10 percent of parents who thought there was no change at all.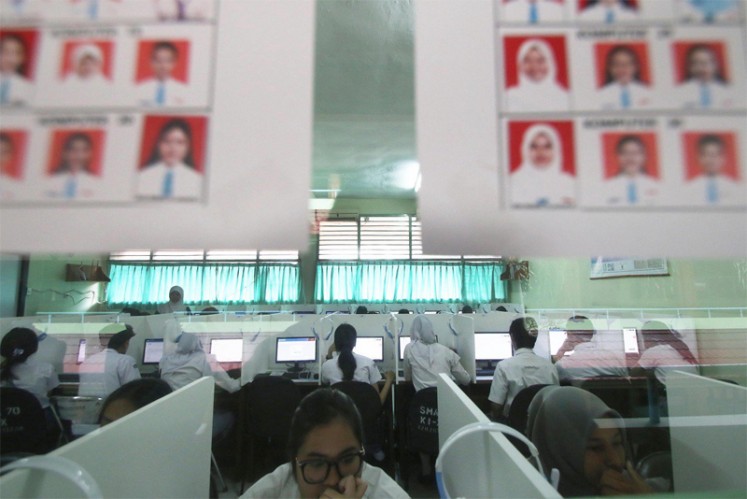 Several students take the computer-based National Examination at SMAN 70 High School in Jakarta on Monday. There are 63,883 high-school-level students in Jakarta writing the computer-based national exam on Monday out of 133,961 high school and equivalent-level students. (Antara/Rivan Awal Lingga)
In another category, satisfaction of teachers, 86 percent of Indonesian parents believed the quality of teaching at their children' schools to be "fairly good" or "very good", ranking seventh.
"Despite headlines of funding shortfalls and educational failure around the world, it's remarkable to see how much faith parents have in quality of teaching in their child's school," said Varkey Foundation chief executive Vikas Pota in an emailed statement.
While the survey may only represent Indonesians in urban areas, its findings remain notable as it shows that Indonesian parents are in fact more optimistic than Singaporean parents about their respective children's education.
The survey has found that Indonesia ranks above countries that have higher Program for International Student Assessment (PISA) scores in numerous indicators.
In Singapore, the best performing country in the 2015 PISA edition with an average score of 556, only 69 percent of parents believed their children's school could prepare their children for the world in 2030 and beyond.
Indonesia's average 2015 PISA score was a dismal 395. Out of 72 assessed countries, Indonesia ranked 65th in mathematics, 66th in reading and 64th in science.
President Joko "Jokowi" Widodo's administration, skeptical of the PISA findings, decided to sponsor a national survey called the Indonesian National Assessment Program in 2016.
The result: 73.61 percent of Indonesian students performed poorly in mathematics, reading and science, only slightly higher than PISA's of 75.7 percent.
"Our conclusion was that we had to work harder in preparing our teachers, providing better school facilities and preparing our students," said Education and Culture Minister Muhadjir Effendy in a recent interview with The Jakarta Post. (ahw)
Topics :
Join the discussions