Comey says `morally unfit' Trump at risk of Russian blackmail
Chris Strohm and Margaret Talev

Bloomberg
Washington, United States |

Mon, April 16, 2018

| 04:35 pm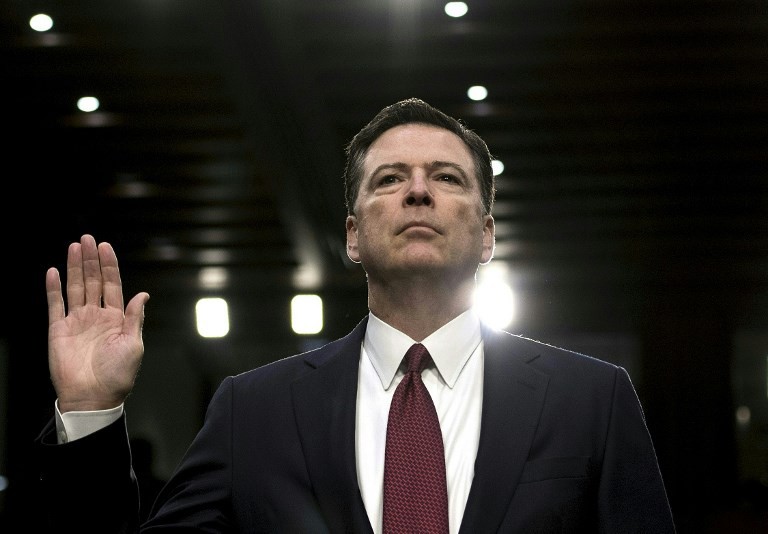 In this file photo taken on June 8, 2017, former FBI director James Comey is sworn in during a hearing before the Senate Select Committee on Intelligence in Washington, DC. (Agence France-Presse/Brendan Smialowski)
Donald Trump is "morally unfit" to be president, former FBI Director James Comey said in a highly anticipated prime-time interview Sunday, adding that he couldn't rule out the possibility that the Russian government has incriminating information about the president.
"I think it's possible. I don't know," Comey said in an interview with ABC News' Chief Anchor George Stephanopoulos, when asked whether Trump has been "compromised" by the Russians. "These are more words I never thought I'd utter about a president of the United States, but it's possible."
Comey said that he had concluded during the presidential campaign that Trump was dishonest. Americans should be united, he said, in the idea that "our president must embody respect and adhere to the values that are at the core of this country. The most important being truth."
"This president is not able to do that. He is morally unfit to be president."
The comments were made in Comey's first interview since writing his book, "A Higher Loyalty: Truth, Lies and Leadership," which is scheduled for release Tuesday. Excerpts have already been widely reported, prompting President Donald Trump and his conservative allies to launch a furious attack on Comey.
'Slippery James'
"Slippery James Comey, a man who always ends up badly and out of whack (he is not smart!), will go down as the WORST FBI Director in history, by far!" Trump said on Twitter early Sunday.
Slippery James Comey, a man who always ends up badly and out of whack (he is not smart!), will go down as the WORST FBI Director in history, by far!

— Donald J. Trump (@realDonaldTrump) April 15, 2018
Trump fired Comey in May, leading to the appointment of Special Counsel Robert Mueller. Mueller's probe into Russian interference in the 2016 election is reviewing whether Trump obstructed justice by firing Comey, and through other actions.
Comey said the FBI opened its counterintelligence investigation into potential Russian election interference in July 2016, triggered by discussions that George Papadopoulos, a Trump campaign adviser, had in London. The FBI was also interested in Carter Page, another adviser. Comey said an unverified dossier assembled by former British spy Christopher Steele dossier had no impact on triggering the investigation.
Of Trump's practice of not criticizing Russian President Vladimir Putin, Comey said, "I don't know what's behind that."
Portions of the roughly five-hour interview were aired Sunday night in a one-hour special on ABC.
Obstruction of Justice
Comey described a meeting with Trump where the president asked him to "let it go" when it came to the FBI investigation into former National Security Adviser Michael Flynn. He told ABC that he maybe should have said something to Trump at the time to indicate the request was inappropriate.
He said Trump's request "possibly" amounted to obstruction of justice.
"I mean, it's certainly some evidence of obstruction of justice. It would depend, and I'm just a witness in this case, not the investigator or prosecutor. It would depend upon other things that reflected on his intent," Comey said.
Comey, who ran the Federal Bureau of Investigation for almost four years, portrays the president in his book as a liar, dumb and rude, and he compares elements of Trump's behavior to that of a Mafia boss.
Topics :
Join the discussions