Schools lack computers for computer-based exams
Moses Ompusunggu and Apriadi Gunawan

The Jakarta Post
Jakarta |

Tue, April 17, 2018

| 03:24 pm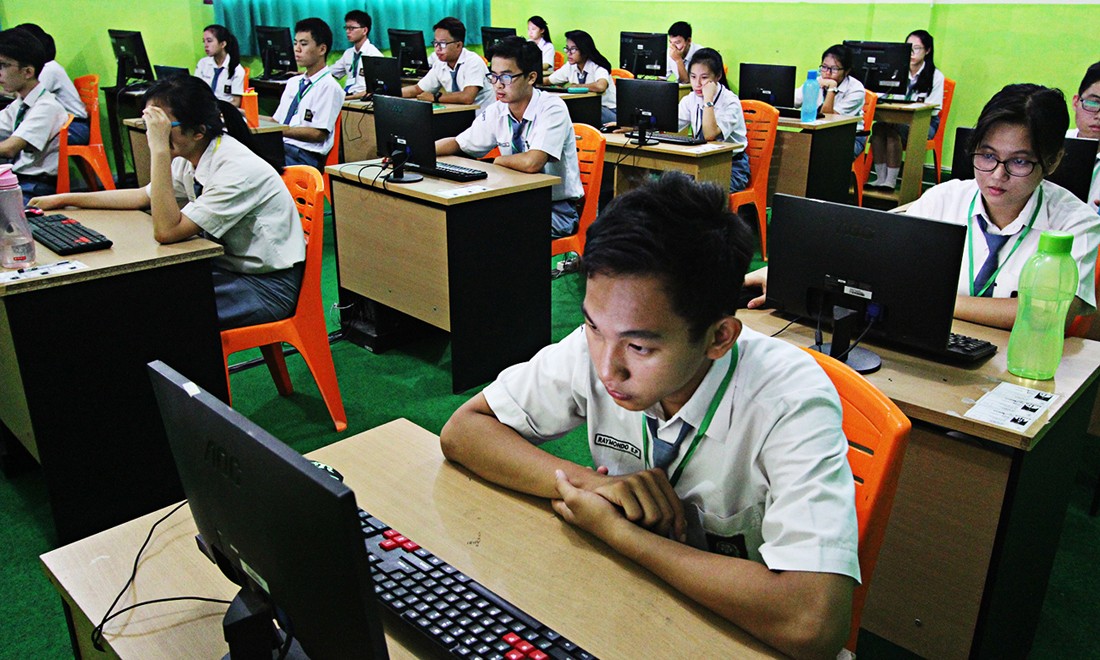 Instant exam: Students of SMA Santo Tarcisius senior high school in Dumai, Riau, take the 2018 digital national exam (UNBK) on April 9. (Antara/Aswaddy Hamid)
Indonesia is hoping that, by 2019, all schools in the country will hold computer-based national exams (CBT), which officials claim are less prone to cheating—a rampant practice that is believed by many to be a seed of corruption. However, one thing is missing at many schools: computers.
When senior high school students nationwide sat their national exams from Monday to Thursday of last week, the Federation of Indonesian Teachers Associations (FSGI) collected reports from its national network and found 29 percent of them were about schools having a minimal number of computers.
The condition has forced schools to borrow devices from other schools or even from pupils and parents.
"How can the schools prepare their students for a digital-oriented, computerized future, or for the era of industrial revolution [...] 4.0 , which the government is currently promoting?" asked FSGI deputy secretary-general Satriwan Salim.
Implemented for the first time at the national level in 2015, the CBT uses a partially online system in which the central server in Jakarta sends exam materials to school servers. Students taking the exams are served by a local server at each school, which will then submit the answers to the central server online.
The government hopes the digital test can end the practice cheating, as the exams are different for each student. The number of students who have taken the CBT has increased considerably, from 170,000 students in 2015 to 6.3 million in 2018, according to Education and Culture Ministry data.
However, a FSGI report released on Monday highlighted four state senior high schools that had faced problems over a lack of computers.
SMAN 9 state senior high school in Bengkulu city, the capital of Bengkulu province, on the west coast of Sumatra Island, had only 10 computers for the digital exams, FSGI reported, a situation that forced the school to borrow 40 laptops from its students.
Elsewhere, at SMAN 6 state senior high school in Mataram, the capital of West Nusa Tenggara (NTB) province, computers were needed for 361 students who sat the digital exams, which were divided into four exam sessions. The school was forced to borrow more than 40 computers from neighboring schools because it only had 80 computers.
The North Sumatra branch of the Ombudsman found cases in which schools in the province had no choice but to borrow computers from parents for the exams.
Abyadi Siregar, head of the Ombudsman in North Sumatra, said SMAN 13 state senior high school in Medan, the province's capital, had faced a computer shortage.
Abyadi said SMAN 13 needed 200 computers for 557 students taking the exams, which were divided into three sessions. However, Abyadi said, the school only had 26 computers, forcing it to borrow 174 devices from parents.
"There are also schools that were forced to borrow computers from teachers or students from other schools," he said.
According to the FSGI report, teachers claimed that the computer shortage had led to another problem, as the exams were much costlier than paper-based ones.
Mustajib, chairman of the Indonesian Teachers Union (SGI) in Mataram, said schools' expenditure during the era of paper-based tests related mostly to food and beverages for the exam committee and instructors. For CBTs, he said, schools needed to pay computer technicians, server supervisors and 24-hour security officers to guard the computers, in addition to paying for electricity costs.
Join the discussions