Anti-Jokowi campaign gains traction online, offline
Gisela Swaragita

The Jakarta Post
Jakarta |

Mon, April 30, 2018

| 05:06 pm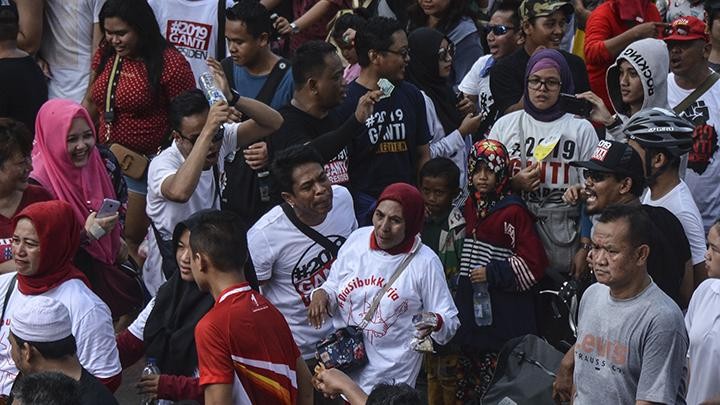 Supporters of President Joko "Jokowi" Widodo, wearing T-shirts emblazoned with the text #DiaSibukKerja (#HeisBusyWorking) face a group of opposition supporters of the #2019GantiPresiden (#2019ChangethePresident) campaign during the Car Free Day event in Central Jakarta on Sunday. Jokowi supporters allegedly faced intimidation from the opposing group, as seen in a viral video. (Antara/Aprilio Akbar)
The #2019GantiPresident (#2019ChangePresident) campaign has gained popularity online and offline over the past month, with people from various backgrounds increasingly using the hashtag in social media and displaying it on T-shirts.
According to cyber expert Ismail Fahmi, the hashtag was initiated by Mardani Ali Sera, a politician from the Prosperous Justice Party, a party in opposition to the ruling administration.
"The hashtag was launched to counter the popular narrative that Jokowi does not face any significant opposition for the 2019 presidential election," Ismail told The Jakarta Post on Monday.
Ismail said the hashtag had not gained significant traction until an event in early April. "Only after Jokowi made a blunder with a remark on April 7 that T-shirts could not unseat him did the hashtag become a trending topic on Twitter, Facebook and Instagram," he said, adding that his data showed a 300 percent increase in conversations using the hashtag.
T-shirts with the hashtag are selling quickly on online marketplaces and offline. The price for a T-shirt featuring the hashtag varies from Rp 60,000 (US$4.32) to Rp 125,000.
Not only supporters and opponents but also politically apathetic internet users have gone along with the hashtag, creating satirical hashtags such as #2019GiantPresident with a comedic illustration of a giant character from the Japanese manga series Doraemon as a potential candidate.
Other popular spoofs were #2019GantiBojo (#2019ChangeSpouse) and #2019GantiRakyatnya (#2019ChangeThePeople).
Ismail sees the phenomenon as a real political movement, albeit underestimated by Jokowi's supporters.
"According to my data, none of the hashtag users are bots, they are real people with real accounts," he said. (gis/swd)
Join the discussions