West Java Police drop defamation charges against FPI leader
Gisela Swaragita and Arya Dwipa

The Jakarta Post
Jakarta |

Fri, May 4, 2018

| 06:23 pm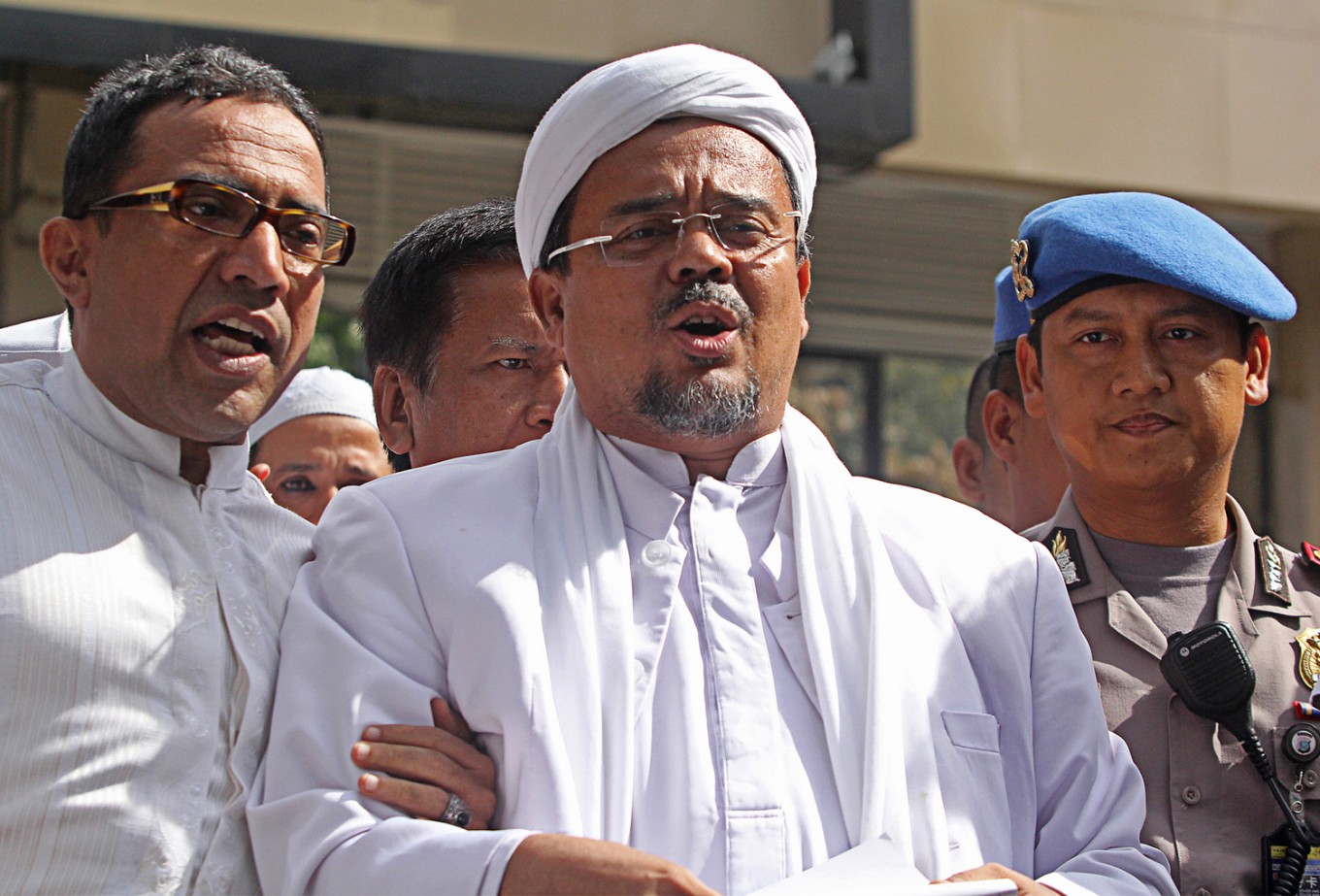 Claiming innocence: Islam Defenders Front (FPI) leader Rizieq Shihab (center) speaks to journalists after a being questioned by the Jakarta Police on Jan. 23, 2017. (Antara/Reno Esnir)
The West Java Police have dropped the investigation into a defamation case involving Islam Defenders Front (FPI) leader Rizieq Shihab, citing a lack of evidence.
"The [West Java Police's] general crime division unit closed the case as of last month, maybe even in late February," West Java Police spokesperson Adj. Sr. Comr. Trunoyudo Wisnu Andiko told The Jakarta Post on Friday.
Rizieq was accused of insulting the state ideology of Pancasila and the nation's founding father, Sukarno, when a video of him comparing the early version of Pancasila drafted by Sukarno and the Jakarta Charter's version went viral on social media.
The original version of the Jakarta Charter's Pancasila, which was formulated by the nine founding fathers, including Sukarno, contains a clause obliging Muslims to abide by sharia.
In the video, Rizieq says: "In Sukarno's Pancasila, faith in God is placed in the butt, but in the Jakarta Charter's Pancasila, faith in God is placed in the head. Which one is better? Sukarno's or the Jakarta Charter's?"
The West Java Police's chief detective, Sr. Comr. Umar Surya Fana, said they had to drop the case because they only had a clip of the video. "The judges want us to provide the video of the whole sermon, which we do not have," he said.
"We have asked the plaintiff to provide the full video, but they are unable to provide it."
The report against Rizieq was made by Sukmawati Soekarnoputri, the third daughter of Sukarno. The firebrand cleric was charged under articles 154a and 320 of the Criminal Code on insulting the state ideology and defamation.
Rizieq's supporters have accused the government of criminalizing their leader. In a meeting with President Joko "Jokowi" Widodo at the Bogor Palace last month, several Islamist groups, including the FPI, asked Jokowi to stop criminal probes into their leaders.
The FPI leader reportedly fled to Saudi Arabia after a steamy conversation allegedly involving him and a woman was uploaded online. The police have charged him with spreading pornography and, as of now, have yet to drop the case.
The State Palace has said President Jokowi will not interfere with the law. (ahw)
Join the discussions