Nationalist parties stand tall despite rising conservatism
Nurul Fitri Ramadhani

The Jakarta Post
Jakarta |

Wed, May 9, 2018

| 07:30 am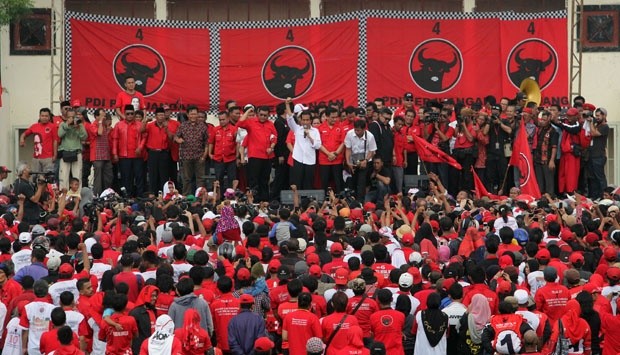 President Joko "Jokowi" Widodo makes a speech to Indonesian Democratic Party of Struggle (PDI-P) members in April 2014. (Tempo/Marifka Wahyu Hidayat)
Relatively secular nationalist parties will win big in the 2019 legislative elections, beating Islamist parties who may not even be able to get enough votes to enter the House of Representatives, according to a recent political survey.
The survey, conducted by the Indonesia Survey Circle (LSI) from April 28-May 5, has found that if the election were held today the Indonesian Democratic Party of Struggle (PDI-P) would get 21.7 percent of the vote, followed by the Golkar Party with 15.3 percent and Gerindra with 14.7 percent.
The survey interviewed 1,200 people with a 2.9 percent margin of error.
PDI-P, Golkar and Gerindra – all of them proclaim to be nationalist parties – are "first division" parties, the LSI said.
The National Awakening Party (PKB) and the Democratic Party, which would garner 6.2 percent and 5.8 percent of the vote, respectively, are in the "middle division". Of the five top parties, only the PKB is a Muslim-based party.
The two largest Islamist parties – the Prosperous Justice Party (PKS) and the United Development Party (PPP) – along with another Muslim-based party, the National Mandate Party (PAN), and one nationalist party, the Nasdem Party, would manage to get less than 3 percent of the vote.
Parties need to get 4 percent of the vote to enter the House.
One reason why the Islamist parties are struggling to get votes is that they do not have strong political figures to boost their standing, LSI researcher Ardian Sopa said. "And so far, they have yet to offer programs that could address the problems of Muslim voters."
The survey finding has shown that Islamist parties remain unpopular despite reports of rising religiosity among middle-class Indonesians, particularly after the heated Jakarta gubernatorial election when Islamist groups led a series of sectarian rallies to oppose the election of a Christian candidate. (ahw)
Topics :
Join the discussions