Mahathir's return spurs moves in these Malaysian stocks
Kuala Lumpur, Malaysia |

Mon, May 14, 2018

| 11:03 am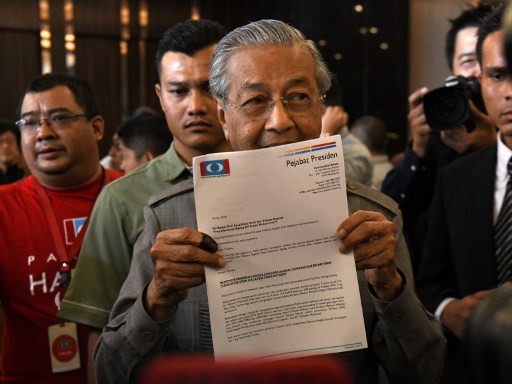 Winning opposition Mahathir Mohamad holds up a document addressed to the Yang di-Pertuan Agong, the nation's king, during a press conference in Kuala Lumpur on May 10. (AFP/Roslan Rahman)
There's one word to describe Malaysia's stock market as it reopened Monday after a three-day break that saw the opposition party win office for the first time in six decades: Volatile.
The nation's benchmark FTSE Bursa Malaysia KLCI Index plunged as much as 2.3 percent Monday, before erasing its losses and gained 0.3 percent. The market was shut for three days last week as Mahathir Mohamad led an alliance to unexpectedly beat the ruling Barisan Nasional coalition. In his first remarks as prime minister of Malaysia, Mahathir said he'd lead a business-friendly administration and find ways to boost the nation's equity market.
Gamuda Bhd., the nation's largest construction company, fell as much as 19 percent -- the most since October 2008 -- after the new government said it will review the projects by the previous administration. Nestle (Malaysia) Bhd., a unit of Nestle SA, rallied after Mahathir's coalition pledged to abolish the nation's current goods and services tax, along with fuel subsidies and minimum wage realignment.
Market watchers expect equities to fall across the board, with government-linked companies, benchmark index stocks and infrastructure companies taking the brunt of a potential selloff. iShares MSCI Malaysia ETF, the biggest exchange-traded fund holding Malaysian stocks, fell 6.2 percent last week. The FTSE Bursa Malaysia KLCI Index has corrected by 3.3 percent after it reached a record on April 19.
Affin Hwang Asset Management Bhd. is expecting a decline of as much as 8 percent in the first few days of trading post-election, while CGS-CIMB Securities lowered its end-2018 target for the benchmark index. UOB Kay Hian Holdings Ltd. and Nomura Holdings Inc. are reviewing their views on the main measure and equities. On the flip side, Malayan Banking Bhd. has expressed optimism for financial markets following the election. (bbn)
Join the discussions