Civil groups form Citizens Against Terrorism Movement
Karina Tehusijarana

The Jakarta Post
Jakarta |

Tue, May 15, 2018

| 02:44 pm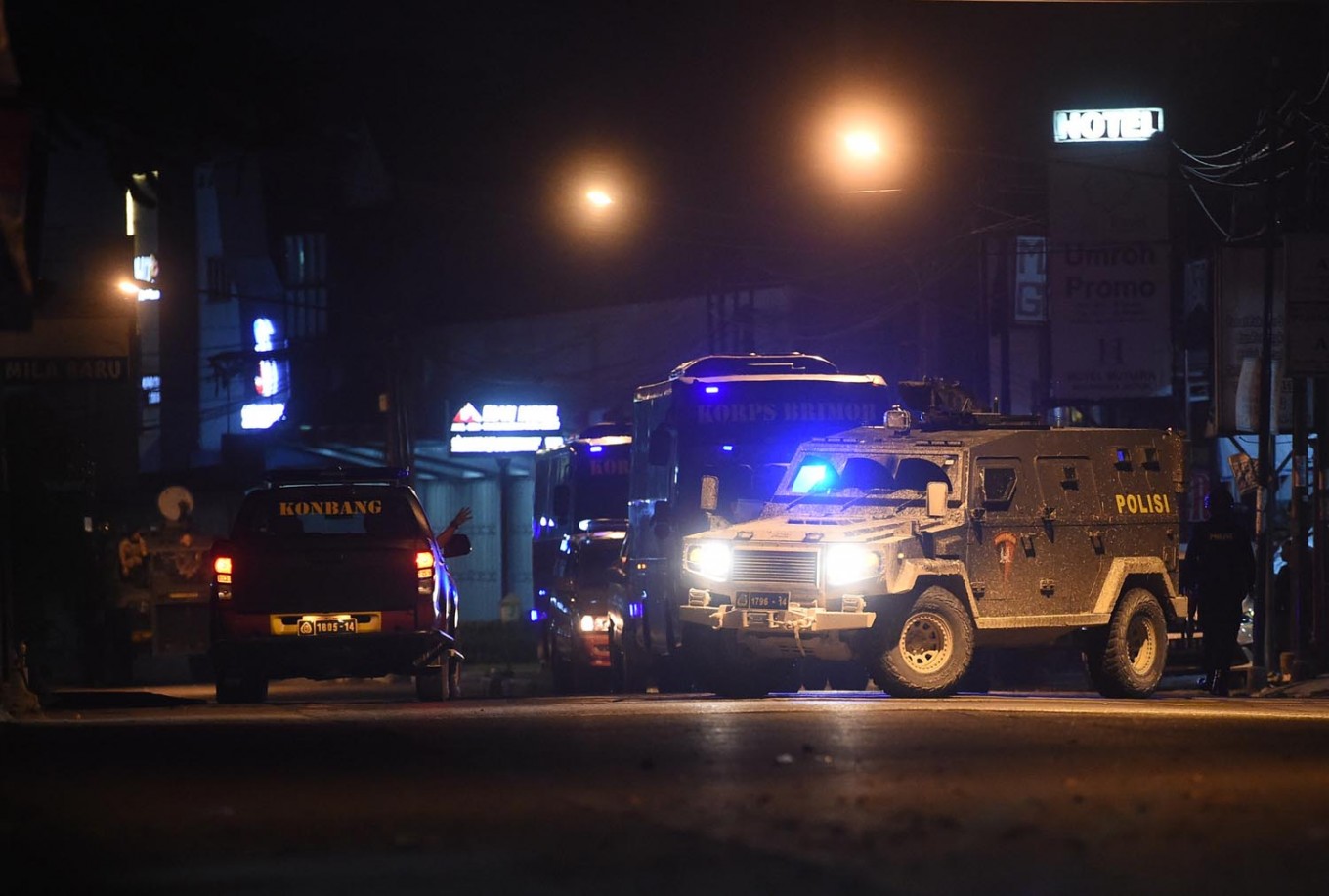 On alert: Security vehicles are on standby to secure the National Police's Mobile Brigade headquarters (Mako Brimob) in Kelapa Dua, Depok, West Java, on May 9, following a riot involving terror convicts detained at the detention facility. (Antara/Akbar Nugroho Gumay)
Religious freedom watchdog Wahid Foundation has joined forces with 55 other organizations to form the Citizens Against Terrorism Movement in the wake of the terror attacks gripping Indonesia over the past week.
Multiple deadly bombings in East Java, following hot on the heels of a brutal prison riot at the National Police's Mobile Brigade headquarters (Mako Brimob) in Depok, West Java, have "exceeded the limits of humanity", the group said on Tuesday.
"The Citizens Against Terrorism Movement hereby proclaims a common determination to fight against terrorist acts that have destroyed the values of humanity and spread fear as well as divided the nation," the group said in a written statement.
(Read also: [UPDATED] Surabaya church bombings: What we know so far)
The movement said it had four commitments. First, it aims to support law enforcers and the government to stop terrorism and crack down on the perpetrators and other parties involved. Second, it calls on the government to ensure effective restitution for victims and their families. Third, it urges the government and the House of Representatives to quickly pass the 2003 Terrorism Law draft revision.
As the fourth commitment, the group urges the government to be more proactive in restoring safety and protection from terrorism for all citizens by, among other things, optimizing deradicalization efforts, creating a more effective prevention and early warning system, as well as reforming the education system to address the rise of intolerant and radical views.
The group also asked the public to strengthen ties between tribes, religions, and races so as to be less vulnerable to divide-and-conquer tactics from terrorists or other parties. (ebf)
Join the discussions