Surabaya streets silent after terrorist attacks
Safrin La Batu

The Jakarta Post
Surabaya, East Java |

Tue, May 15, 2018

| 10:57 am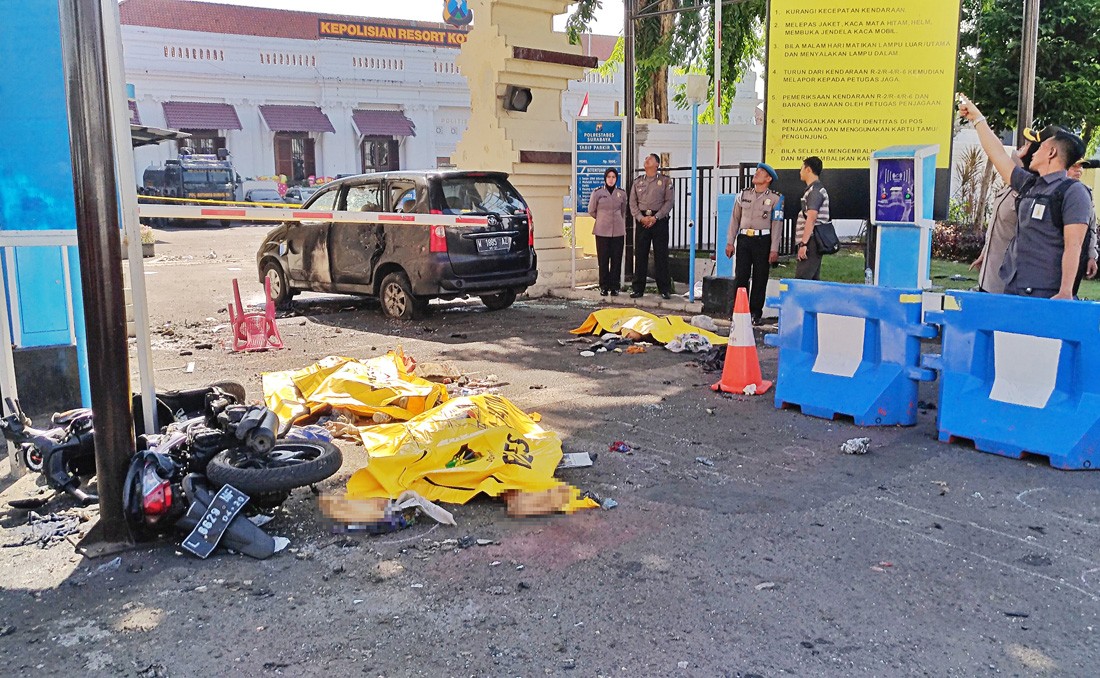 On guard: Police officers guard at the Surabaya Police station on May 14. In front of them is the wreckage of the motorcycle a suicide bomber used in Monday morning's attack on the station. (Antara/Rendra Pradhana)
Calm has returned to the streets of the East Java capital of Surabaya, following a series of deadly terrorist attacks on Sunday and Monday. Even so, residents have been cautioned to remain on guard and maintain vigilant against terror by being aware of their surroundings and reporting any suspicious activities to authorities.
Surabaya is Indonesia's second largest city after Jakarta, and with a population of over 3 million, traffic jams are common. But the streets were nearly empty on Monday.
As The Jakarta Post observed on Monday, only a few cars were seen along the main thoroughfares in the city and not many residents were seen at public places like shopping malls.
"This road is usually crowded on normal days, especially during afternoons like this. Now, it's very quiet," a taxi driver named Tri told the Post on Monday afternoon.
Silence also prevailed as the Post passed along the roads around Plaza Surabaya. Among the most popular spots in the area is the famous Submarine Monument on the western bank of the Kalimas River, but very few people were seen visiting the site.
Tri said the local authorities had stressed upon residents to keep watching their surroundings and to report any suspicious activities.
"Bonek Surabaya [supporters of the Surabaya Football Club] has also declared a fight against terrorism," said the taxi driver.
Surabaya Mayor Tri "Risma" Rismaharini had declared Monday a day off for all elementary and junior high schools in the city, with a possible extension to Tuesday.
On Sunday evening, thousands of people gathered in downtown Surabaya to denounce terrorism. During the gathering, public figures told the people not to be afraid of terrorists.
GP Ansor, the youth wing of Nahdlatul Ulama, the country's largest Muslim organization, called for unity in the fight against terror. GP Ansor has also deployed its members to guard churches across Surabaya.
Several terrorist attacks shook Surabaya on Sunday and Monday, killing 25 people, including 13 suicide bombers, and injured at least 41 others.
On Sunday morning, suicide bombers attacked three churches shortly before Sunday mass. The bombers were from a single family headed by Dita Oepriarto, who the police later identified as the head of the East Java chapter of the Jamaah Ansharud Daulah (JAD), the largest pro-Islamic State (IS) terrorist group in the country. Dita, his wife, two teenage sons and two adolescent daughters are reported to have died in the blasts.
Attempted bombings were also reported at two other churches, in which the bombs failed to detonate.
Hours after the three church attacks, another bomb went off prematurely at a Rusnawa low-cost apartment in Wonocolo, Sidoarjo, killing three members of a suspected terrorist family: the father, the mother and their eldest son.
On Monday morning, a third family reportedly attacked the Surabaya Police headquarters in another suicide bombing. The family's 8-year-old daughter survived the attack and was taken to hospital. (ebf)
Topics :
Join the discussions