'Black May': Terror hits ahead of Ramadhan
Devina Heriyanto

The Jakarta Post
Jakarta |

Thu, May 17, 2018

| 05:41 pm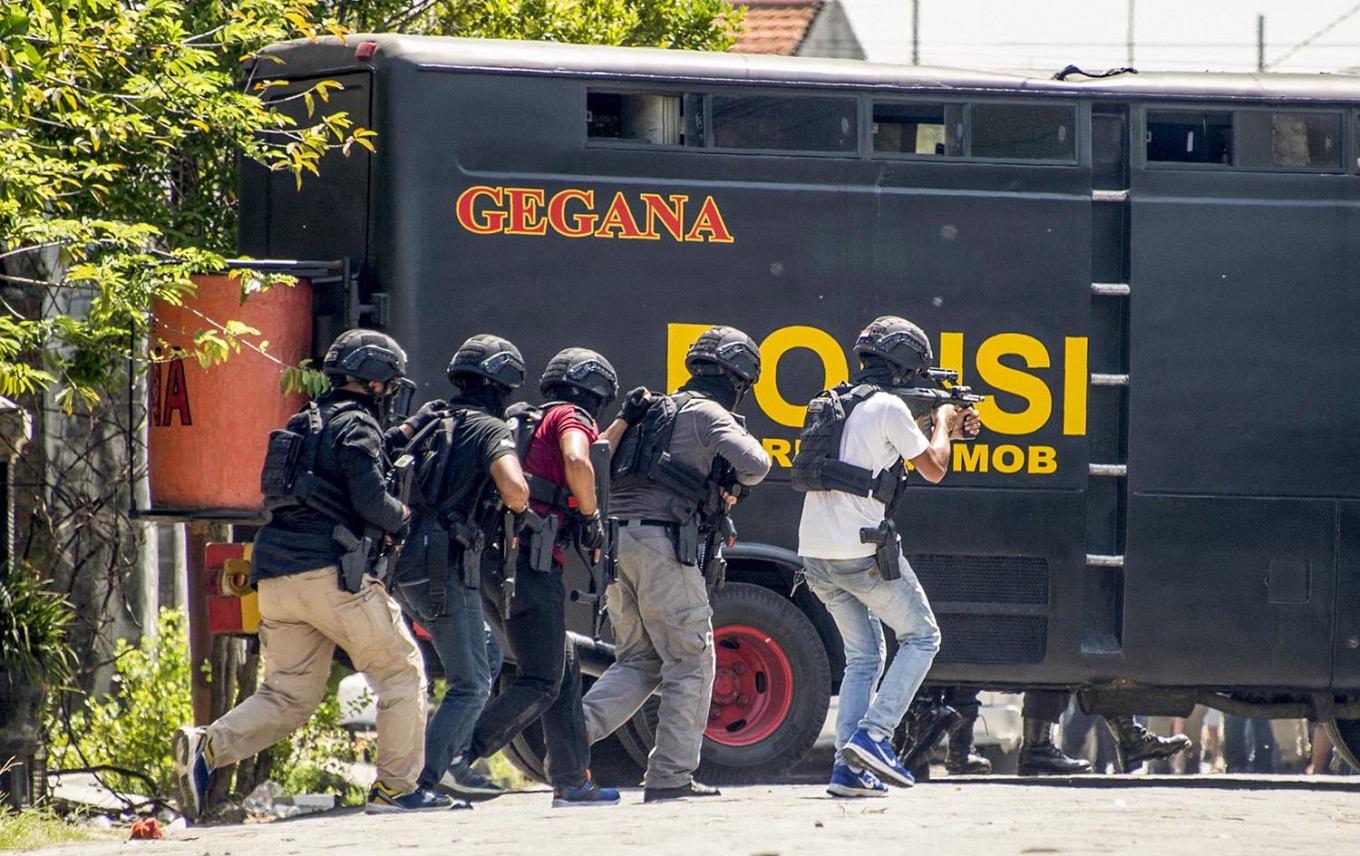 Members of Indonesia's Densus 88 counter-terror police squad conduct a raid on the residence where a family suspected of taking part in recent suicide bombings resided in, in Surabaya on May 15, 2018. Indonesia's elite anti-terror force Densus 88 conducted raids nationwide May 15 in the wake of a deadly wave of suicide bombings as calls grow to pass a stalled security law. (AFP/Juni Kriswanto)
Indonesia has faced a wave of terror attacks in recent days, from a riot instigated last week by terror inmates at the National Police's Mobile Brigade (Mako Brimob) headquarters Depok to a series of bombings on Sunday and Monday in East Java, and Wednesday's attack on the Riau Police station.
The Islamic State (IS) terror group has claimed responsibility for the attacks, with the police concluding that the Surabaya bombers were members of an IS-linked local terrorist group.
Here are the key facts of the terror attacks:
The attacks
At least five terror incidents have hit the country since May 8, killing at least 19 people, including seven policemen, and injuring nearly 60 others.
On May 8, a riot broke out at a detention center housing terror inmates at the National Police's Mako Brimob in Kelapa Dua, Depok, West Java. The inmates include terrorist suspects and convicts.
Five members of the police's Densus 88 elite counterterrorism squad were killed durin the ensuing siege, while one terror inmate was also killed. The 36-hour standoff ended on May 9, after the police allowed the instigators to speak with Aman Abdurrahman, the founder of the pro-IS Jamaah Ansharud Daulah (JAD) and a terror convict currently standing trial for the Jan. 14, 2016 bombing in Jakarta.
Of the 155 detainees involved in the rioting, 145 have since been transferred to the maximum-security Nusakambangan prison island while 10 are being investigated for instigating the riot.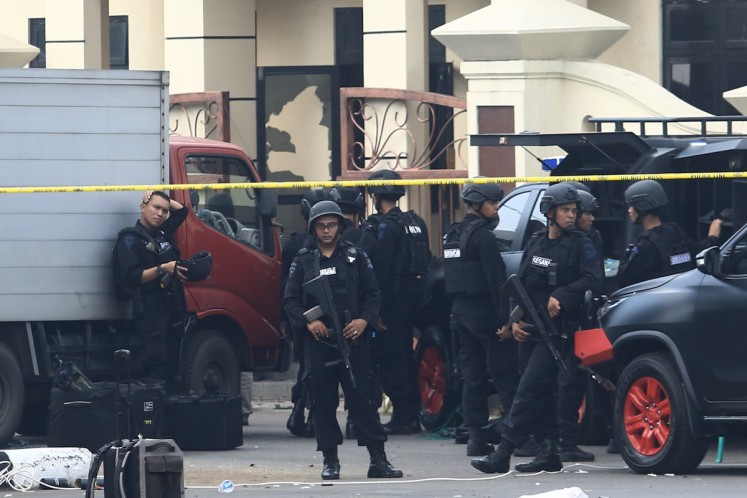 Police personnel guard the Mobile Brigade (Brimob) detention center in Depok, West Java, on May 10. A 30-hour prisoner riot and standoff happened from Tuesday evening until Thursday morning at the facility. (JP/Dhoni Setiawan)
On Thursday evening, just hours after the standoff ended, police officer Chief Brig. Marhum Prencje, 41, was stabbed to death by an alleged terrorist at the Bhayangkara Police Hospital near the Mako Brimob in Kelapa Dua, Depok. It is believed that the suspect, who was shot dead after trying to stab other police officers, was a terrorist militant trying to aid the rioting inmates. Two days later, two women were arrested for allegedly trying to stab police officers.
On Sunday, three suicide bombings occurred at three churches in Surabaya, East Java. The attacks were carried out by a family of six headed by Dita Oeprianto, who the police later identified as the head of JAD's Surabaya chapter. Dita, his wife and four children all died in the attacks.
On Sunday evening, another bomb went off prematurely at the Wonocolo Rusunawa low-cost apartments behind the Taman Police station in Sidoarjo, East Java, killing three members of a family of six that police suspected of planning a separate attack.
On Monday morning, another family carried out a suicide bombing at the Surabaya Police headquarters on Jl. Sikatan, killing the father, mother and two children. Police rescued the third child, an 8-year-old girl who survived the attack, and took her to the closest medical facility for treatment.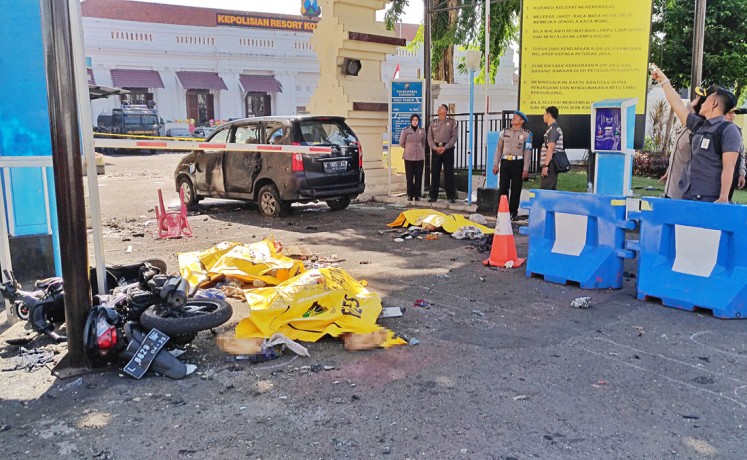 On alert: Security officers watch the wreckage of a motorcycle used by suicide bombing perpetrators during their attack in front of the Surabaya Police headquarters in East Java on May 14. (Antara/Rendra Pradhana)
Most of the perpetrators in East Java involved their families in the suicide bombings, the first such cases on Indonesian soil, killing seven of their 11 children.
In the latest incident at around 9 a.m. on Wednesday, five men attacked the Riau Police headquarters on Jl. Jenderal Sudirman in Pekanbaru. They carried sharp weapons and firearms. One officer, Second Insp. Auzar, died after the suspects' Toyota Avanza hit him as they apparently tried to flee the scene. Four suspects were shot dead and the driver was arrested.
Massive raids and arrests
The police launched a series of raids following the Mako Brimob riot and the attacks in East Java and Riau. Police shot dead at least 10 suspected terrorists and arrested 27 others in the last eight days.
Early on Thursday, May 10, the day after the Mako Brimob siege ended, the police caught four people traveling from Bandung to Mako Brimob to "help the rioting prisoners". Two were shot dead during an altercation that occurred as the police were transporting the suspects to Jakarta for questioning.
A few days later on Sunday, members of the Densus 88 counterterrorism squad shot dead four terror suspects in Cianjur, West Java. The police seized several items from the suspects that were allegedly going to be used in an attack during the Idul Fitri holiday in June. Among the evidence were two firearms, three bags containing explosives, two helmets and a blueprint for a weapon.
In a separate incident, police arrested two other suspects in Sukabumi and Cikarang, West Java.
The National Police's Densus 88 unit has intensified its counterterrorism operations with ongoing raids in East Java, where it has arrested 14 suspected terrorists and killed five others. Separate Densus 88 raids in Tangerang, Banten, Palembang, South Sumatra, and Medan, North Sumatra, have resulted in the arrests of nine suspected militants.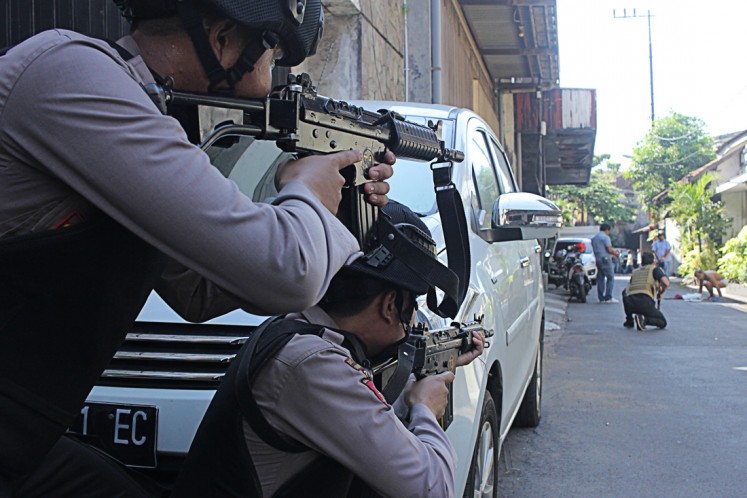 On alert: Police officers stand guard in areas around Jl. Niaga Samping following a bomb blast at the Surabaya Police headquarters in Surabaya, East Java, on May 14. (Antara/Didik Suhartono)
Pro-IS terror group: JAD
National Police chief Gen. Tito Karnavian confirmed on Sunday that JAD, the largest homegrown pro-Islamic State (IS) terror group, had played a significant role in the series of terror attacks.
The Institute for Policy Analysis of Conflict (IPAC) in Jakarta has called JAD "the largest faction of ISIS supporters in Indonesia", consisting of followers of pro-IS ideologue Aman and Jamaah Anshorul Tauhid (JAT) leader Abu Bakar Baasyir.
JAD was formed in Malang in November 2015 and chose Aman as its ideological head. The group's name means "Partisans of the [Islamic] State Group", and was previously used as a generic term that referred to anyone who had sworn allegiance to IS leader Abu Bakr al-Baghdadi.
The January 2018 edition of Counter Terrorist Trends and Analyses, published by the S. Rajaratnam School of International Studies (RSIS), predicts that "pro-IS extremists such as JAD members will continue to dominate the Indonesian terrorism landscape in 2018".
In its global forecast, the RSIS states that following the defeat and territorial loss in Syria and Iraq, "IS is reinventing itself and seeking to expand globally in both the cyber and physical space." The forecast also mentions that IS is currently using its returning fighters to recruit new members through online platforms or religious study groups.
It is believed that the three suicide bombing families in Surabaya were radicalized by one family that had just returned from Syria.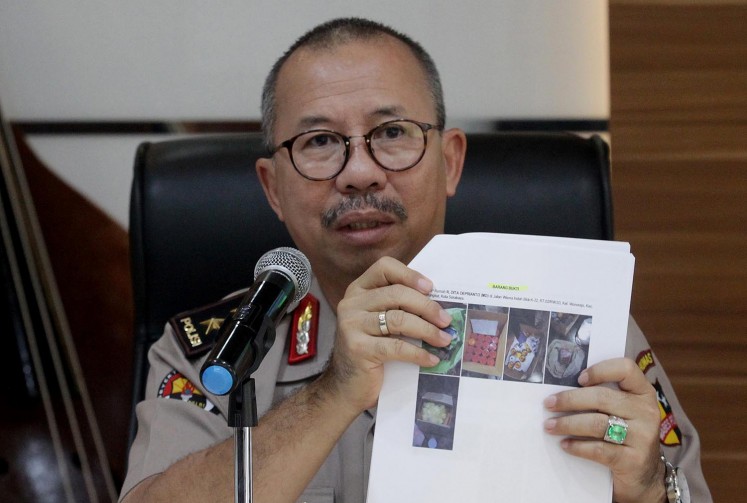 National Police spokesperson Insp. Gen. Setyo Wasisto. (Antara/Reno Esnir)
Ramadhan and IS activity
National Police spokesperson Insp. Gen. Setyo Wasisto said that IS sleeper cells were waking up ahead of Ramadhan, as quoted by kompas.com, and that the police were investigating.
University of Indonesia terrorism expert Ridwan Habib, in an interview with MetroTV, stated that the success of the Surabaya church bombings had encouraged other sleeper cells. He mentioned the possibility of major attacks targeting "vital objects" in Jakarta. Ridwan advised law enforcement to continue to conduct raids and make arrests to prevent more attacks.
Following suggestions that members of the pro-IS Islamic State of Indonesia (NII) had carried out the attack on the Riau Police headquarters, Ridwan laid out a scenario that the country was now facing a more united, and hence more capable and resourceful, terrorist network. (ahw)
Topics :
Join the discussions