Families of victims of Surabaya bombings cope with deep sadness
Wahyoe Boediwardhana

The Jakarta Post
Surabaya |

Thu, May 17, 2018

| 06:31 pm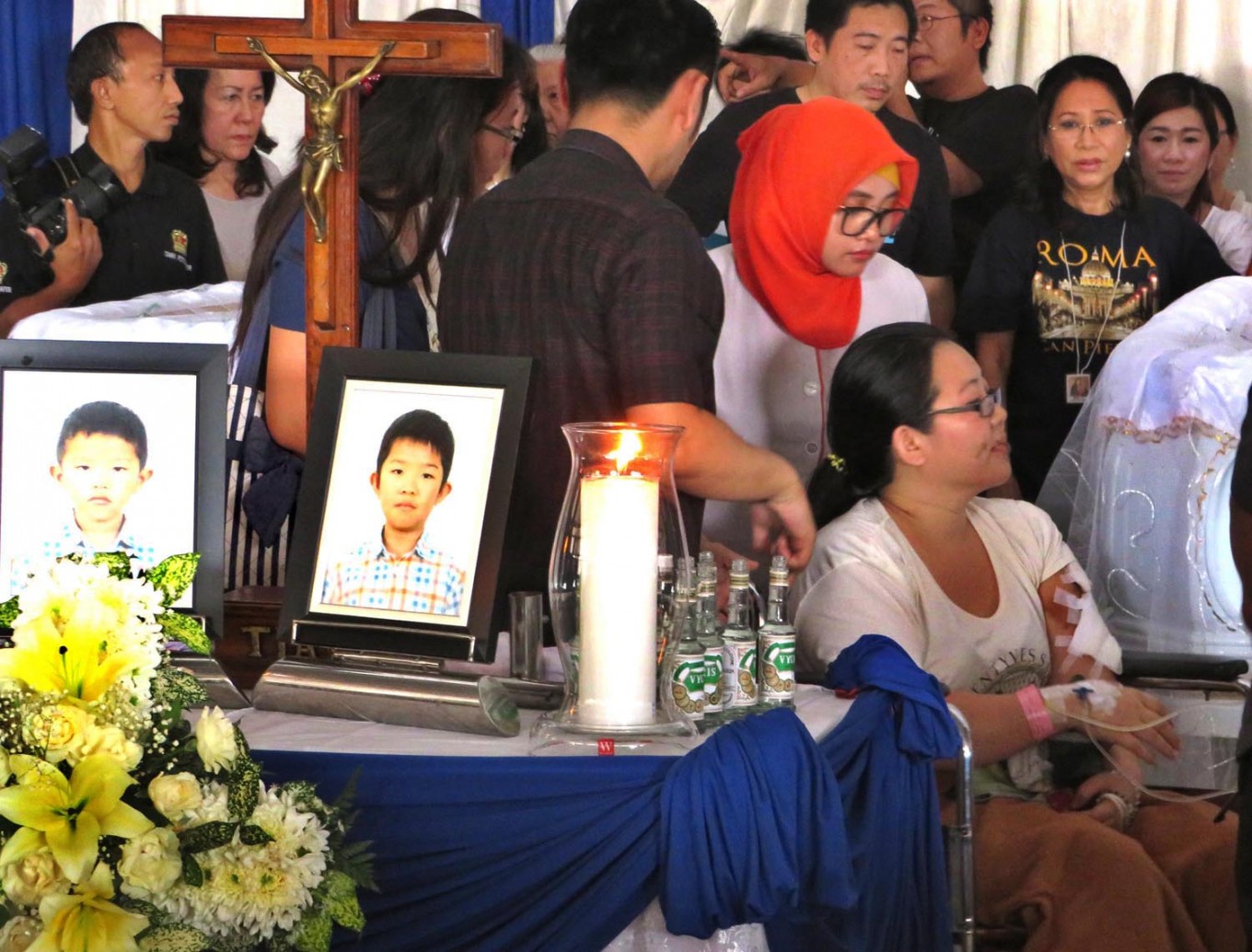 Wenny Angelina, a wounded victim of a bombing at the Saint Mary Immaculate (SMTB) Catholic Church of Surabaya (in wheelchair), attends the funeral of her sons, Nathanael Ethan, 8, and Vincentius Evan, 11, in Surabaya on May 16. (JP/Nedi Putra AW)
Lucia Cicilia Agan has kept her cellphone close to her for the past few days because she has been waiting for news from a police hospital in Surabaya about her cousin, Aloysius Bayu Rendra Wardhana, 38, who was among the victims who fell to church bombings in Surabaya on May 13.
"We're still waiting for [results from] the DNA identification process in Jakarta. On Tuesday morning, DNA samples of Bayu's child and father were taken to Jakarta," Cicilia told The Jakarta Post on Wednesday.
Of a total of 13 victims of the Surabaya church attacks, Bayu, the last victim to be identified, was the only one that had not been returned to the family.
Bayu died at the Saint Mary Immaculate (SMTB) Catholic Church of Surabaya in Ngagel, where he was the leader of the church's youth group. When the bombing took place, he acted as the head of a group of security volunteers.
Bayu tried to stand in the way of a suicide bomber who drove a speeding motorcycle into the church.
"His wife and his mom were in a deep sadness. They don't have the energy to wait for this DNA process [to finish]. So I'm the one who takes care of this at the police station," Cicilia said.
Bayu had a 3-month-old baby.
The family is now waiting to have the body returned so they can hold a funeral for Bayu.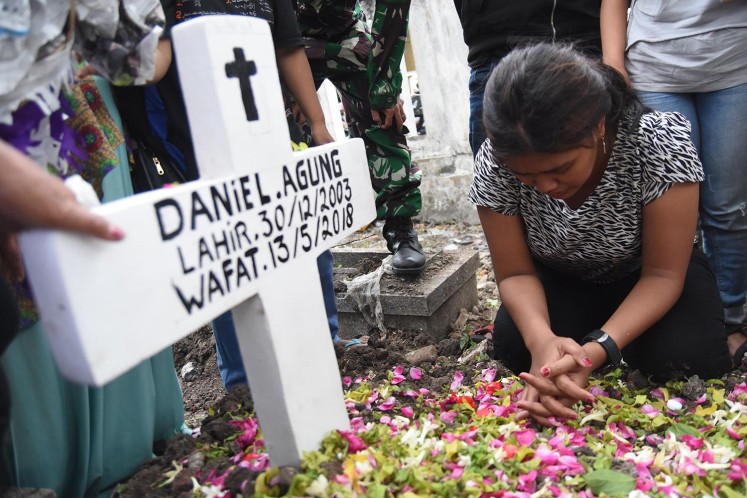 Novi, the sister of Daniel Agung Putra Kusuma, 14, prays at her brother's grave at the Putat Gede cemetary in Surabaya on May 15. Daniel was a victim of a suicide bombing at Surabaya Pentecostal Church (GPPS) on May 13. (Antara/M Risyal Hidayat)
East Java Police medical unit head Sr. Comr. Budi Heryadi said the process took a long time because of the state Bayu's body was in as a result of the explosion from two suicide bombers, Dita Oepriarto's 18-year-old and 16-year-old sons.
Sadness also clouded another family of victims of the same church attack, during the funeral of Vincentius Evan Hudojo, 11, and Nathanael Ethan Hudojo, 8.
Their mother, Wenny Angelina, was wounded in the explosion. She gently sprinkled perfume on her sons' bodies and put the young boys' favorite things in their coffins, including a toy gun, clothes and hats. Prayers and weeping were heard at the funeral home on Jl. Demak in Surabaya on Wednesday.
Wenny came to the funeral home with medical equipment attached to her body. She was not in a stable physical condition and had to return to the hospital quickly after the ceremony to have bomb shrapnel removed from her body.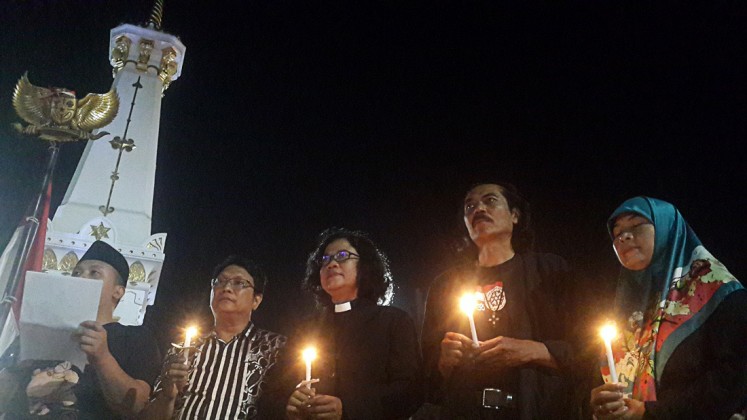 Hundreds of Yogyakarta residents of various religious, professional and ethnic backgrounds gather at Tugu Monument, Yogyakarta, to pray for and show solidarity to victims of suicide bombings in three churches in Surabaya, East Java, on May 13. (JP/Bambang Muryanto)
On the tragic Sunday, Wenny and her two sons, heading for Mass at the church, had just exited their car when the motorcycle sped past them and the explosion hit.
Evan, the older brother, died first while Nathan died later in the evening at the hospital.
Evan and Nathan were laid down to rest in the Keputih cemetary, where a number of other bombing victims were buried. (evi)
Topics :
Join the discussions