Orphaned children used in terror attacks struggle with severe trauma
Safrin La Batu

The Jakarta Post
Surabaya |

Thu, May 17, 2018

| 02:05 pm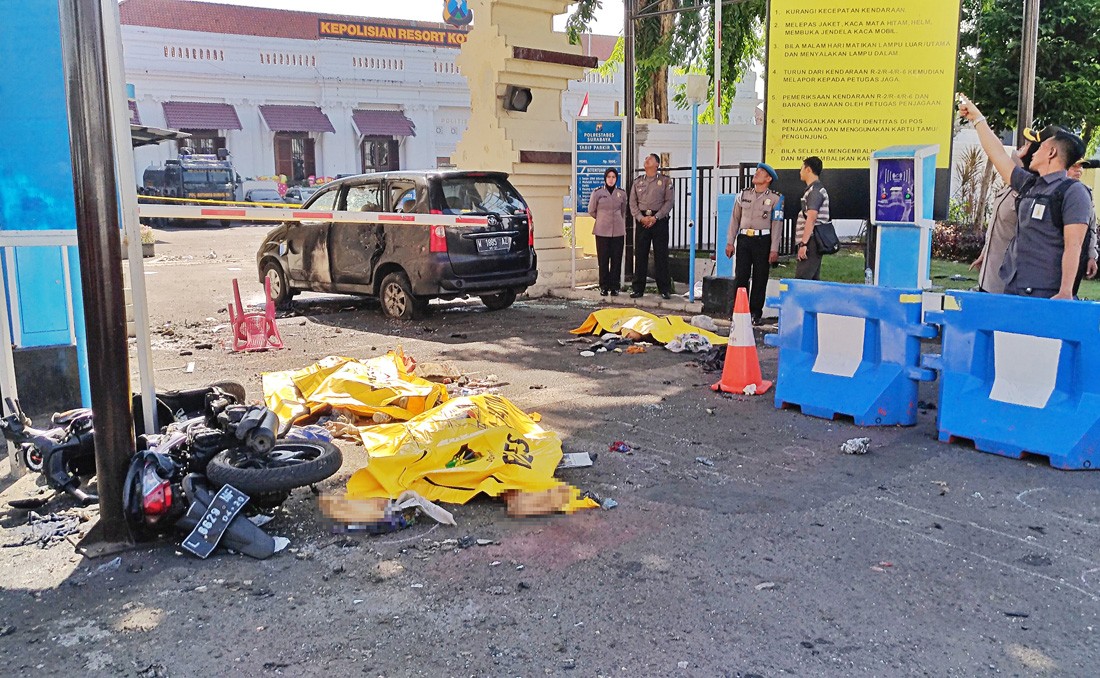 Security officers watch the wreckage of a motorcycle that was used in a suicide bombing in front of the Surabaya Police headquarters in East Java on May 14. (Antara/Rendra Pradhana)
The suicide bombings in Surabaya and Sidoarjo, both in East Java, have left the perpetrators' children severely traumatized after they were used as part of their parents' terror plot.
Seven-year-old AAP is now undergoing treatment by the East Java Police for severe trauma and physical injuries she sustained when her parents took her and her two siblings to the Surabaya Police headquarters on Monday and detonated a bomb that had been strapped to their bodies.
Her parents and siblings were killed in the blast.
East Java Police spokesman Sr. Comr. Frans Barung Mangera said on Wednesday that AAP's injuries were improving, but her mental state would likely take time to recuperate.
AAP is reportedly able to speak, but responds to questions with a brief "yes" or "no". When pressed for longer answers, she lapses into silence.
She received on Wednesday several visitors who offered her support, including Seto Mulyadi, chairman of the Indonesian Child Protection Agency (LPAI).
AAP's grandfather and uncle also came to visit her on Wednesday. AAP may choose to live with them, but East Java Police chief Insp. Gen. Machfud Arifin said he himself would carefully determine where and with whom the child would live to ensure she would not be exposed to radical ideologies.
"It will be my own authority to approve who can adopt AAP," Machfud said.
During Wednesday visit, her uncle and grandfather refused to acknowledge AAP's parents as their relatives, said Frans.
So far, no one has stepped forward to claim the bombers' bodies. If they remain unclaimed, the police said they would bury them in accordance with their religious beliefs.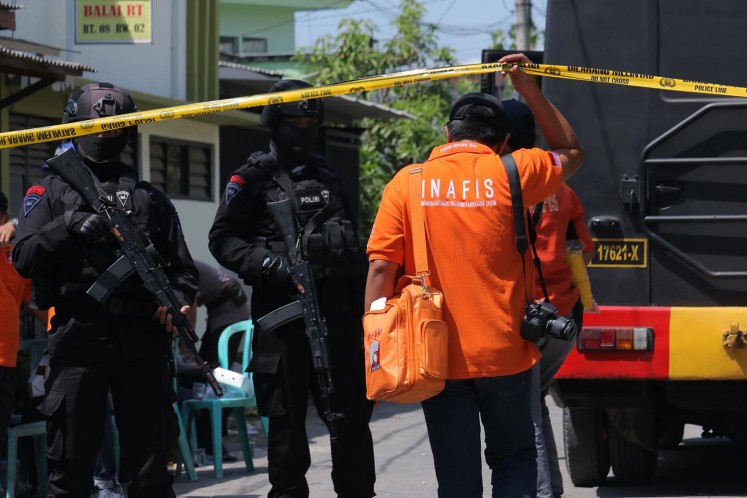 In a video footage of moments after the blast occurred, AAP was seen standing up from the ruins of a car affected by the blast. She looked shaken when a police officer quickly came to rescue her. (Antara/Didik Suhartono)
In a video taken moments after the blast at Surabaya Police headquarters, AAP's small figure could be seen rising from the ruins of a motorcycle her family had used. As she swayed unsteadily on her feet, a police officer rushed forward to scoop her up and carry her away from the still smoldering wreckage.
According to the police, AAP had been staying at her grandparents' home when her mother picked her up on Wednesday morning, then drove her to the police headquarters.
AAP reportedly survived the blast because she did not have explosives strapped to her body.
She is not the only child to have survived and been used as part of a terror attack.
FPH, 11, HU, 11, and AR, 15 were orphaned after their father Anton Febriyanto and mother Puspitasari were killed in an explosion at a low-cost apartment in Wonocolo, Sidoarjo, on Sunday night. The bomb, to be used in another attack in Surabaya, accidentally went off as it was being assembled by Anton. One of their siblings was also killed in the incident.
FPH and HU are also being treated by the East Java Police. AR was not at the scene at the time of the incident.
The police said that AR had not been exposed to radical teachings because he lived with his grandparents.
During his visit, Seto said that the children being treated were improving and would likely be allowed to return to their relatives soon.
He added that LPAI would monitor the orphans, including by giving them any help they needed.
These children, he said, were not terrorists, but victims of their parents' radicalism.
.
Topics :
Join the discussions