Police nab JAD E. Java leader Abu Umar
Kharishar Kahfi

The Jakarta Post
Jakarta |

Thu, May 17, 2018

| 12:27 pm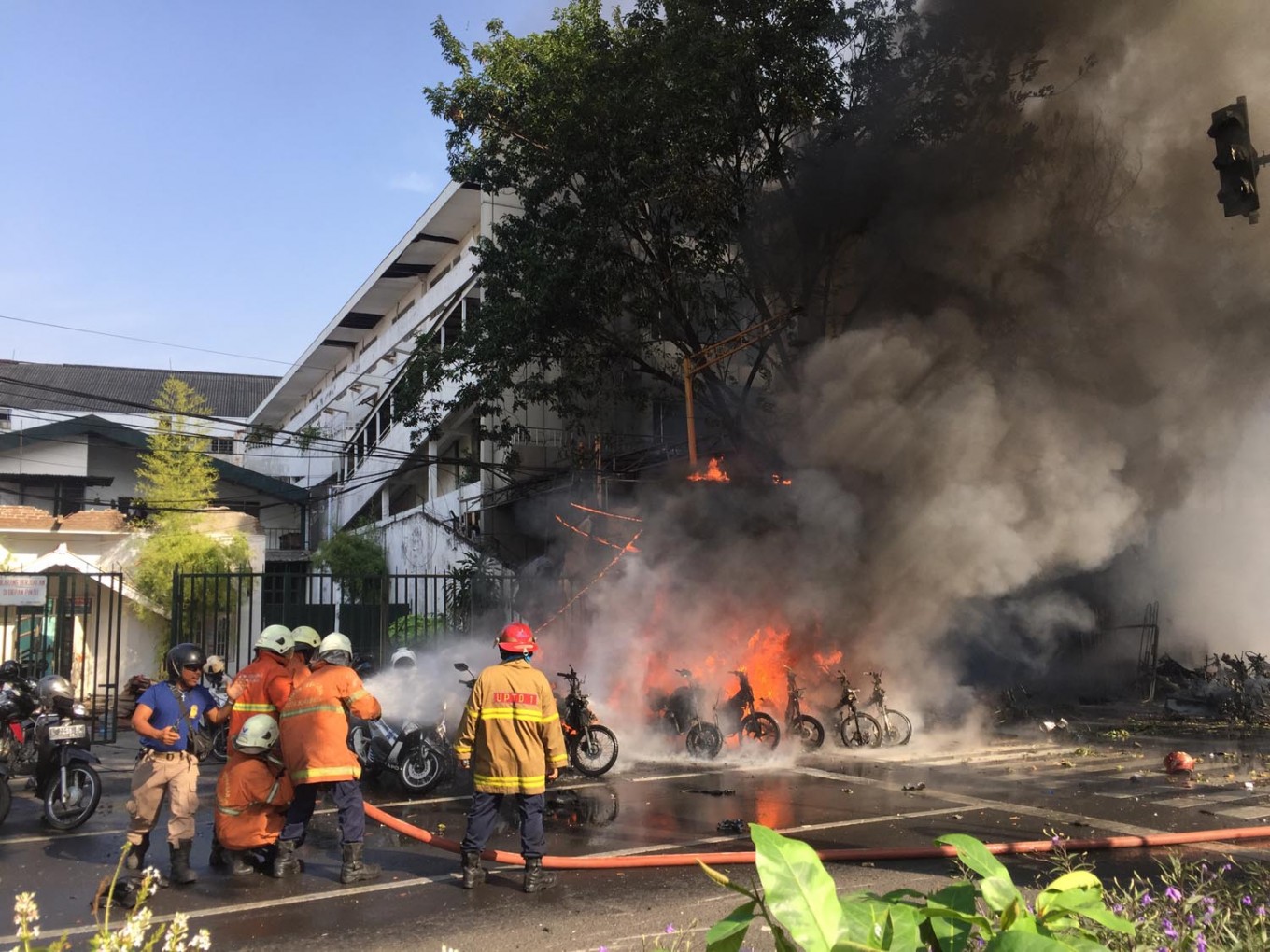 Firefighters try to extinguish a fire that was caused by a bomb explosion at Surabaya Pentecostal Church (GPPS) in East Java on May 13. (Antara/UMAS PEMKOT/ Andy Pinaria)
The police have captured a man suspected of being the leader of pro-Islamic State (IS) terror group Jamaah Ansharud Daulah's (JAD) East Java chapter in Malang, following a series of bombings earlier this week in the provincial capital Surabaya.
The man has been identified as 37-year-old Syamsul Arif, also known as Abu Umar.
The arrest was confirmed by National Police chief Gen. Tito Karnavian during a live television talk show on Tuesday.
"[We have not] only captured the leader of Surabaya's [JAD] chapter, but we have also arrested the leader of JAD's East Java chapter in Malang," Tito said as quoted by tribunnews.com.
According to Antara news agency, the confirmation was echoed by East Java Police spokesman Sr. Comr. Frans Barung Mangera on Wednesday, when he said Abu Umar was among the 18 people apprehended by the National Police's counterterrorism squad Densus 88 between Monday and Tuesday.
According to the police, Umar was arrested along with his wife Wahyu Mega Wijayanti in a rented house in Malang early Tuesday morning.
However, counterterrorism and radicalism expert Rakyan Adibrata questioned the importance of Abu Umar. Unlike Jamaah Islamiyah (JI), JAD has a loose chain of command, meaning that even if the police arrested one of its leaders, the individual attacks would not stop.
"In JAD there is no chain of command; actions can be taken without collective decision-making as in JI," Rakyan told The Jakarta Post on Thursday.
Also due to the loose chain of command in JAD, there will likely be a leadership vacuum in East Java, he said, as the next leader would be decided by prominent JAD ideologue, Aman Abdurrahman, who is currently in detention.
Nonetheless, he added, Abu's arrest would still benefit Indonesia's counterterrorism efforts.
"The arrest will still help [the police] in discovering more JAD networks in East Java and preventing plans for individual terror attacks," Rakyan said. (evi)
Join the discussions