Fuel consumption in Papua drops ahead of Idul Fitri
Nethy Dharma Somba

The Jakarta Post
Jayapura, Papua |

Wed, May 23, 2018

| 09:46 am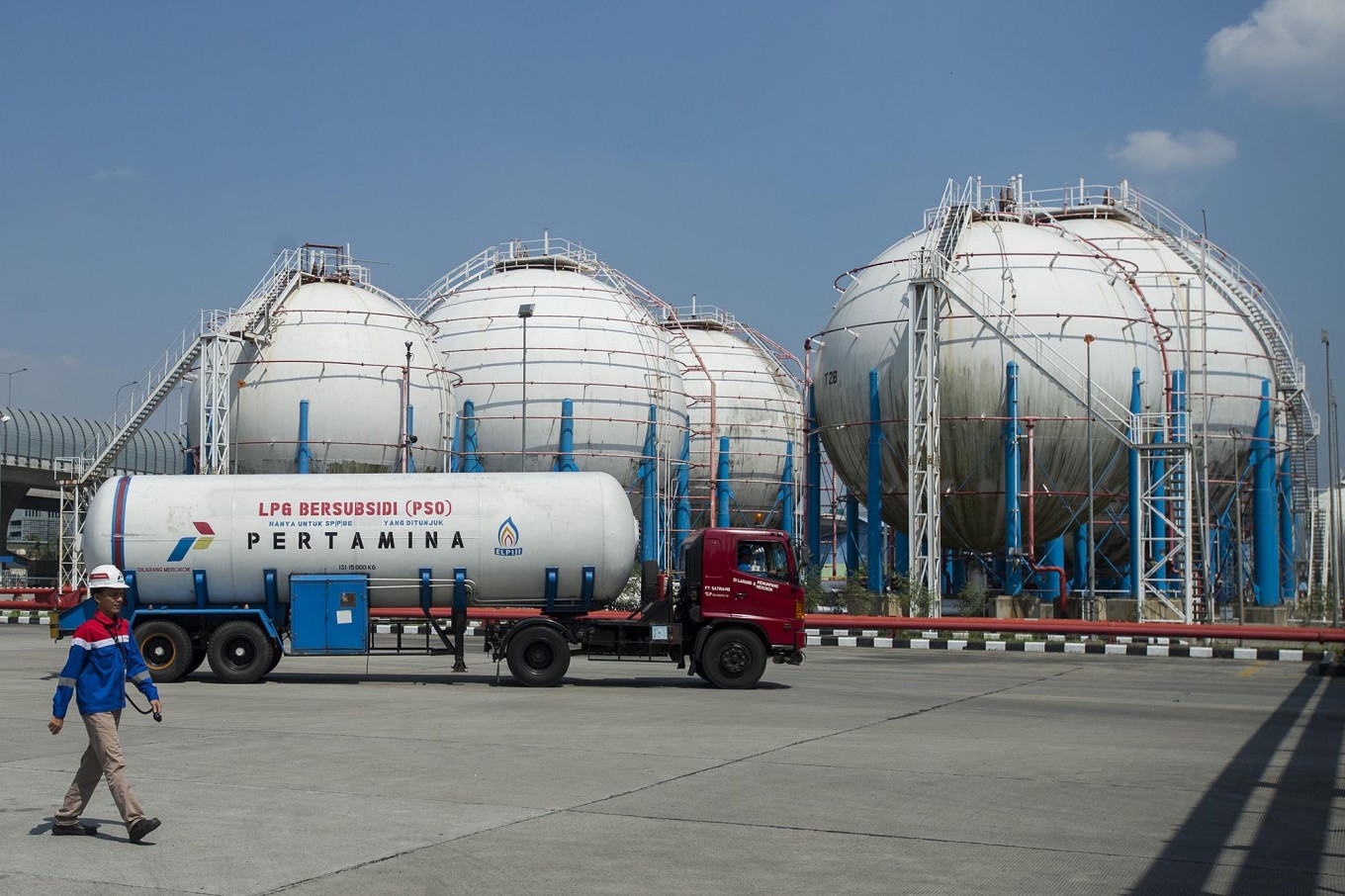 A truck passes through a liquefied petroleum gas (LPG) depot in Tanjung Priok, Jakarta, on July 28, 2017. (Antara/Widodo S Jusuf)
The consumption of fuel in state oil and gas company Pertamina marketing operation region (MOR) VIII areas, especially Papua, has declined as people have started to go back to their hometowns on other islands to celebrate Idul Fitri, which is expected to fall on June 15.
"Many have returned to their hometowns, such as in Java and Sulawesi, so there are not so many transportation and industrial activities. This has caused a decline in the daily needs of fuel, such as subsidized Premium and diesel," said Pertamina MOR VIII general manager Boy Frans Justis Lapian in Jayapura on Tuesday.
According to Pertamina data, the consumption of Premium declined 1.8 percent from 1,047 kiloliters per day to 1,028 kl, while diesel consumption had dropped 2.3 percent to 533 kl from 545 kl.
Meanwhile, the consumption of non-subsidized gasoline Pertalite reached 824 kl, down by 2.1 percent from 806 kl. Pertamina predicted the consumption of another non-subsidized gasoline, Pertamax, would remain stable at around 14 kl.
The consumption of liquefied petroleum gas (LPG) has shown a 12 percent decline. "During the January-April period, LPG consumption reached 21.96 metric tons [MT]. It is predicted that during Ramadhan and Idul Fitri, the consumption will reach 19.33 MT only because many people residing in Papua have returned to their hometowns," said Boy.
Unlike fuel and LPG, the consumption of avtur during Ramadhan and Idul Fitri is predicted to increase by 7.52 percent from 789 kl per day to 848 kl.
"This is because many people travel home by plane so flight activities are increasing," said Boy. He said Pertamina had ensured the available supply of fuel and LPG for the upcoming holiday. "Fuel in Maluku and Papua is sufficient during Ramadhan and Idul Fitri," he added. (hol/ebf)
Topics :
Join the discussions