Prosecutor to demand death for Taiwanese drug smugglers

Batam |

Tue, June 5, 2018

| 07:25 am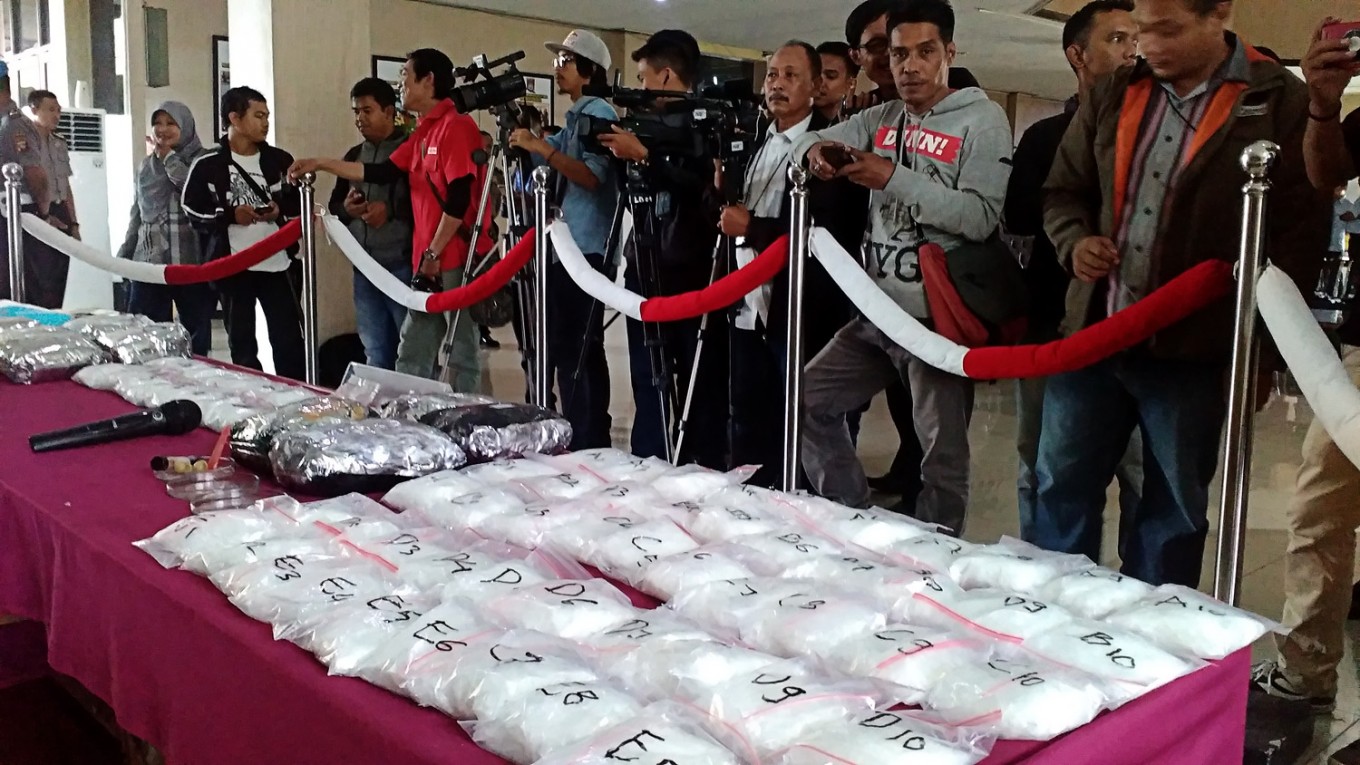 Journalists take pictures of crystal methamphetamine at the West Kalimantan Police headquarters on March 29. (JP/Severianus Endi)
The National Narcotics Agency (BNN) officially handed over the legal submission for the crystal methamphetamine smuggling case involving four Taiwanese people to prosecutors in the Navy (TNI-AL) port in Mentigi, Bintan Island, Riau on Monday.
On Feb. 7, the BNN and a Navy ship managed to capture the Singapore-flagged MV Sunrise Glory in the Philips Channel on the border of Singapore and Batam. The vessel was carrying slightly over a ton of crystal meth.
The chief prosecutor of the narcotics department, Dedi Siswadi, said the suspects, namely Chen Chung Nan, Chen Chin Tun, Huang Ching An and Hsie Lai Fu, would be given the death sentence.
The court in Jakarta handed down the death sentence to Taiwanese men in another case of crystal meth smuggling last year. The men were caught in Banten last July and were also attempting to smuggle about 1 ton of drugs.
Read also: Three Taiwanese get death for smuggling 1 ton of crystal meth
"We support the President's commitment to prioritizing narcotics eradication in Indonesia," Dedi said on Monday.
BNN head Insp. Gen. Heru Winarko said his team was already coordinating with Taiwanese authorities regarding the case.
Read also: Malaysia makes record 1.2-ton seizure of crystal meth
Previously, the BNN and the Navy foiled a similar attempt to smuggle crystal meth several weeks after they intercepted the Sunrise Glory. The second vessel, which also originated from Taiwan, was carrying 1.6 tons of crystal meth packed inside 81 sacks.
However, Heru said the cases were not related to each other as the syndicates were different and the crystal meth originated from different sources. (dpk)
Join the discussions