Kim-Trump summit commences with handshake
Tramaditya Salim

The Jakarta Post
Singapore |

Tue, June 12, 2018

| 08:19 am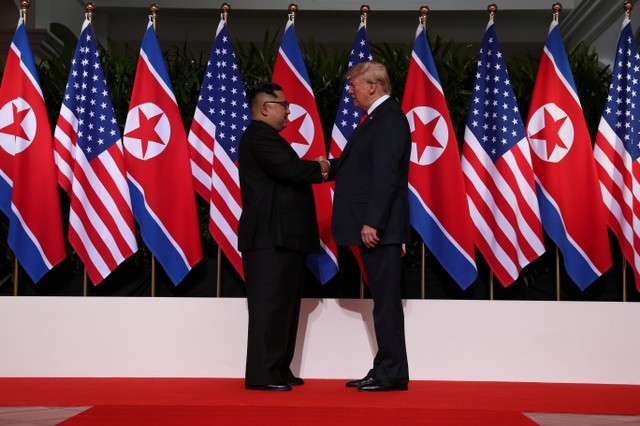 U.S. President Donald Trump shakes hands with North Korean leader Kim Jong Un at the Capella Hotel on Sentosa island in Singapore June 12, 2018. (Reuters/Jonathan Ernst)
A historic peace summit between United States President Donald Trump and North Korean leader Kim Jong-un began with a symbolic handshake at the courtyard of the Capella Hotel on Sentosa Island on Tuesday.
The handshake, an orchestrated gesture lasting 12 seconds in front of the media, marks the first time a sitting US president has met a North Korean leader.
Ahead of a one-on-one meeting between the two leaders, Kim told Trump that "the way to the summit was not easy".
"We overcame all of them [the obstacles] and we are here today," Kim said on Wednesday through a translator.
Trump, in the meantime, said, "We'll have a terrific relationship".
The two leaders planned a 45-minute one-on-one meeting with just translators present, followed by an expanded bilateral meeting and a working lunch.
Kim is scheduled to return home at 2 p.m. Singapore time, while Trump is to make a 4 p.m. press conference before departing later in the evening.
Sentosa Island, the venue of the summit, got its name from the Sanskrit word meaning "peace".
Join the discussions