Fadli Zon insulted cleric, Gerindra executive says
Nurul Fitri Ramadhani

The Jakarta Post
Jakarta |

Wed, June 13, 2018

| 05:35 pm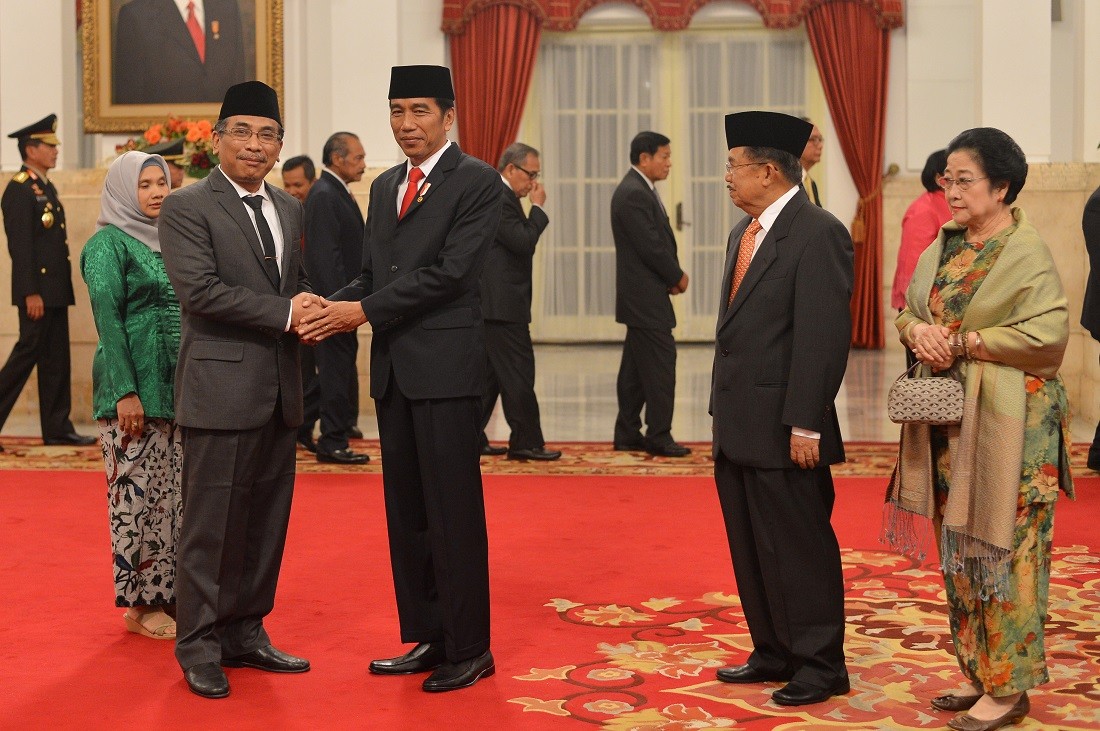 Yahya Cholil Staquf (left), a top cleric from Indonesia's largest Islamic organization Nahdlatul Ulama (NU), shakes hand with President Joko "Jokowi" Widodo (second left) after his inauguration as a Presidential Advisory Board member at the State Palace on May 31. Vice President Jusuf Kalla (second right) and former president Megawati Soekarnoputri attended the inauguration. (Antara/Wahyu Putro A.)
The controversial statement made by Gerindra Party deputy chairman Fadli Zon against Yahya Cholil Staquf, a top cleric from Indonesia's largest Islamic organization Nahdlatul Ulama (NU), has sparker anger inside the party.
Gerindra deputy secretary-general Muhammad Nuruzzaman said Fadli had insulted a cleric and politicized the matter for purposes related to the 2019 presidential race.
Nuruzzaman has announced his decision to resign from the party.
"For me, as a santri[Islamic boarding school student], insulting [our] clerics is opposed to our self-esteem and dignity, something that Prabowo will never understand because he only thinks about political necessity," Nuruzzaman said on Wednesday, referring to Gerindra patron Prabowo Subianto.
Nuruzzaman was angered by Fadli's statement posted on his official Twitter account that read: "He [Yahya] went to Israel just to say that [peace and tolerance]. This has embarrassed Indonesia. He showed no sensitivity to the fight of the Palestinians. #2019GantiPresiden."
Fadli's comment referred to Yahya's recent visit to Jerusalem to speak at a discussion held by the America Jewish Committee (AJC) Global Forum.
Yahya has clarified that the visit was made in a bid to support Palestine and to continue former president Abdurrahman Wahid's mission to create world peace.
Fadli chided Yahya's clarification and politicized the matter by connecting it to the #2019GantiPresiden (#2019ChangePresident) movement.
Nuruzzaman said he would send his resignation letter directly to Prabowo after Idul Fitri. Gerindra had committed to help solve "many more" problems, including sectarian issues surrounding the Jakarta gubernatorial election in 2017.
Gerindra executive board member Andre Rosiade, however, claimed that Fadli did not insult Yahya, saying that the House of Representatives deputy speaker only criticized Yahya, who is a member of the Presidential Advisory Board (Wantimpres), as his visit to Israel could contradict Indonesia's stance against Israeli occupation of Palestinian territories.
"He [Yahya] showed a different stance to Indonesia, which supports the independence of Palestine," Andre said. (ebf)
Topics :
Join the discussions