From ghosts to World Cup: Creative ways to attract voters
Suherdjoko and Apriadi Gunawan

The Jakarta Post
Semarang/Medan |

Thu, June 28, 2018

| 09:32 am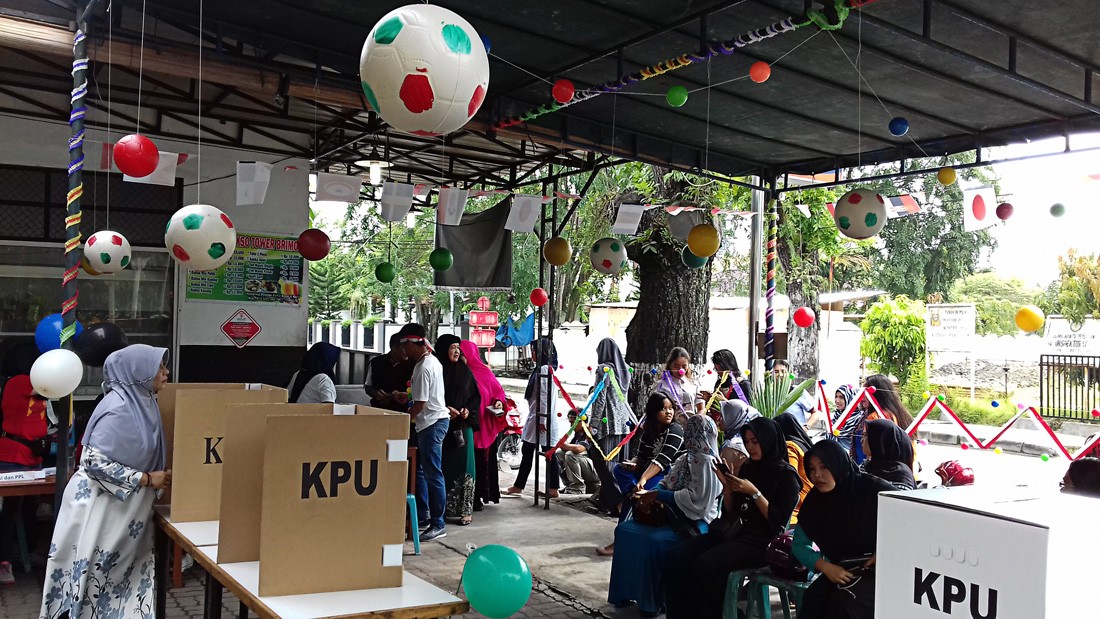 Enthusiastic: A voter casts her ballot in the North Sumatra gubernatorial election at a polling station in Merdeka subdistrict, Medan Baru district, Medan city, on June 27. (JP/Apriadi Gunawan)
During this year's regional elections, voters found unique ways to make the monumental fiesta of democracy even more festive.
Officers at a polling station in Randusari subdistrict, Semarang city, Central Java, picked pocong (the soul of a dead person trapped in a shroud) as the theme of the station to encourage residents to come and use their right to vote in the Central Java gubernatorial election.
Two candidate pairs, Ganjar Pranowo-Taj Yasin and Sudirman Said-Ida Fauziyah, contested the election.
On voting day, polling station officials dressed up as ghosts, such as pocong, gendruwo (malevolent spirit) and various other ghosts. A keranda (a bier made from bamboo) and a body covered by batik was also displayed at the station. Flowers were scattered on the floor, giving the station a sweet scent.
To make the atmosphere spooky, a long piece of batik was hung around the room to make it dark, while haunted sounds were played throughout the day.
The polling station, which was erected at the meeting hall of the neighborhood unit, was located in the middle of Bergota, the biggest public cemetery in Semarang.
"We intentionally created a ghost-themed polling station to make it unique and encourage residents to cast their vote. In the previous regional election, only 80 percent of our residents cast their ballot. Now we have 340 voters and we hope they will all cast their vote," said Krisyanto, head of the polling station's working committee.
Voters who wanted to cast their vote in the Papua gubernatorial election on Wednesday felt a distinct cultural flavor upon entering the polling station in Awiyo, Abepura district, Jayapura.
Polling station officials dressed in traditional Papuan attire representing the Wamena and Nafri cultures, as well as in traditional dress from outside of the province, such as from Toraja and Makassar in South Sulawesi.
"We want to show our enthusiasm for the gubernatorial election," Awiyo subdistrict head Karel Hanasbey said.
In Bandung, West Java, polling station officers in Cibadak subdistrict, Astana Anyar district, chose a Chinese theme to enliven voting day.
Working committee chairman Arif Yunara decorated the station so that it looked like a Chinese village, with officials dressing up as a Chinese emperor, judge and queen, familiar characters in a popular movie about a Chinese kingdom.
"About 30 percent of residents are of Chinese descent. That's why we picked a Chinese village as the theme," Arif said on Wednesday. "Hopefully voter participation here will be more than 80 percent."
At a polling station in Citarum subdistrict, Bandung, polling officials donned costumes of superheroes such as Batman and Captain America.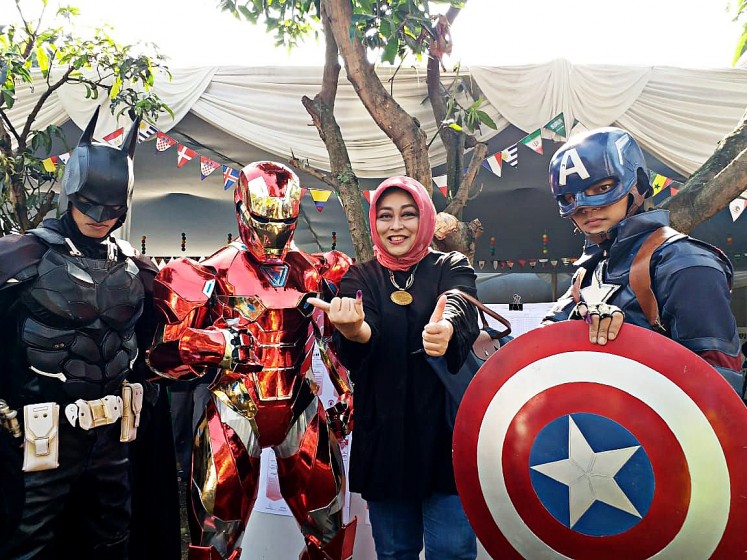 Show your creativity: A voter takes a picture with election officials wearing costumes of Superheroes at polling station TPS 3 in Citarum subdistrict, Bandung, West Java, after casting vote for the West Java gubernatorial election on June 27. (JP/File)
Meanwhile, residents in Medan, North Sumatra, had their own way to have fun with the regional elections. A polling station in Merdeka subdistrict, Medan Baru district, Medan city, was decorated with World Cup-themed accessories.
Working committee member Dodi Ariska said they adopted the 2018 World Cup theme when designing the station in an effort to encourage voters to come and cast their vote.
The polling station, including the World Cup decorations, cost Rp 500,000 (US$35.16), which was fully financed by the working committee.
"Our committee members arranged a cost-sharing scheme," Dodi told The Jakarta Post on Wednesday.
He claimed the World Cup-themed polling station was effective in encouraging citizens to cast their vote. "As of 9 a.m., 125 people had cast their ballot," said Dodi, adding that the number of eligible voters stood at 621 people.
Voter Pandapotan said he was impressed with the theme, adding that such a uniquely-designed polling station was very effective in attracting voters.
"What a nice coincidence that voting day coincided with the World Cup. It's very interesting," he said. "I'm happy to cast my vote at this World Cup-themed polling station." (swa/stu/ebf)
Arya Dipa from Bandung and Nethy Dharma Somba from Jayapura contributed to this story.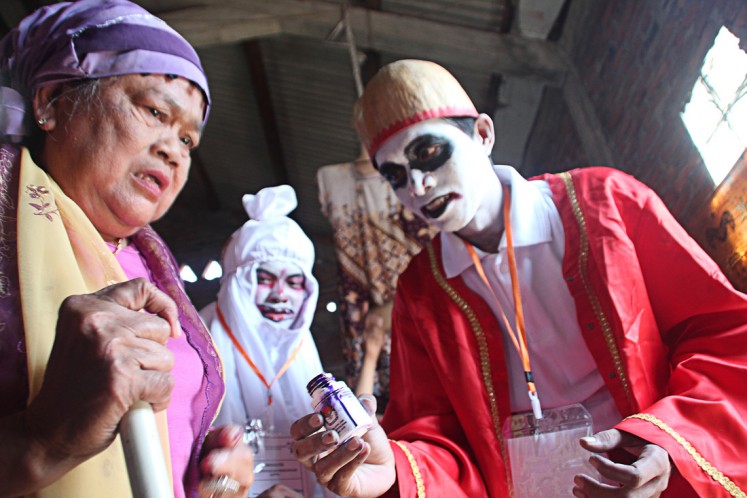 Don't be afraid: A voter looks scared when she has to put her finger in an ink bottle offered by a polling officer wearing a ghost costume after casting her vote on June 27. (JP/Suherdjoko)
Join the discussions