Inalum picks Indometal as holding's global trader
Stefanno Reinard Sulaiman

The Jakarta Post
Jakarta |

Thu, June 28, 2018

| 02:12 pm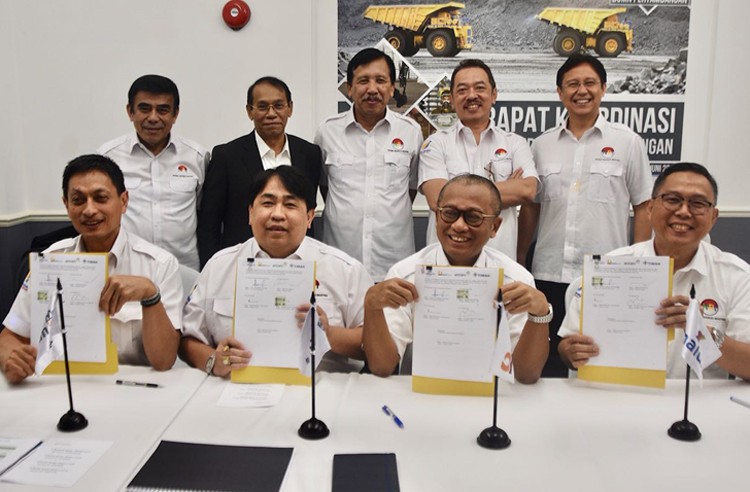 Inalum president director Budi Gunadi Sadikin (right, standing) poses with Inalum commissioner Fajar Harry Sampurno (second right, standing), Antam president director Arie Prabowo Ariotedjo (left, sitting), Timah president director Mochtar Riza Pahlevi Tabrani (second left, sitting), PT Bukit Asam president director Arviyan Arifin (second right, sitting) and Inalum acting business development director Oggy A. Kosasih after signing an agreement in London on Tuesday. (Courtesy of/Inalum)
State-owned mining holding PT Inalum inked an agreement with its members on Tuesday to assign Indometal London Ltd. as a company based in London to take care of all marketing and trade issues of the holding.
The main purpose of the agreement was to generate synergy among holding members -- PT Antam, PT Bukit Asam and PT Timah -- to deal with various global issues, Inalum president director Budi Gunadi Sadikin told The Jakarta Post.
Established in 1988 by PT Timah, Indometal's initial purpose was to be PT Timah's sales agent for the European and US markets.
The synergy was expected to improve the holding's bargaining power in the global market for minerals, coal and derivative products and would generate added value, because the holding could use PT Timah's existing network in the global market, Budi said.
"We have strong mineral reserves that potentially affect the global mineral market. We will combine our potential with best practices in trade to maximize profit. For example, when we halt nickel exports, the global price will increase. Such power should be used to improve our role in the global mining market," he added.
Meanwhile, PT Timah president director Riza Pahlevi Tabrani said the synergy would pave the way for the holding to have a forum with all members to discuss various issues, like on marketing strategies, production, diversification plans and marketing intelligence. (bbn)
Join the discussions