Young South Koreans warming to Japan: Survey
Sho Mizuno and Yujiro Okabe

The Japan News/ANN
Seoul, South Korea |

Thu, July 5, 2018

| 07:15 pm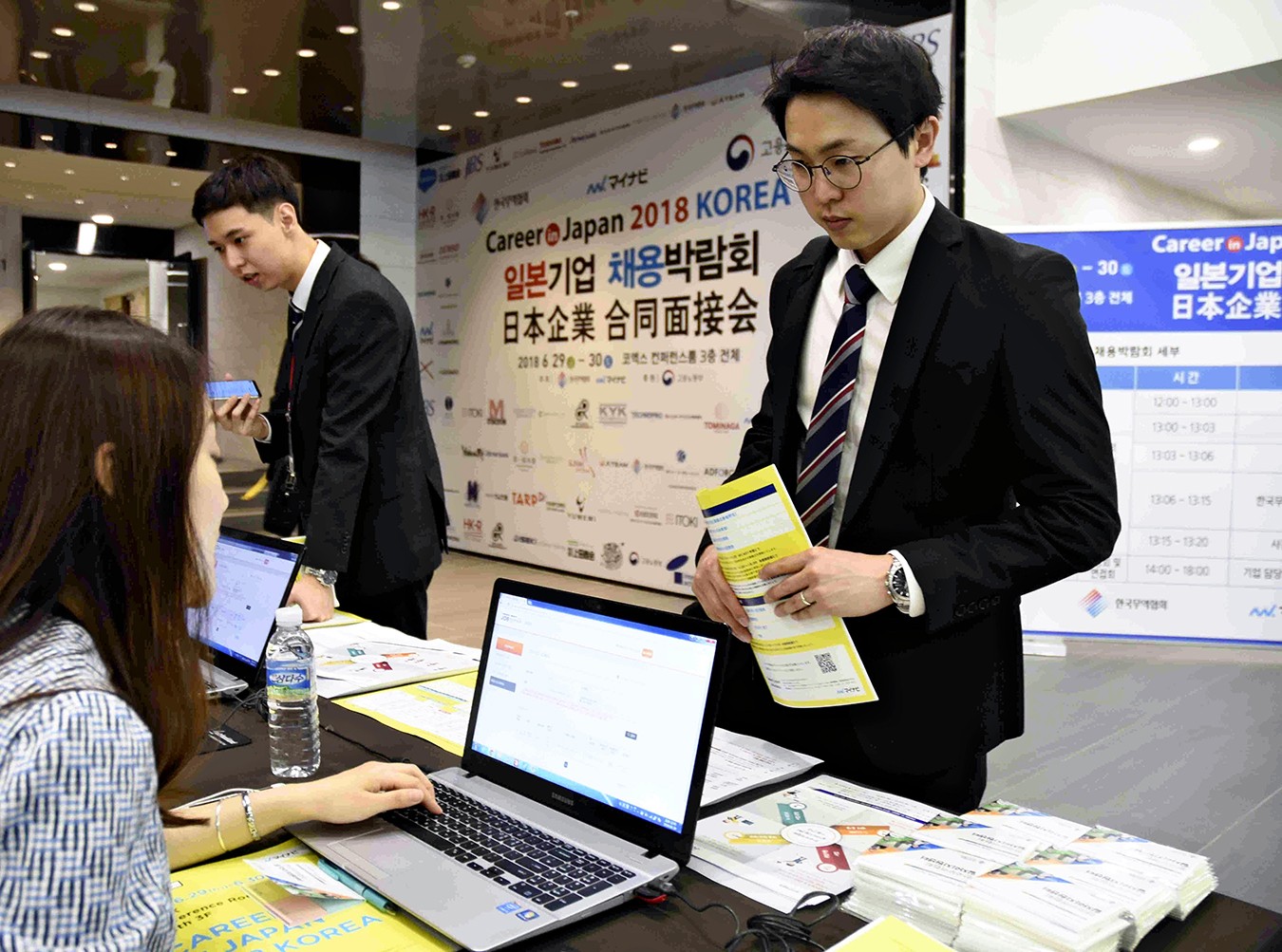 More South Korean university graduates want to work for Japanese companies. (The Japan News/File)
Feelings toward Japan are slightly improved among South Koreans, apparently due to an increase in the number of South Koreans traveling to Japan or wanting to work there, according to a joint survey conducted by The Yomiuri Shimbun and Hankook Ilbo daily.
At the end of last month, a job fair for South Korean university students and others keen to work for Japanese companies was held in Seoul.
Forty-five Japanese firms, including SoftBank Group Corp., participated in the two-day event and interviewed 340 attendees chosen from among 1,600 pre-registrants whose applications had passed an initial paper-based screening process.
Some companies even extended effective job offers at the fair.
Many attendees responded in fluent Japanese to questions asked by company officials. "I want to achieve my dream of living in Japan," a female student wearing a black suit said.
The unemployment rate among South Koreans aged 15 to 29 stands at 10.5 percent, so finding a job is a struggle for many young people in the nation. Consequently, a growing number hope to find work in Japan, a nation culturally similar to their own.
"Young South Koreans develop an attachment to Japanese culture through visits and studying there, and they want to leave South Korea, where the job market is harsh, and build up experience in Japan," said an official of the Korea International Trade Association, which organized the job fair.
According to the survey, 37 percent of respondents aged 19 to 29 said they had friendly feelings toward Japan — the highest figure in any demographic bracket.
"Working at a Japanese company would allow me to speak Japanese, which is my major," said a 21-year-old fourth-year student at Chung-Ang University in South Korea. "I've been an exchange student in Japan, so I have no anxiety about living there."
The number of Japanese companies participating in the job fair has also steadily increased since it was first held in 2015 with seven firms.
This stems from the domestic situation in South Korea overlapping with Japanese companies' desire to lock in talented new employees, whatever their nationality may be.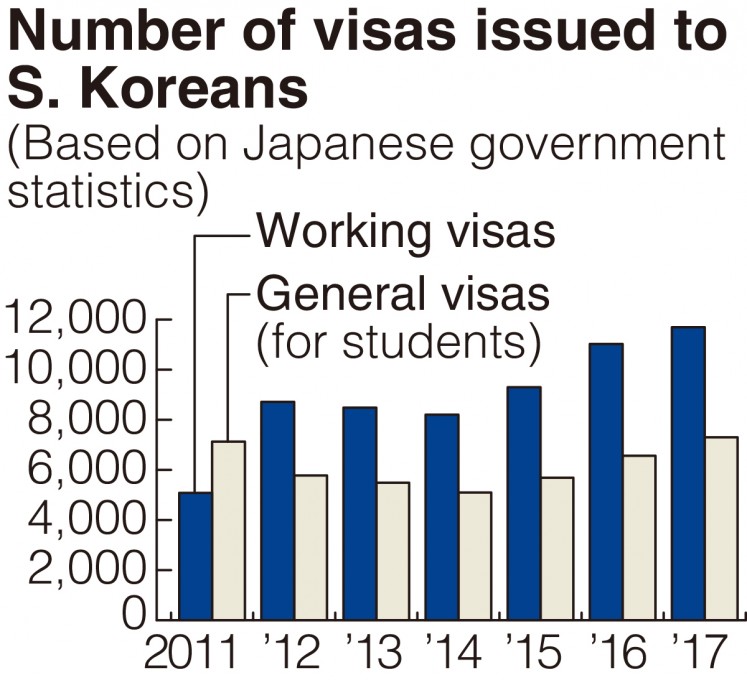 The number of visas issued for South Koreans (The Japan News/File)
According to the Japan National Tourism Organization, the number of South Korean visitors to Japan in 2017 jumped about 40 percent from the previous year, reaching a record high of about 7.14 million.
The circle of visitors is apparently expanding as South Korean travelers to Japan spread word of their trips to acquaintances, who in turn feel more inclined to visit.
A fourth-year student at Woosong University is a huge fan of Japan and has visited four times. "There are many kind people in Japan," the 24-year-old student said. "Many of my friends ended up visiting Japan themselves after hearing about my travels or reading my blog."

Friendly feelings (The Japan News/File)
The increasing number of South Korean visitors is one driving force behind the improved perception of Japan in the country.
For younger generations in particular, opportunities to interact with Japanese people and culture through trips and overseas study programs have become commonplace.
Even with bilateral relations affected by historical issues, younger generations are seen as able to interact with Japan without such issues overshadowing everything else.
Nonetheless, criticism of Japan's government over historical issues remains deep-rooted in South Korea, even among young people fond of Japan.
According to the survey, 73 percent of South Korean respondents said the agreement on comfort women reached by Japan and South Korea at the end of 2015 needs to be renegotiated, and 80 percent approved of setting up statues and other memorials commemorating these women.
South Korean media has extensively covered former comfort women who refuse to accept the agreement, which appears to be influencing the public's perception of Japan.
"Many South Korean people mistakenly believe Japan hasn't apologized over the comfort women issue," said Kookmin University Prof. Lee Won-deog, an expert on Japan-South Korea relations.
"Japan also should not just obstinately insist the issue has been 'resolved,' but rather more actively convey a message that acknowledges public opinion in South Korea."
This article appeared on The Japan News newspaper website, which is a member of Asia News Network and a media partner of The Jakarta Post
Join the discussions