Tourists, hikers warned about cold weather at Dieng Plateau, Mt. Semeru
Agus Maryono and Aman Rochman

The Jakarta Post
Banjarnegara/Malang |

Sun, July 8, 2018

| 01:36 pm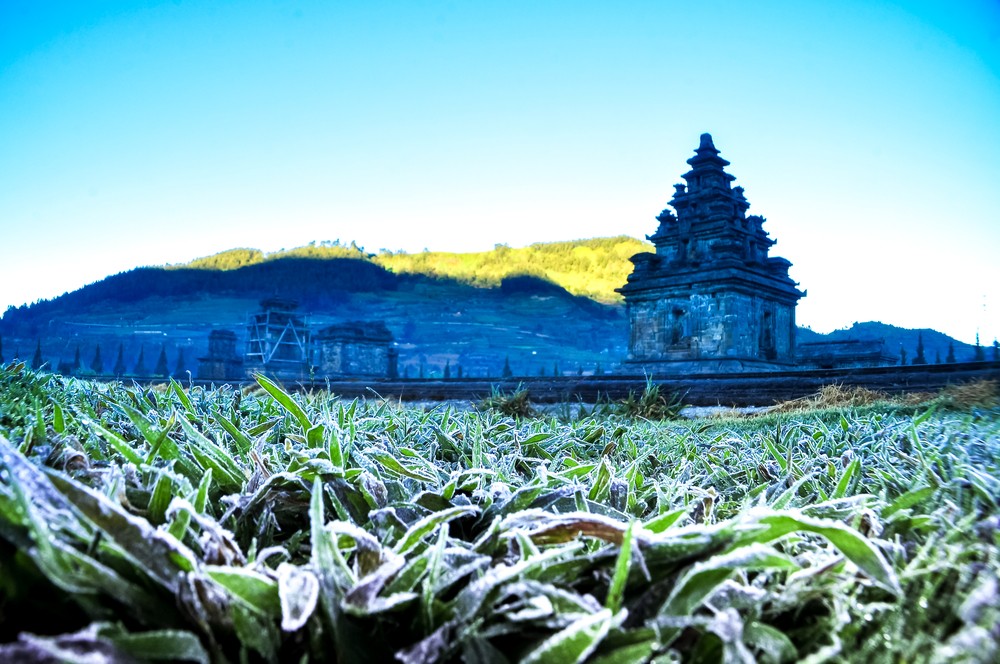 Grass around Candi Arjuna is typically covered in frozen dew from July to August, during the peak of the dry season. (Shutterstock/-)
Parts of Indonesia have experienced unusually cold temperatures in the past few days, prompting authorities at the Dieng Plateau in Central Java and Mt. Semeru in East Java to warn tourists and hikers to bundle up before visiting.
Frost and frozen dew at the Dieng Plateau, a tourist site in Banjarnegara regency, Central Java, have spread, bringing a temperature of -2 degrees Celsius on Saturday morning. Tourists without cold-weather clothing have been advised to hold off on visiting the area.
The head of the Dieng Tourist Awareness Group, Ngizudin, said that tourists wanting to visit the area had to be well-prepared and advised those who were not to postpone their trip until the temperature improves.
"The temperature this morning was -2 degrees Celsius," Ngizudin told the press on Saturday.
Read also: Hail threatens potato harvest in Central Java's Banjarnegara regency
Locals of the area mostly stayed indoors because of the cold temperature, spending much of their time huddled up by the fire place. "The local residents [stayed inside] except at noon, when the sun was high, to check on their potato plants that were withered and blackened from the frost," Ngizudin said.
He added that if tourists still wanted to visit Dieng, they were allowed to come as long as they were geared up for the weather.
Tourists are advised to bring double-layered tents, thick coats, sleeping bags, layers of warm clothing, meals, hot drinks, waterproof shoes, socks, gloves and ear covers.
Mujiono, the spokesperson of the Banjarnegara administration, said that tourists were not banned from entering Dieng; however, they had to follow regulations.
"They have to contact a tour guide to escort them as long as they are in Dieng in this extreme weather," Mujiono told The Jakarta Post.
Dieng Plateu has been covered with what locals refer to as embun upas (frozen dew) for the last three days. The temperature in the morning is about 3 to 5 degrees Celsius on average, but it can sometimes go below 0 degrees.
Read also: Australian winter brings cold weather to parts of Indonesia
Bromo Semeru Tengger National Park authorities issued a similar warning to hikers on Sunday, saying that hikers should not go to Mt. Semeru's peak, the Mahameru, because the temperature could be as low as -7 degrees Celsius.
The head of the national park's Ranupane hiking post, Agung Siswodoyo, said in Malang, East Java, that the peak of the dry season from June to August saw colder temperatures.
"Don't force yourself to go the peak, especially if your body is not fit, because the temperatures are colder," he said.
The national park authorities said they would check on the health of the hikers and inspect their equipment at the foot of the mountains during the cold season. Hikers were required to bring enough equipment to stay warm, he said. The national park, he added, only admitted 600 hikers per day.
According to the Meteorology, Climatology and Geophysics Agency (BMKG), the start of winter in Australia had brought colder temperatures to Indonesia. Temperatures were particularly low south of the equator, in areas such as Java and Bali. This phenomenon, the BMKG said, happened annually in Indonesia during the peak of the dry season in July and August. (evi)
Join the discussions