Learning Indonesia's history from old newspapers, magazines
Bambang Muryanto

The Jakarta Post
Yogyakarta |

Tue, July 10, 2018

| 05:27 pm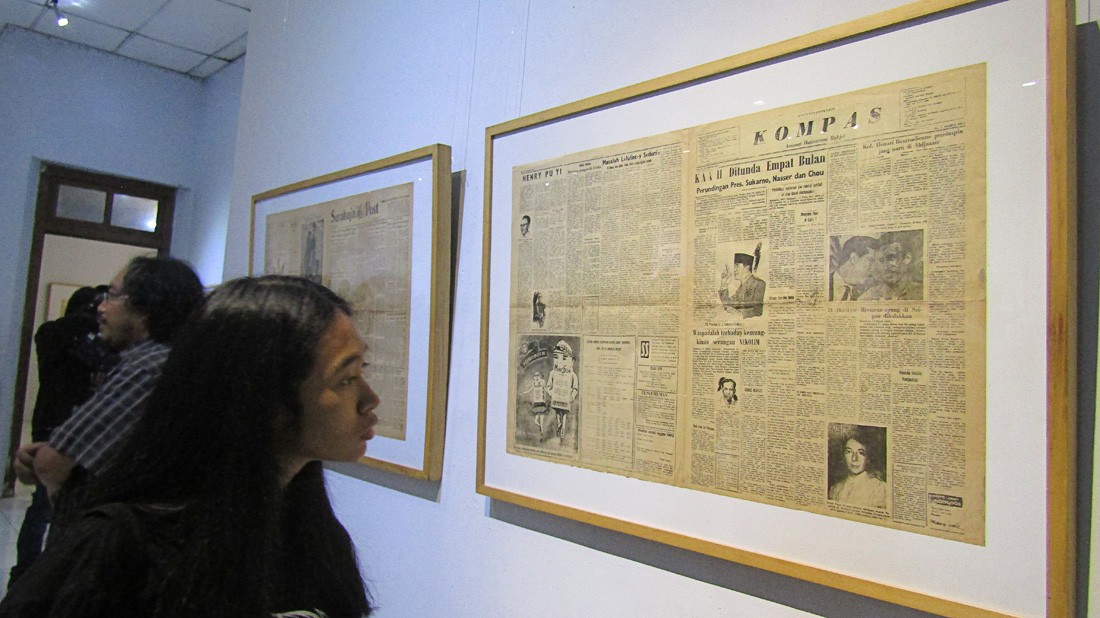 Key milestone: A visitor looks at national newspaper Kompas' first edition published on June 28, 1965, at an exhibition of old newspapers and magazines at Bentara Budaya Yogyakarta. Kicked off on July 3, the exhibition will run until July 11. (JP/Bambang Muryanto)
A newspaper named Bintang-Barat published in Batavia (now Jakarta) in 1871 is displayed on the wall of Bentara Budaya, an exhibition hall in Yogyakarta. On the front page of the newspaper, which has turned yellow, we can see scheduled departures of vessels sailing from and to the Dutch East Indies throughout May 1871.
Bintang-Barat is the oldest newspaper displayed in the old magazine and newspaper exhibition, which is scheduled to take place from July 3 to 11. Jointly held by Bentara Budaya and national newspaper Kompas, the exhibition displays dozens of newspapers and magazines published in Indonesia from 1871 through 1972, which all used old Indonesian orthography.
One of magazines displayed is Varia, which was published on Sept. 18, 1963. From the magazine, readers can learn that the construction of the National Monument (Monas), a historical landmark in Jakarta, was funded by the public. Varia announced that by purchasing the magazine, which was sold at Rp 54.50 (less than 1 US cent) in Java and Rp 59.50 outside Java, readers would contribute to the development of the monument.
The exhibition's curator, Hermanu, said old newspapers and magazines gave Indonesian people invaluable knowledge on the country's history. They contributed greatly to people's knowledge in various fields, such as politics, religion, corruption, wars and advertisements.
"Newspapers and magazines published in the old era always informed readers of important events that occurred every day," said Hermanu.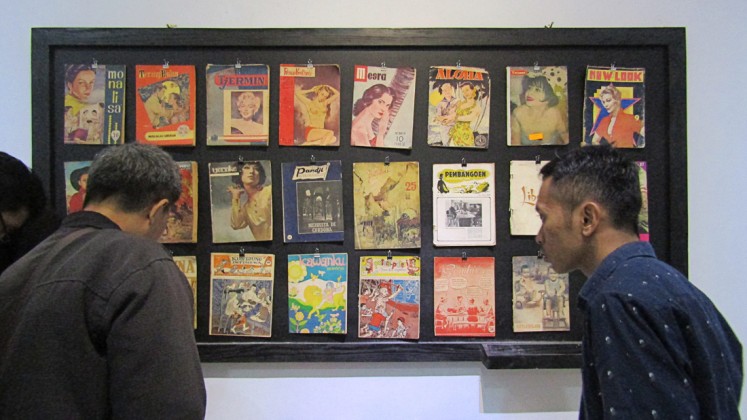 Witnesses of RI history: Visitors look at old magazines published in Indonesia during the period of 1871 to 1972 during an exhibition at Bentara Budaya Yogyakarta. (JP/Bambang Muryanto)
Culture observer Sindhunata said a newspaper that had been read might end up in a trash can or be used by street vendors to pack peanuts. But 100 years later, it can become a really important historical document, he added.
"Newspapers and magazines that record daily events may not seem special but in fact they can become very impressive historical documents," said Sindhunata.
Most old magazines and newspapers displayed in the exhibition belong to Haris Kertoraharjo, a contractor who is also an antique collector. In the past, many magazines and newspapers wrote about sensitive matters, he added.
"Before late former president Soekarno was toppled, news reports in magazines and newspapers were just like news reports published nowadays about Ahok [former Jakarta governor Basuki Tjahaja Purnama]. Soekarno was always cornered," said Haris.
The exhibition was opened by Budi Ubrux, an artist who has created many art installations that always include newspapers as one of the components. In his short messages, Budi said the exhibition was very important for younger generations.
"Newspapers and magazines are historical milestones of human civilization," said Budi.
A literacy community managed by Bandung Mawardi from Colomadu, Surakarta, has also been involved in the exhibition.
On Saturday, university students were invited to come to the exhibition to learn to capture moments not by using cameras but by using words. (ebf)
Topics :
Join the discussions