Zohri's flag conundrum: Upside-down Polish or Indonesian?
News Desk

The Jakarta Post
Jakarta |

Mon, July 16, 2018

| 05:58 pm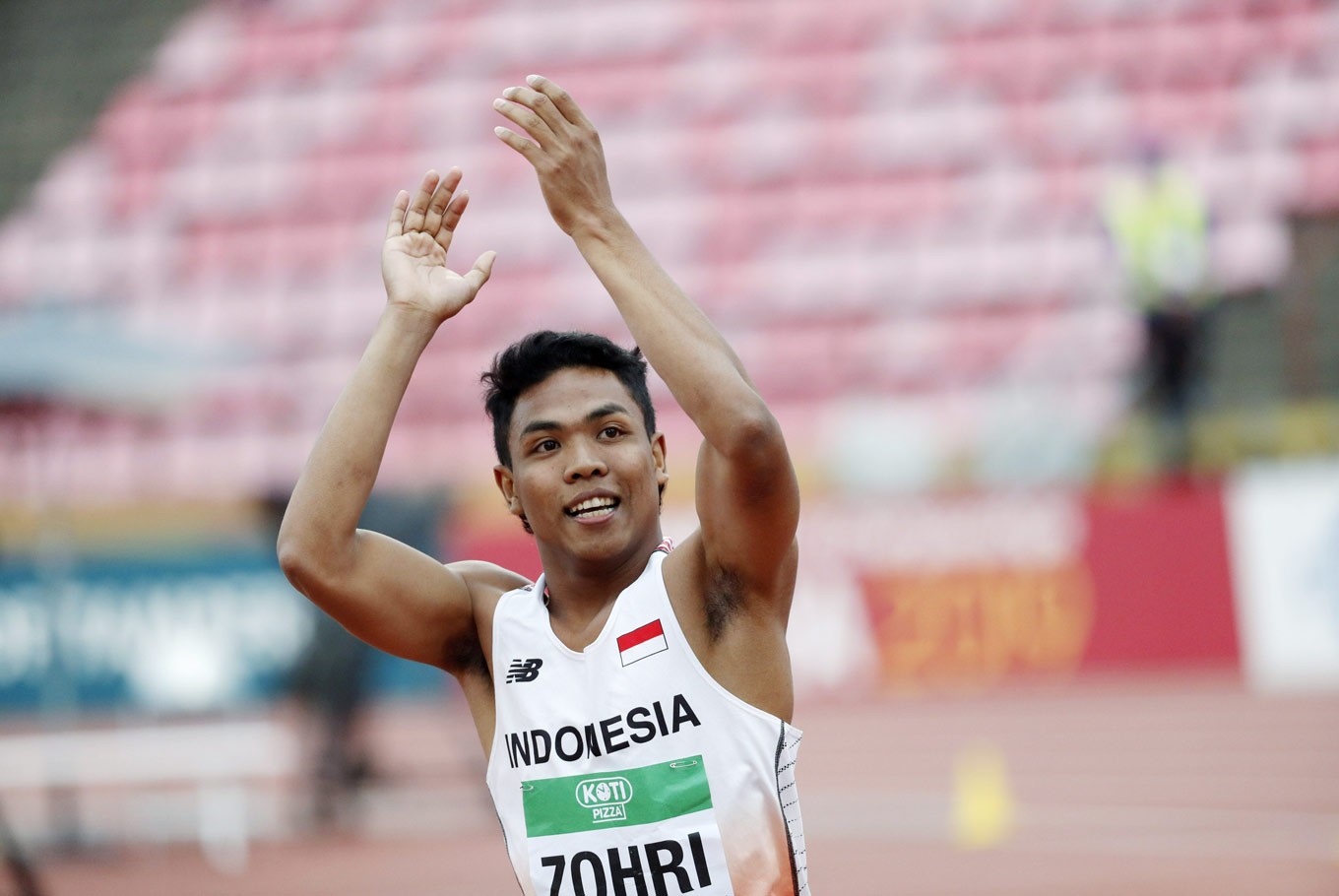 Lalu Muhammad Zohri of Indonesia celebrates his sprint victory in Tampere, Finland, on July 11. (REUTERS/Lehtikuva/Kalle Parkkinen)
After winning the men's 100-meter dash at the 2018 IAAF World U20 Championships in Tampere, Finland, on July 10, Indonesian sprinter Lalu Muhammad Zohri celebrated his victory with a red-and-white flag draped on his back. But was it an Indonesian flag or a Polish flag held upside down to look like an Indonesian flag?
Keen eyes on the internet have plunged into a heated debate about the matter in the past few days, and the debate has become political, with the government decrying accusations that an upside-down Polish flag was used were false.
In a tweet sent out on July 11, the Polish Athletic Association (PLZA) said the team leader of the PLZA had lent Zohri the flag, because it looked similar and Zohri had been looking for a flag to celebrate.
🥇Złoty medal w biegu na 100 metrów zdobył w #Tampere2018 Indonezyjczyk 🇮🇩.

Tak - ta flaga, z którą widać go na zdjęciu to polska biało-czerwona 🇵🇱Nasza ekipa pożyczyła flagę, ale dziennikarzom odmówiła tłumaczenia z indonezyjskiego ☀️#IAAFWorlds @chmiielewski @iaaforg pic.twitter.com/9Uj7zTlndC

— PZLA (@PZLANews) July 11, 2018
One Indonesian Twitter user asked the PZLA to confirm whether it was indeed a Polish flag. PZLA replied that the flag was from one of its team leaders. A Polish Twitter user who helped translate also replied that it was a Polish flag, adding the words: "By the way, leave politics. It is just sport."
Sports Minister Imam Nahrawi denied the accusation. Quoting Athletic Association (PASI) media officer Hendri Firzani, Imam shared a screen capture of the explanation on his Instagram account @nahrawi_imam. Hendri explained that the Indonesian team had prepared flags for Indonesian athletes. "We are always optimistic that we will win," he said.
However, Zohri's coach, Erwin Maspaitella, had been recording the race, while other team members were on the tribune. Before they could get to Zohri, US athletes had asked him to pose with them. The two American athletes, each carrying a stars-and-stripes flag, flanked Zohri, who did not wear a flag.
Hendri said they later gave Zohri the Indonesian flag they had brought from Jakarta.
Indonesian Ambassador to Finland Wiwiek Setyawati Firman said, as quoted by kompas.com, that the US athletes could wear the flags soon after the race because there were many US journalists covering the event near the finish line. "They are ready with flags, because American athletes usually win the 100-meter sprint," Wiwiek said in a statement.
Indonesian team officials were sitting on the tribune. "Only Superman could jump off the track fence to hand over a flag at the finish line quickly," Wiwiek went on. (evi)
Topics :
Join the discussions