Kalla to testify about his right to run for VP again
Margareth S. Aritonang

The Jakarta Post
Jakarta |

Fri, July 20, 2018

| 07:26 pm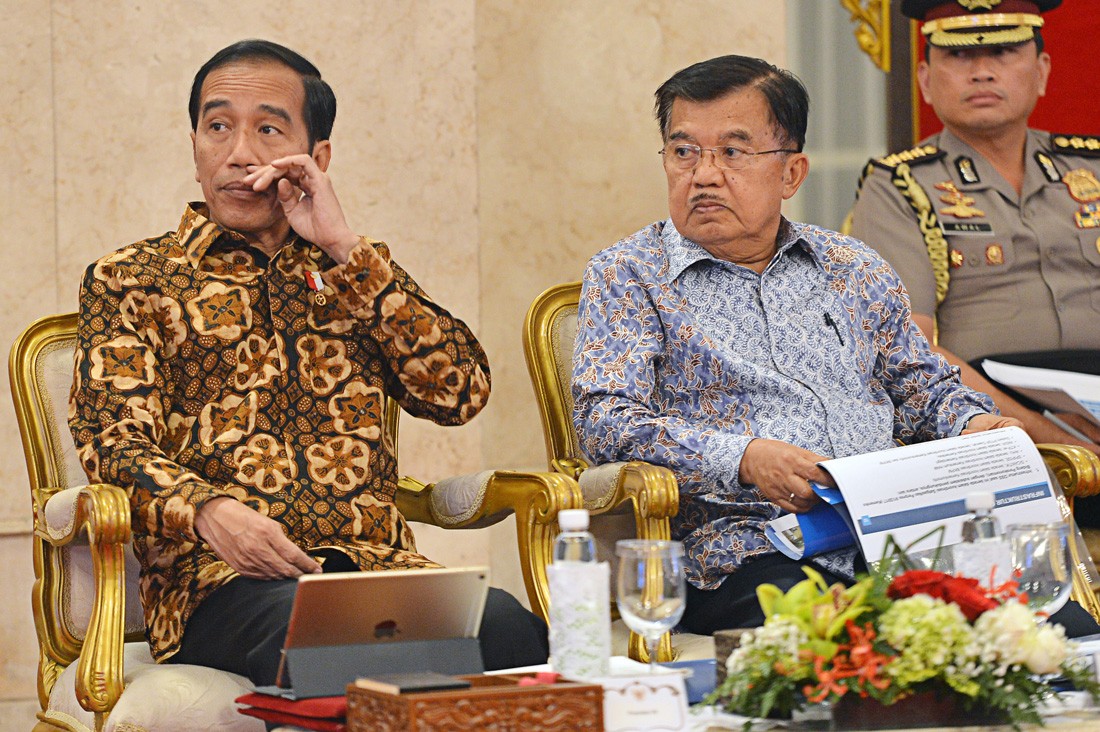 Vice President Jusuf Kalla (right) accompanies President Joko "Jokowi" Widodo . (Antara/Wahyu Putro A.)
Vice President Jusuf Kalla has weighed in on a legal debate over whether he can run for vice president for a third time.
Kalla, who has issued vague statements about whether he intended to run in the election next year, has been touted as one of the most viable figures to be paired with President Joko "Jokowi" Widodo in the upcoming presidential race.
Through his legal representatives, including constitutional law expert Irman Putra Sidin, Kalla has filed an application with the court to be a "related party" in a hearing on a judicial review petition filed by the United Indonesia Party (Perindo).
Perindo has challenged Article 169 of the 2017 Elections Law, which prohibits a president and vice president from seeking a third term in office, regardless of whether they hold office for two consecutive terms.
The party claims that the Constitution bans a president and a vice president from seeking a third term only if they hold the position for two consecutive terms. Kalla first served as vice president between 2004 and 2009. He was elected to the position for a second time in 2014.
"As a citizen, vice president, former vice president and former vice presidential candidate, Kalla filed a request with the court to testify in relation to the debate over the interpretation of Article 7 of the Constitution about the period of serving as president and vice president," Irman said on Friday after filing the request with the court.
The legal expert was referring to Article 7 of the Constitution that says "the president and vice president hold office for five years and can be reelected for the same posts only for one more term".
Kalla will be 76 years old when the simultaneous presidential and legislative elections are held across the country next year.
Despite his advanced age, the veteran politician is widely considered to be capable by members of the pro-Jokowi coalition to run with Jokowi again.
His candidacy, if legally feasible, could also break the deadlock over who will be Jokowi's running mate, with each party in his coalition demanding they be given the vice president slot.
Other parties previously filed a judicial review petition with the Constitutional Court to pave the way for Kalla, but to no avail.
When asked if Kalla's move meant he wanted to run for vice president again, Irman said "Kalla hasn't thought that far ahead."
However, he quickly added that "Kalla could not just close his eyes and ears to [several] political parties wanting him to run again with Jokowi."
Golkar Party chairman Airlangga Hartarto said he would leave it to the court to decide whether Kalla could run again.
"We will not interfere with the legal process," he said. (ahw)
Join the discussions