With new policy, Taiwan turns south
Nezar Patria

The Jakarta Post
Taipei, Taiwan |

Wed, July 25, 2018

| 05:36 pm Sri Purwati, an Indonesian migrant worker in Taipei, Taiwan, at the beauty salon course held by the Global Workers Organization. (JP/Nezar Patria)
The woman combed the hair on the mannequin's head, judging how much was needed to be cut based on the newest hairstyle. At times she chose the wrong scissor or combed the wrong way, but 34-year-old Sri Purwati, who came from Pacitan in East Java, insisted on learning. Next to her, an instructor gave instructions in Mandarin. Behind them, an old, handicapped man was asleep in his wheelchair. The old man is her employer.
This is the fifth year that Purwati has worked in Taipei, Taiwan, as a geriatric nurse. She plans on returning to Pacitan next year, leaving her job as a migrant worker behind to fulfill her wish: opening up her own beauty salon. "I have saved enough to open up a small salon in the village," she said. This is why she has been taking beauty courses every Saturday and Sunday in a middle school building.
The course is part of the Upskill Program that was initiated by the Global Workers Organization (GWO), which offers training courses to migrant workers who are returning to their country of origin. "We want them to open up their own businesses and provide employment for their families or partners," Karen Shu of the GWO told a number of Indonesian journalists visiting Taiwan early this month. Training courses offered include Mandarin and making bubble tea.
In one class, about 45 Indonesian migrant workers were learning Mandarin. In another, tens of workers dutifully jotted down bubble tea recipes. They assembled in several small groups and divided tasks, from boiling water and tapioca flour mixture to cooking liquid sugar. "I dream of becoming an entrepreneur once I go back to my village," said Sriatun who comes from Pangandaran, West Java.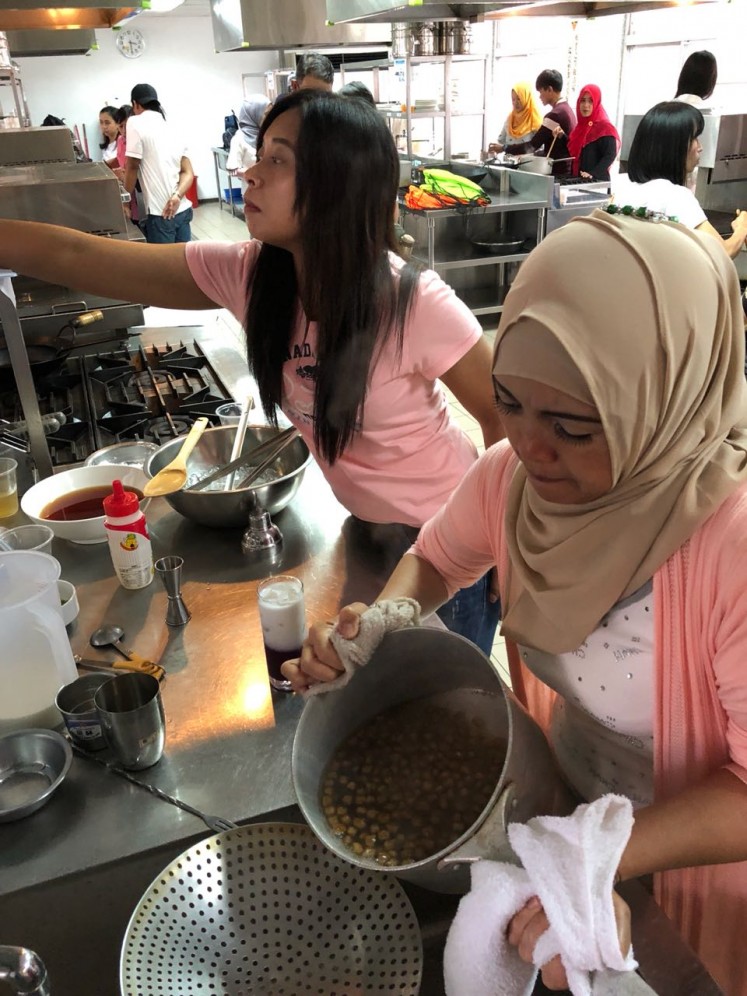 Indonesian migrant workers learn how to make bubble tea. (JP/Nezar Patria)
GWO's training courses have helped countless migrant workers in Taiwan. There are around 670 000 workers in Taiwan from a number of countries, with 260 000 of them coming from Indonesia. They work in various sectors, such as manufacturing, agriculture and health. "There are even around 30 000 Indonesians in the country who are married to Taiwanese citizens," said Kendra Chen of Taiwan's Ministry of Foreign Affairs.
Working in Taiwan does have its perks. Purwati, who plans to open a salon, earns around NTD 17,000 (US$555). A migrant worker on average earns NTD 17,000 to NTD 23,000 before a NTD 1,500 cut for agent fees. "I can set aside around NTD 10,000 every month for my family," said Purwati who is a mother of one.
Read also: Taiwan eyes cooperation with Indonesia in biomedical industry
The Upskill Program is in line with Taiwan President Tsai Ing-wen's New Southbound Policy (NSP). With rising competition in the region, Taiwan is turning south. The country, which has a population of 24 million, is trying to strengthen its trade cooperation with neighboring countries in the south. "This is not about politics, but more about economic partnerships," said Bruce Chih-yu Chien, a negotiator from the Taiwan Trade Partnership Office.
The "soft-power" strategy is considered important especially in light of the One China Policy, which hinders Taiwan from having diplomatic relations with a number of countries in the south. With this strategy, Taiwan is trying to embrace Indonesia, Malaysia, the Philippines, Singapore, Thailand, Vietnam, India, Brunei Darussalam, Cambodia, Laos, Myanmar, Australia, New Zealand, Bangladesh, Bhutan, Nepal, Pakistan and Sri Lanka. "We are focusing on trade partnerships, for instance agriculture," Chih-yu Chien said.
The trade office recorded that there were 133 Taiwanese investments in those countries worth over US$43.68 billion last year, a 54.52 percent increase from the previous year. From January 2017 to November 2019, Taiwan has agreed on 521 investments in NSP countries worth over $270 billion, which is an increase of 15.8 percent from 2016.
Taiwan's Minister of Foreign Affairs Joseph Wu understands that the country must operate outside of its conflict zone with China. Turning south is considered a wise solution, and Indonesia is becoming an important country to Taiwan. Exports from Indonesia to Taiwan reached $5 billion, while imports stood at $3.2 billion.
Hence, Taiwan is improving its service to Indonesians living in the country. "We would like to cooperate with Indonesia. The migrant workers going back to their country will be a bridge for both countries in business as well as culture," said Wu.
Join the discussions