Prabowo ready to drop presidential bid, support other figure

Jakarta |

Sat, July 28, 2018

| 11:37 am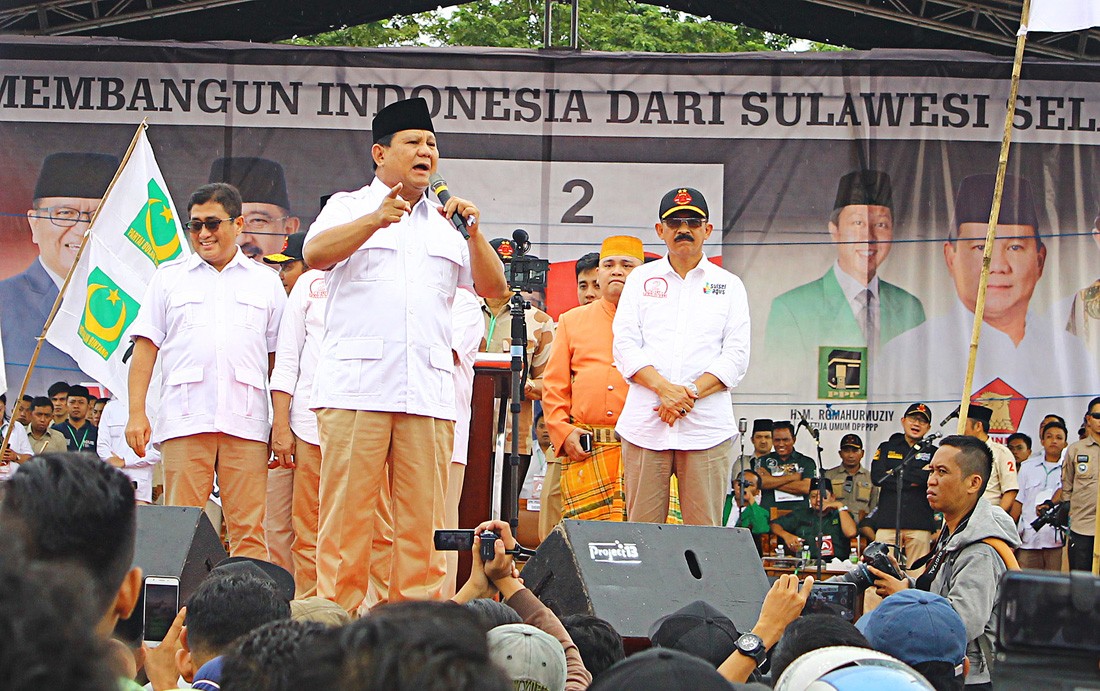 Standing firm: Gerindra Party patron Prabowo Subianto (center) gives an oration during a campaign event for South Sulawesi gubernatorial candidate pair Agus Arifin Nu'mang-Tanri Bali Lamo at Karebosi Field in Makassar, South Sulawesi, on June 20. (Antara/Darwin Fatir)
In a rare statement, Gerindra Party chairman and presumptive presidential candidate Prabowo Subianto said he was ready to throw support behind other eligible people to run for president in next year's election.
Prabowo delivered the statement before hundreds of participants of an ulema gathering spearheaded by the National Movement to Safeguard Ulema Fatwa (GNPF), During the three-day event, ulemas are set to discuss national issues, including the 2019 election.
In his speech at the opening of the event on Friday, Prabowo said the country needed a change of leadership, especially to improve social justice and welfare for Indonesian citizens, most of whom were Muslims, who suffered from economic injustice.
"Thus I declare before you that I am ready to become the tool of change and a tool for the Muslim community and Indonesian citizens," Prabowo said on Friday.
"However, if I am no longer needed and there is someone else who is better, I am ready to throw my support behind them for the sake of the people," he went on to say.
In the event, the ulemas and national figures, including from the political parties, are set to discuss the presidential and vice presidential candidates for 2019, which would result in a recommendation.
Besides the Gerindra chief patron, the opening was also attended by chairmen of political parties in the opposition, including Prosperous Justice Party (PKS) chairman Sohibul Iman and National Mandate Party (PAN) chairman Zulkifli Hasan.
Berkarya Party chairman Hutomo Mandala Putra, also known as Tommy Soeharto, and Crescent Star Party (PBB) chairman Yusril Ihza Mahendra also attended the event. The two parties, which currently do not hold any legislative seats, are set to take part in the 2019 general election.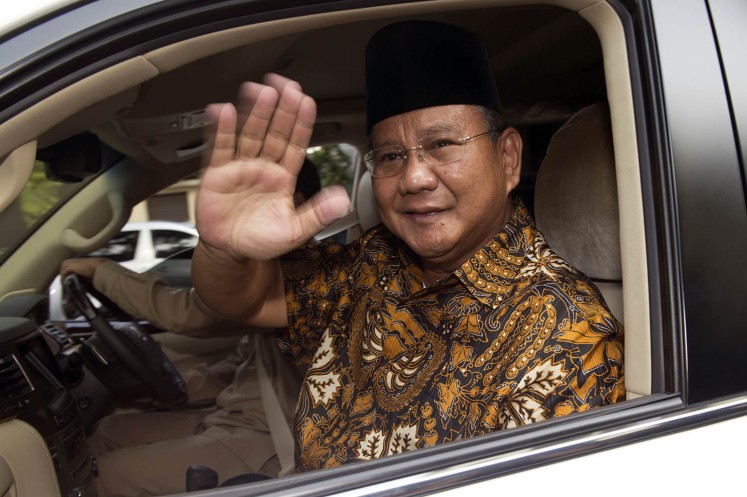 Indonesian presidential candidate Prabowo Subianto gestures to journalists following a meeting with Islamic organizations in Jakarta on July 15, 2014. (AFP/Romeo Gacad)
Before Prabowo, Islam Defenders Front (FPI) leader Rizieq Shihab, who is currently in Saudi Arabia, provided a speech through a recording, in which he urged the participants of the gathering to push the political parties to unite and challenge the parties backing President Joko "Jokowi" Widodo's reelection.
Rizieq and activists grouped under the GNPF were among the staunchest critics of Jokowi. They also spearheaded several sectarian rallies in the past in which they demanded the prosecution of then-Jakarta governor Basuki "Ahok" Tjahaja Purnama for blasphemy.
"We must embrace new parties like the Idaman Party, which has joined PAN and Berkarya Party, as well as big parties such as the Democratic Party," Rizieq said in his speech.
Gerindra and the Democrats recently indicated that they may form a coalition in 2019, as a result of a meeting between Prabowo and Democratic chairman Susilo Bambang Yudhoyono on Tuesday. At the time, Prabowo also signaled that he was leaning toward Yudhoyono's son, Agus Harimurti, as a running mate.
In his speech, Prabowo said the coalition of Gerindra, PKS and PAN was de facto and already working. He went on to say, "[Rizieq] has also said that we must invite the Democrats here."
The gathering comprises discussions over economic, Islamic and political issues on Saturday. It will end on Sunday, during which they will issue a press statement expected to include the names of presidential and vice presidential candidates for the 2019 election. (ahw)

Join the discussions