Tickets, fines issued for expanded odd-even policy violators
News Desk

The Jakarta Post
Jakarta |

Wed, August 1, 2018

| 01:39 pm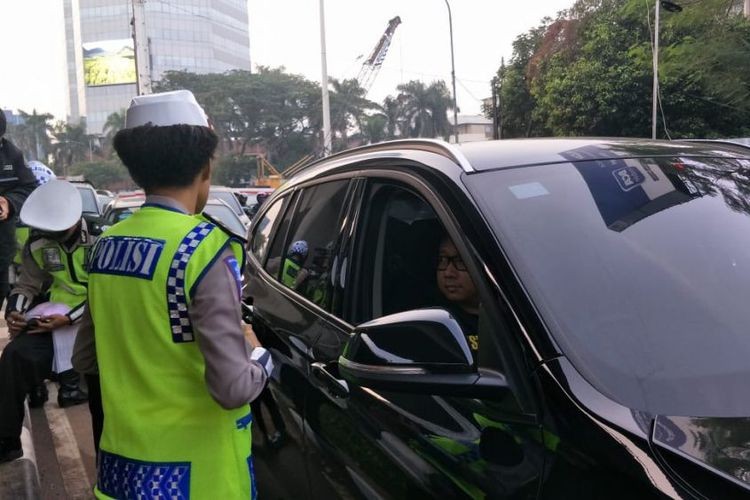 Police officers ticket motorists who violate the odd-even license plate traffic policy on Jl. Gatot Subroto in South Jakarta on Aug. 1. (kompas.com/Nursita Sari)
The Jakarta Police traffic unit has begun ticketing and fining motorists who violate the expanded odd-even license plate number policy after it officially came into effect on Aug. 1. The policy regulates that cars with license plates ending in odd numbers are only allowed to travel on certain roads on odd-numbered dates and vice versa.
On Wednesday, several police officers stopped and ticketed dozens of motorists driving private cars with even plate numbers at the Pancoran crossroad on Jl. Gatot Subroto in South Jakarta.
One violator was Michael. He told the police he was not aware about the policy and that he was on the way to the hospital for medical reasons. Along with his driver's license (SIM) and his car registration certificate (STNK), Michael also showed officers a letter from the hospital outlining his medical needs.
"We have to keep your driver's license, sir," a police officer told Michael.
"I'm in a hurry, I'm going to the hospital, sir. Please, be quick," Michael replied.
The officer proceeded to write a ticket and gave it to Michael.
The city administration has issued a gubernatorial decree on the policy to give police officers the legal justification to penalize violators.
The odd-even policy now covers Jl. S Parman in West Jakarta, Jl. Benyamin Sueb in Central Jakarta, JL. Gatot Subroto, Jl. HR Rasuna Said and Jl. Arteri Pondok Indah in South Jakarta, as well as Jl. DI Panjaitan, Jl. Ahmad Yani and Jl. Perintis Kemerdekaan in East Jakarta. (vla)
Join the discussions