PAN may join Jokowi's camp, PDI-P says
Marguerite Afra Sapiie and Nurul Fitri Ramadhani

The Jakarta Post
Jakarta |

Tue, August 7, 2018

| 07:15 pm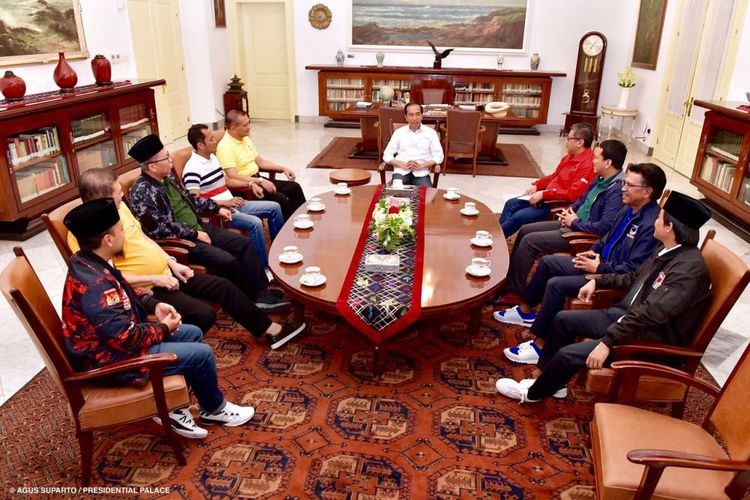 President Joko "Jokowi" Widodo (center) hosts a meeting with secretary generals of political parties which back his reelection bid. (Courtesy of the Presidential Palace/Agus Suparto)
There is a likelihood that the National Mandate Party (PAN) joins the coalition of parties that backs President Joko "Jokowi" Widodo's reelection bid, despite uncertainty over whether the party will support him in the 2019 presidential election, a senior politician from the Indonesian Democratic Party of Struggle (PDI-P) has said.
"We will see [...] whether there will be nine or 10 political parties that back [Jokowi]," Cabinet Secretary Pramono Anung said at the Presidential Palace on Tuesday.
The ruling PDI-P is part of a coalition of nine political parties that supports the incumbent leader. The coalition is currently preparing to register a presidential candidate pair at the General Elections Commission (KPU) on Friday, the deadline for registration.
Pramono, however, refused to elaborate on whether the coalition was in serous talks with PAN.
PAN is technically still a member of the pro-government coalition, but it has shown signs of leaving it following cooperation with opposition parties in the Gerindra Party and the Prosperous Justice Party (PKS) in the 2017 Jakarta gubernatorial election, which resulted in a victory for Anies Baswedan and Sandiaga Uno.
Still, PAN has yet to officially support either Jokowi or his prospective contender, Gerindra's Prabowo Subianto.
Separately, PAN secretary-general Eddy Soeparno said he could not confirm whether his party would officially support Prabowo's coalition.
"We're still in the process of discussing [which coalition to back]. We have yet to come to a conclusion," Eddy said on Tuesday.
The party planned to make a final decision in its national working meeting, which was initially scheduled on Aug. 6 to 7. However, party elites later postponed the meeting over internal matters, saying that they needed time to gather input from party members.
Speculation is rife that PAN's indecisiveness was due to division within the party, with chairman Zulkifli Hasan reportedly inclined to join Jokowi's camp while patron Amien Rais, one of the staunchest critics of the President, prefers Prabowo.
PAN has long been associated with Muhammadiyah, the second-largest Muslim organization, and its endorsement would give a boost to any camp it supports.
Jokowi met with the Muhammadiyah Student Association (IMM) at the Presidential Palace on Monday. The group handed the President a list of suggestions for his key government programs, adding fuel to speculation.
Muhammadiyah chairman Haedar Nashir swiftly brushed off any rumors, saying that, as a mass organization, the group had distanced itself from politics. (rin)
Topics :
Join the discussions