Democratic Party politician calls Prabowo 'cardboard general'
Margareth S. Aritonang and Marguerite Afra Sapiie

The Jakarta Post
Jakarta |

Thu, August 9, 2018

| 08:36 am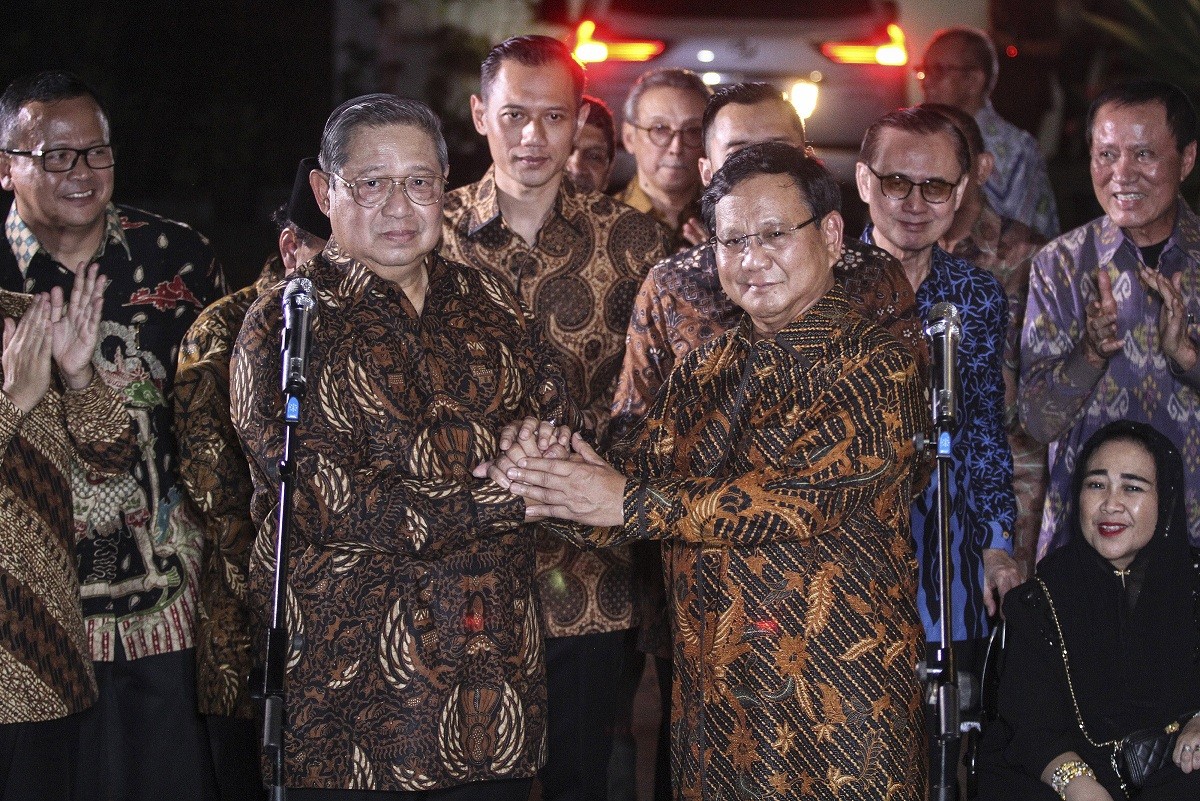 Democratic Party chairman Susilo Bambang Yudhoyono (left) and Gerindra Party chairman Prabowo Subianto (right) shake hands as they pose before journalists after a meeting in Yudhoyono's private residence in Kuningan, South Jakarta, on July 24. Both politicians agreed on possibilities to form a coalition for the 2019 presidential election. (Antara/Dhemas Reviyanto)
The political alliance between the Gerindra Party and the Democratic Party is under serious threat after a Democratic Party politician on Wednesday night posted a series of tweets lashing out at Gerindra leader Prabowo Subianto.
The politician, Andi Arief, called Prabowo a "cardboard general" for allegedly picking Deputy Jakarta Governor Sandiaga Uno as his running mate despite weeks of negotiation with Democratic Party leaders who have proposed Agus Harimurti (AHY), the oldest son of Democratic Party chairman and former president Susilo Bambang Yudhoyono, as the vice presidential candidate.
Andi claimed that Prabowo had picked Sandiaga, who was never mentioned as a potential vice presidential candidate until only a few days ago, because the deputy Jakarta governor had money to buy the support of the other two coalition partners: the National Mandate Party (PAN) and the Prosperous Justice Party (PKS).
Prabowo ternyata kardus, malam ini kami menolak kedatangannya ke kuningan. Bahkan keinginan dia menjelaakan lewat surat sudah tak perlu lagi. Prabowo lebih menghatgai uang ketimbang perjuangan. Jendral kardus.

— andi arief (@AndiArief__) August 8, 2018
"Prabowo turns out to be a cardboard general. Tonight we reject his visit to Kuningan. His intention to explain [the issue] through a letter is no longer needed. Prabowo valued money more than struggle. Cardboard general."
Gerindra secretary-general Ahmad Muzani denied Andi's claim that Prabowo had decided to pick Sandiaga and made sure that political communication with Democratic Party leader Susilo Bambang Yudhoyono was still on.
"As of [Wednesday] afternoon, we have two names of [vice presidential candidates], AHY and Sandiaga Uno. We are still negotiating with the other parties," he said.
Prabowo has struggled to determine his running mate for fear of losing the support of his coalition partners, who have proposed their own members as Prabowo's running mates. Sandiaga, who also serves as Gerindra's deputy chief patron, is said to have been seen as a figure that could break the deadlock. (ahw)
Join the discussions