Italy interior minister says around 30 dead in bridge collapse
Genoa, Italy |

Tue, August 14, 2018

| 10:04 pm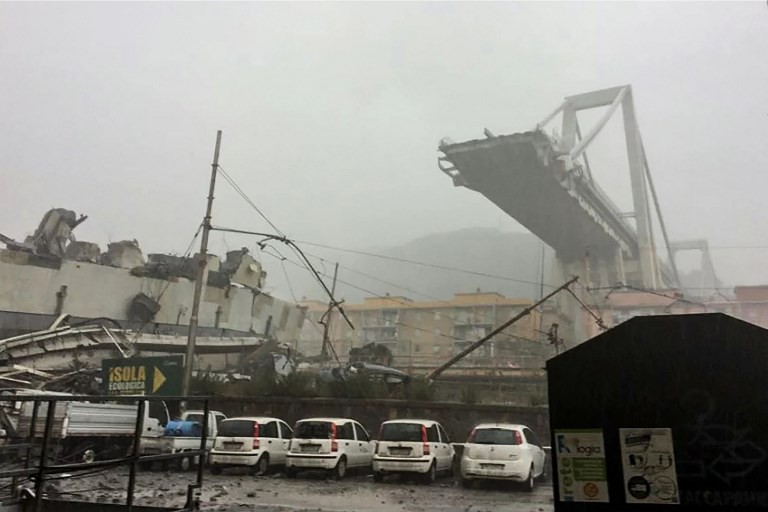 This handout picture provided by the Italian police (Polizia di Stato) on August 14, 2018 shows a collapsed section of a viaduct on the A10 motorway in Genoa. (Agence France Presse/Handout)
Italy's Interior Minister Matteo Salvini said Monday that "around 30" have been killed after a motorway bridge collapsed in the northwestern port city of Genoa.
"Unfortunately there are around 30 dead and many injured in a serious condition," Salvini told reporters in the Sicilian city of Catania. The collapse, which saw a vast stretch of the A10 freeway tumble on to railway lines in the northern port city, came as the bridge was undergoing maintenance work, and the country's deputy transport minister warned the death toll could climb further.
Rescuers scouring through the wreckage, strewn among shrubland and train tracks, said there were "dozens" of victims, while images from the scene showed an entire carriageway plunged to the ground.
Cars and trucks were tangled in the rubble and nearby buildings damaged by vast chunks of concrete, according to an AFP photographer at the scene.
Angelo Borrelli, head of the Civil Protection service which manages disaster areas, told reporters in Rome that an additional 13 people had been injured.
OMG. An aeral view of the tragedy in #Genoa, where a major motorway bridge has collapsed. This is appalling. #Italy
via @belcastrotw pic.twitter.com/jodF6eIUP8

— Antonello Guerrera (@antoguerrera) August 14, 2018
Aerial footage showed more than 200 metres (650 feet) of the viaduct, known locally as the Morandi bridge, completely destroyed.
The Italian fire service said that the bridge, located in an industrial area in the west of the city, collapsed at around noon (1000 GMT).
Join the discussions