Haze blankets Riau amid heightened forest and land fires
Rizal Harahap

The Jakarta Post
Pekanbaru, Riau |

Thu, August 16, 2018

| 06:38 pm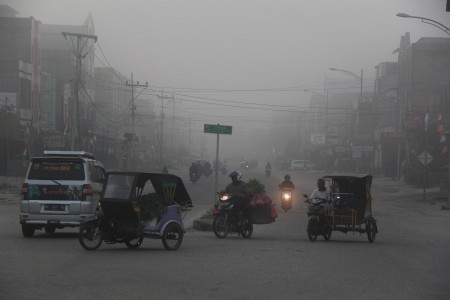 Residents drive in Dumai city, Riau, amid thick haze blanketing the city on Thursday, Aug. 16. Smog started to cover the air as more hot spots were detected amid the dry season. (Antara/Aswaddy Hamid)
Haze has covered several areas in Riau province following a growing number of hot spots detected from heightened forest and peatland fires and has started to choke residents.
White smog has blanketed provincial capital Pekanbaru in the past few days, prompting residents to put on surgical masks to protect themselves from the toxic material.
"At first I thought it was morning dew, but apparently the environment was dimmed from the haze," Pekanbaru resident Musfarin said on Thursday.
Similar conditions also occurred in Dumai city, where visibility dropped to 4 kilometers in the morning on the back of the thick haze. The haze thins at noon with the help of the wind.
Besides coming from local forest and land fires in the city, the haze in Dumai also came from the neighboring area of Rokan Hilir regency, which suffers the worst fires in the province.
The forest and land fires in Rokan Hilir not only burned down hundreds of hectares of oil palm plantation and peatland areas but also 20 houses, a hut, a car and two motorcycles in Tanjung Leban village in Kubu district. The fire forced residents to evacuate to their relatives' houses.
"We have informed land owners not to clear their land for plantation during the dry season, but apparently they ignored it. We did not have the proper equipment to put out the fires and it was hard to find a water source so the fire spread quickly," Tanjung Leban village secretary Wandri said.
He said currently thousands of residents needed surgical masks for the choking haze.
"Four villages near us are covered with smog from the land fires. All the villagers now breathe in haze. The government must take action to help the people," Wandri added.

Riau forest and land fires task force deputy head, who is also the head of Riau Disaster Mitigation Agency , Edwar Sanger, said the team had monitored and conducted fire extinguishing efforts in Rokan Hilir both from land and air.
"But dry land in the dry season triggered the fire's spreading. The strong wind has also complicated wildfire suppression efforts," he said.
Edwar urged residents to pray for the rain to help with the current situation.
Terra and Aqua satellites have recorded 121 hot spots detected in Riau on Thursday morning according to data compiled by the Meteorology, Climatology and Geophysics Agency (BMKG). The number jumped from 22 hot spots detected by the satellites on Wednesday afternoon. (rin)
Topics :
Join the discussions