Asian Games: S. Korea women's soccer team thrashes Indonesia out
Safrin La Batu

The Jakarta Post
Palembang, South Sumatra |

Tue, August 21, 2018

| 11:53 pm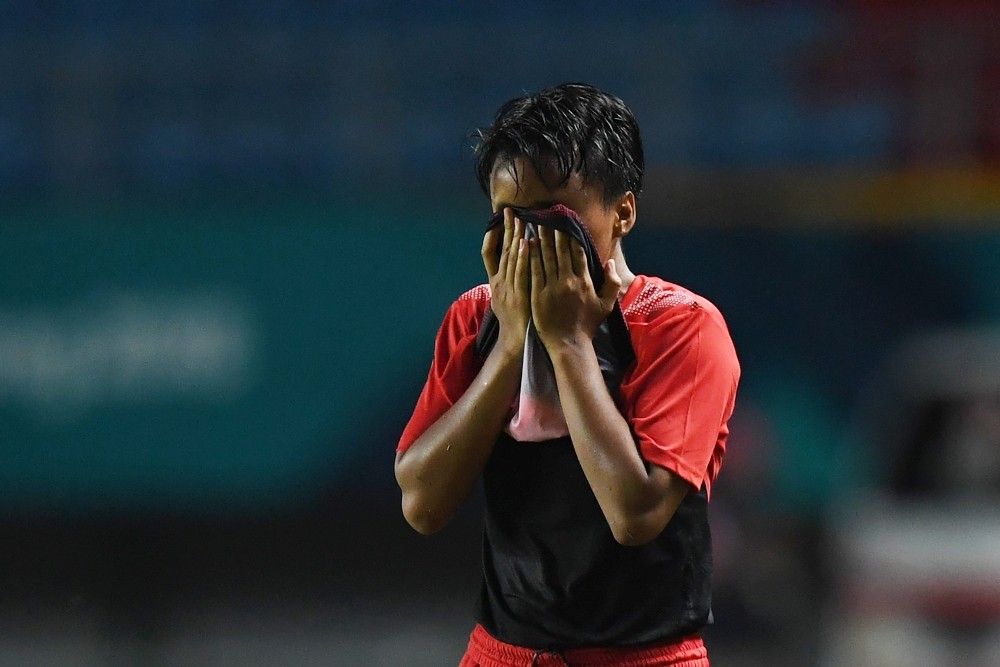 Indonesian player Putri Rizki Amalia is dejected after her team lost 12-0 to South Korea in their Asian Games Group A women's soccer match in Palembang, South Sumatra on Tuesday. (INASGOC/Zabur Karuru)
Indonesia failed to advance to the women's soccer knockout phase after losing 12-0 to South Korea in the last Group A match at Sriwijaya Stadium in Palembang, South Sumatra, on Tuesday.
South Korea was far superior to inexperienced Indonesia in the event, bombarding the overwhelmed host team with cruel attacks.
Just four minutes after the kick-off, Hyunyoung Lee converted a penalty to give the first goal for South Korea. Lee chipped in a total of five goals throughout the match as she also broke the Indonesian net in the 38th minute, 47th, 71st and 90th.
In the second half, South Korea produced the remaining seven goals, more than enough to end Indonesia's journey in the Games. Goalkeeper Younggeul Yoon seemed to have a slow day at work as most of the players – both South Korean and Indonesian – were crowding near the host team's net throughout the second half.
"It is what it is. We have to acknowledge that South Korea is a strong team," Indonesia's coach Satia Bagda Ijatna said after the match.
On Sunday, Indonesia also lost 4-0 to Chinese Taipei.
Satia admitted that his squad lacked decent players to face South Korea, and they were still too tired from playing Chinese Taipei.
From Group A, South Korea and Chinese Taipei reached the knockout phase, while Indonesia and Maldives exited.
Join the discussions