Asian markets mostly up ahead of trade talks, Trump fears ease
Hong Kong, China |

Wed, August 22, 2018

| 03:50 pm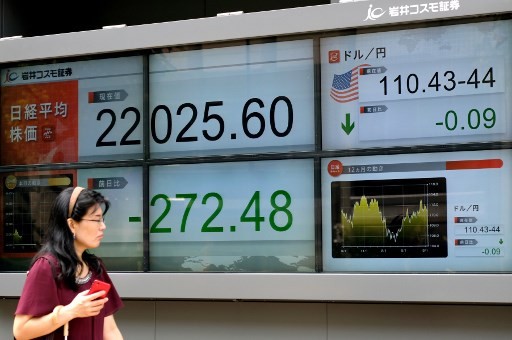 A pedestrian walks past an electronic board showing the share prices of the Tokyo Stock Exchange (L) and the foreign exchange rate between the yen and the US dollar (R) in Tokyo on August 13, 2018. Tokyo stocks opened lower on August 13 as investors watched tension between the US and Turkey that has driven down the lira, fanning fears of possible wider financial instability. (AFP/Kazuhiro NOGI )
Asian markets mostly rose Wednesday before keenly awaited trade talks between China and the United States, while early worries over a double whammy for Donald Trump also eased.
While not expecting a major deal when officials from Beijing and Washington meet, investors are hopeful they can find a way out of the months-long row that has seen tariffs imposed on billions of dollars of goods and stock markets tumble.
Recent comments from US Commerce Secretary Wilbur Ross, signalling plans to delay a final decision on whether to impose duties on auto imports, have also provided some cheer.
Tokyo and Hong Kong both ended 0.6 percent higher, while Seoul and Taipei each put on 0.1 percent and Wellington closed up 0.5 percent. Manila and Jakarta were also well up.
However, Shanghai finished 0.7 percent down while Sydney shed 0.3 percent, with political uncertainty in Canberra adding to selling pressure.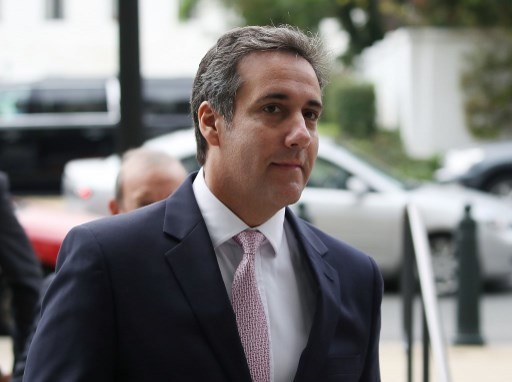 In this file photo taken on September 19, 2017 Michael Cohen, US President Donald Trump's personal lawyer, arrives at the Hart Senate Office Building to be interviewed by the Senate Intelligence Committee in Washington, DC. Cohen said to the New York Times in a February 13, 2018, statement, he paid $130,000 of his own money to porn star Stormy Daniels who once said she had an affair with Trump. Cohen said that he was not reimbursed for the payment to Daniels, whose real name is Stephanie Clifford. Cohen insisted the payment was legal, and declined to give details such as why he made the payment, the Times said. ( AFP/MARK WILSON / GETTY IMAGES NORTH AMERICA )
The day had started with a wobble as the US president's legal troubles deepened when his long-time personal lawyer Michael Cohen admitted several charges including illegally using campaign contributions to pay off a porn star and a Playboy model ahead of the 2016 election.
Cohen also said he had been directed to do so "at the direction of a candidate for federal office" and with the aim of influencing the election.
The claim could put Trump in legal jeopardy and raises the prospect that Cohen is about to open up to lawyers for the Russia investigation.
Also Tuesday, the tycoon's one-time campaign chairman Paul Manafort was convicted on eight counts, including bank fraud, tax fraud and a failure to declare foreign bank accounts.
However, Richard Harris, chief executive officer at Port Shelter Investment Management, said he thought Trump would ride out the storm.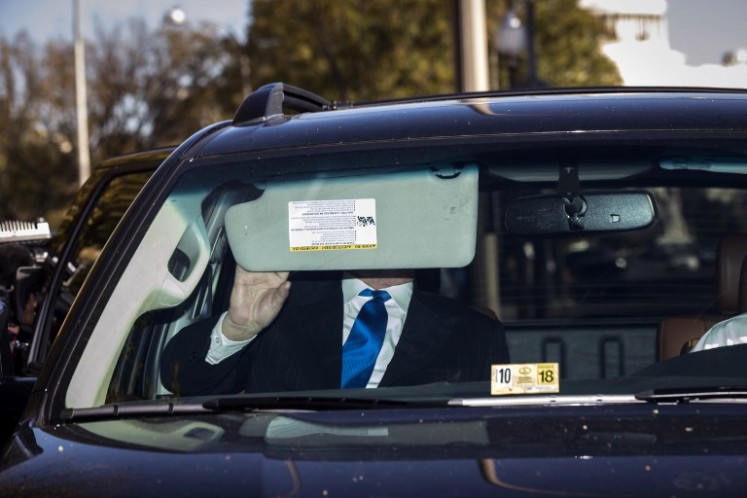 Former Trump campaign chairman Paul Manafort gets into his car after leaving federal court, Oct. 30, 2017 in Washington, DC. Paul Manafort and Rick Gates, have been indicted by a federal grand jury in the investigation into Russian meddling in the U.S. election. (Agence France -Presse/Drew Angerer/Getty Images)
"I don't think that what we saw... in terms of Manafort and Cohen are necessarily fatal to the president," he told Bloomberg TV.
"There are quite a lot of things that could continue and he could still ride them out. It takes an awful lot to impeach a president and it may take an awful lot for Trump not to be elected for a second term."
On currency markets the dollar continued to stutter after Trump's negative remarks about the Federal Reserve's interest rate rises, extending losses against most other units.
Join the discussions