Asian Games: Twins forge their way from scavengers to world-class athletes
Nurni Sulaiman

The Jakarta Post
Palembang, South Sumatra |

Mon, August 27, 2018

| 06:01 pm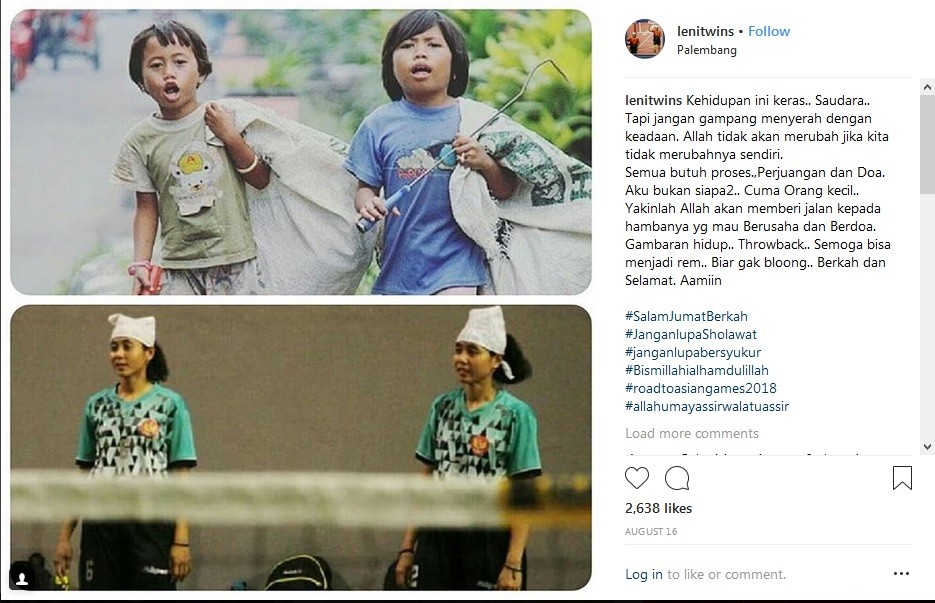 An Instagram post of twins Leni and Lena posted on their account @lenitwins shows them scavenging as children. (JP/-)
Twin sisters Lena and Leni have been acknowledged as prominent figures in Indonesia's sepak takraw landscape. They are among the athletes who are competing in the women's team regu category in the Asian Games in Jakabaring, Palembang, South Palembang.

However, when the twins look back, they realize things were not as easy as nowadays. Before, even teammates and coaches had difficulties distinguishing the two.

"The first time in our training camp, everybody was confused telling apart Leni and I," Lena, half-smiling, told The Jakarta Post recently.

Lena and Leni's first encounter with sepak takraw was when they were still in junior high school in their hometown of Indramayu, West Java. Their initial target was to master the sport so they could get a scholarship.

Having a poor social background made them view a scholarship as the only way to redeem themselves. And they have proven to be right.

Life was not easy for them right from the start. Born as the daughters of Surtina, who worked as a farm laborer, low-paid contract helper on a rice field, and Toniah, a housewife, their parents encouraged the twins to grab at anything they could to help their family economically.

As minors, they worked as dishwashers in the school canteen while they were in junior high school. At other times, they also did their neighbors' laundry by hand. On top of that, they also recognized that there was a time that they scavenged, collecting precious waste.

Instead of being soft, the twins deemed those difficult times as a life period that forged and toughened them. Today, with calm weather, both Lena and Leni recalled those fighting days as sweet memories. On her Instagram account @lenitwins, she posted photographs of herself and her sister as little scavengers, and the posts have netted more than 2,000 likes.

They use their own lives to motivate those who have experienced a similar lifestyle. They always highlight the importance of hard work and resiliency as the main ingredients of a successful life.
"We never thought that we would have gone this far with this sport. This is our third Asian Games," Lena said.

She admitted that up to this date they had not been able to win any medal from the sport. But then she vowed that they would go all-out when competing in the next category, the women's quadrant.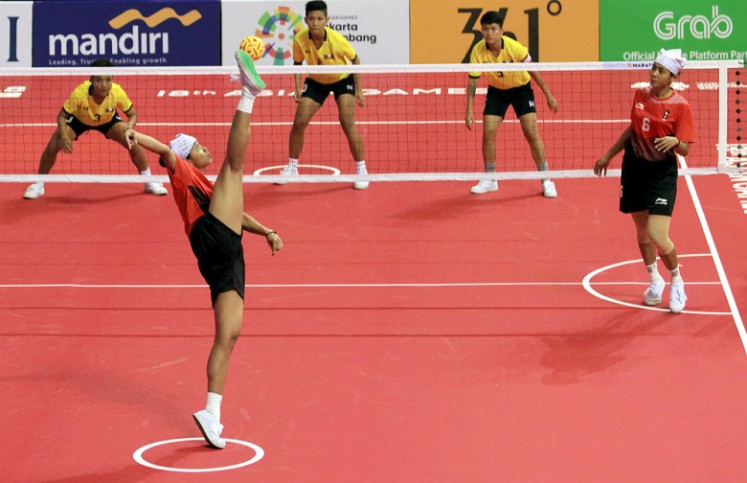 Indonesia's Leni (left) kicks the ball while her twin sister Lena (right) looks on during their sepak takraw women's team regu match against Myanmar in the 2018 Asian Games at Ranau Hall in Jakabaring Sports City in Palembang, South Sumatra on Aug. 19. (JP/Nurni)
Lena was a member of the national sepak takraw team in the 2014 Incheon Asian Games and in four editions of the Southeast Asian (SEA) Games between 2009 and 2017, which were held in Vientiane, Laos; Jakarta and Palembang; Naypyidaw, Myanmar; Singapore and Kuala Lumpur, Malaysia. As for Leni, she was on the team for the 2010 Guangzhou Asian Games and also at the 2014 Incheon Asian Games. Leni also competed in the 2017 Kuala Lumpur SEA Games.

Both Lena and Leni acknowledged that they were still in the middle of their careers, and therefore there was still a lot to achieve. No matter how hard it is, they have found the right ingredients to do it.
Join the discussions