Asian Games: Fans go crazy over merchandise featuring Bhin Bhin, Atung, Kaka
Callistasia Anggun Wijaya

The Jakarta Post
Jakarta |

Wed, August 29, 2018

| 03:58 pm The 2018 Asian Games mascots — Bhin Bhin, Kaka and Atung — have become celebrities in their own right, attracting the attention of sports and animal lovers alike. (JP/DAV)
The 2018 Asian Games mascots — Bhin Bhin, Kaka and Atung — have become celebrities in their own right, attracting the attention of sports and animal lovers alike.

Bhin Bhin is a bird of paradise, a species endemic to the eastern part of Indonesia.

Atung is a Bawean deer, an endangered species of deer only found on Bawean Island in Gresik regency, East Java.

Kaka is a one-horned Javan rhinoceros from Java Island.

The three mascots represent the country's national motto Bhinneka Tunggal Ika (unity in diversity).
Read also: Birth of Bawean fawn adds joy to 2018 Asian Games
Bhin Bhin is usually seen wearing a vest adorned with the asmat motif from Papua, while Atung wears a sarong with Jakarta's tumpal pattern and Kaka wears the traditional attire of Palembang, South Sumatra, featuring a floral motif.

Bhin Bhin symbolizes strategy while Atung and Kaka embody speed and strength, respectively.

It would not be wrong to say that the trio have gained celebrity status at the quadrennial event, prompting thousands to wait patiently in long lines under the blazing sun to bring home their likeness in the shape of plush toys or figurines.

Located near Gate 5 and the Bhin Bhin Zone of the Gelora Bung Karno sports complex in Central Jakarta is the Super Store, which sells official Asian Games merchandise.

Since the start of the Games, its management has tried to ensure a comfortable shopping experience by limiting the number of visitors inside the store.

Customers are required to line up outside the Super Store for their chance to browse for official Games merchandise — including Bhin Bhin, Kaka and Atung toys.

The store also sells T-shirts, jackets, tote bags and replicas of medals. They range between Rp 14,000 (96 US cents) to Rp 5 million in price, with the most expensive item being collectibles made of tin.

Putri Rebecca, 20, a resident of Matraman, East Jakarta, and her friend Athaya Fatihah, 19, from Cilandak, South Jakarta, exited the store with big smiles on their faces, while holding paper bags filled with merchandise.

Putri and Athaya, who went to the Gelora Bung Karno sports complex just to hang out, said they had been tempted to buy the souvenirs as the quadrennial event was a special one.
Read also: Asian Games dollmaker seeks to share happiness, empower people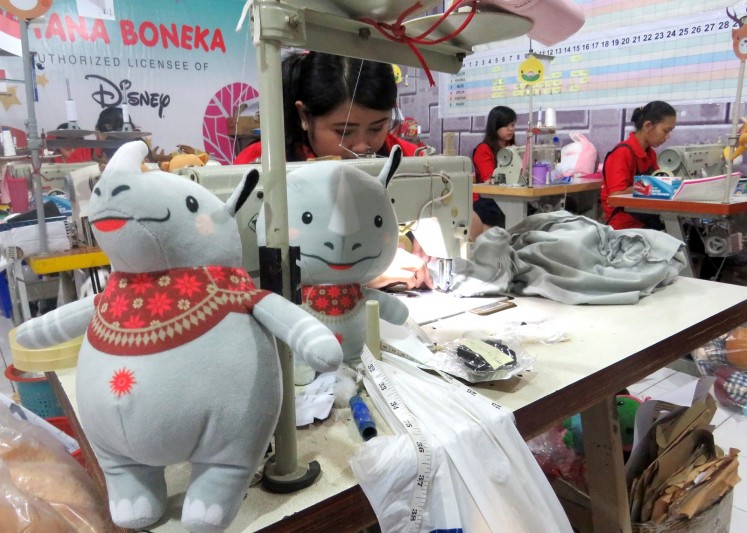 Kaka, the one-horned rhino character, one of Asian Games 2018's three mascots, is at works at the factory. (JP/Nedi Putra AW)
"I bought dolls, key chains and fans of Bhin Bhin, Kaka and Atung for my friends. [The Games] is a rare event, that's why I went crazy for the merchandise," Putri said.

Another customer, Putu Takahide, 26, from Denpasar, Bali, who flew to the capital to watch the swimming competition, also loved the souvenirs.

Putu had filled his shopping bag with T-shirts, key chains and dolls from the store.

Even though he was happy with the merchandise, he hoped organizers could set up more stores in the sports complex.

"Customers wouldn't have to waste time lining up if there was more than one merchandise store," Putu said.

Indonesian Asian Games Organizing Committee (INASGOC) souvenirs director Mochtar Sarman said the shopping frenzy had catered to thousands of visitors so far who visited the store until late into the evening.

The Super Store is officially open from 10 a.m. to 10 p.m., but its staff has had to stay pass operational hours to serve the continuous flow of shoppers, he added.

Mochtar promised better service by expanding the size of the merchandise store.
Join the discussions