PLN faces most difficult electricity recovery work in Palu
News Desk

The Jakarta Post
Jakarta |

Wed, October 3, 2018

| 12:14 pm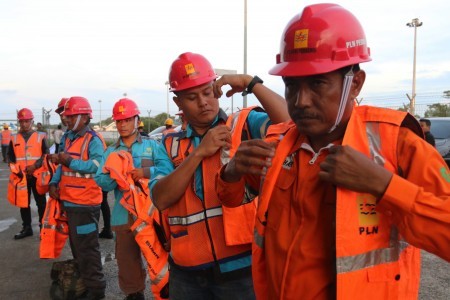 Volunteers of state-owned electricity company PLN at Kualanamu International Airport in Medan, North Sumatra prepare to depart to earthquake and tsunami-hit areas of Palu, Donggala and the surrounding area on Oct. 2. (JP/Irsan Mulyadi)
State-owned electricity company PLN says the damage to electricity infrastructure caused by the earthquake and tsunami in Palu and the surrounding area was more serious than the damage caused by the more severe tsunami in Aceh in 2004 and the recent earthquake in Lombok, West Nusa Tenggara.
Therefore, the company needs more time to recover the electricity service in the area, PLN planning director Syofvie Felienty Roekman said in Jakarta on Tuesday, adding that five out of seven electricity substations had been damaged, meaning that technicians needed more time to recover the substations.
"Compared to Aceh and Lombok, the PLN infrastructure [in Palu] suffered the most damage," she said after a meeting at the Coordinating Maritime Affairs Ministry, adding that the PLN infrastructure in Lombok had not suffered any damage.
PLN previously said the two substations still functioning were located in Pamona and Poso, which supply electricity to areas such as Tentena, Poso and Kasiguncu Airport.
The five damaged substations were located in Parigi, Sidera, Silae, Talise and Pasangkayu. They supply electricity to Parigi, Palu, Donggala up to Pasangkayu with the total loss in electricity at about 105 megawatts.
She said that currently, PLN technicians were still checking the condition of the inter-bus transformer (IBT).
"We are now checking the IBT. If the result is good, the recovery process could be faster. But if the IBT does not work, we have to send an IBT from Jakarta," she said, as reported by kontan.co.id, adding that the price of an IBT was Rp 30 billion (US$1.99 million). (bbn)
Topics :
Join the discussions