Police arrest six after anti-IMF protest in Bali
Ni Komang Erviani and Dyaning Pangestika

The Jakarta Post
Jakarta and Nusa Dua |

Fri, October 12, 2018

| 10:09 pm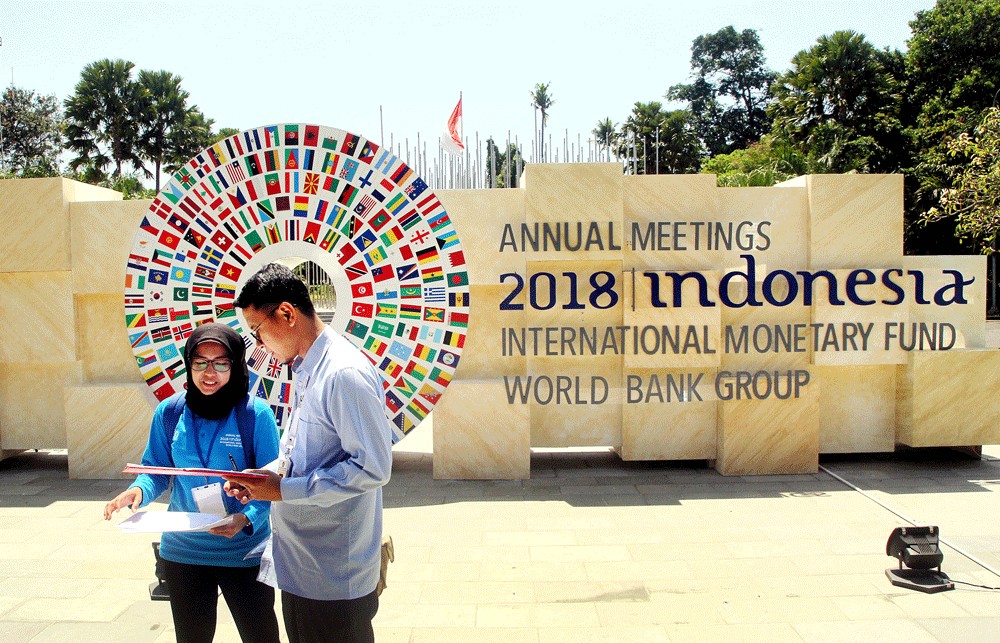 Two members of the local preparation committee for the 2018 IMF-World Bank Annual Meetings converse in front of a sign of the upcoming event at the Bali Nusa Dua Convention Center (BNDCC) in Bali on Wednesday. The Annual Meetings, which is scheduled to start on Monday and end on Oct. 14, will be attended by more than 15,000 participants from 189 countries. (The Jakarta Post/Zul Trio Anggono)
Police arrested and later released six activists protesting the 2018 Annual Meetings of the International Monetary Fund-World Bank Group in Bali.
The activists are from an alliance called Gerak Lawan (the Civil Movement Against Neocolonialism and Imperialism).
Dhyta Caturani, one of the activists and the founder of One Billion Rising Indonesia, said they were arrested on Thursday morning and released the same day.
"They were arrested [in the] morning, and released this evening after Gerak Lawan's lawyers intervened," she told The Jakarta Post through a WhatsApp text message on Friday.
South Denpasar Police chief Comr. I Nyoman Wirajaya denied that any arrests took place.
"These activists entered Sanur Beach without permission and provoked the public by distributing pamphlets and pictures related to the anti-IMF and World Bank movement, causing people to resent them and chase them away," Nyoman said.
He added that least 20 activists had been protesting but all of them ran away, leaving only the six behind.
Police officers, who happened to patrol the area at the time, decided to take the remaining activists to the police station, Nyoman added.
"We didn't arrest them. They were the ones who asked for our help," he said, adding that the police only interrogated the activists for an hour and released them afterwards.
Join the discussions