Dutch people raise $12.7m to help Central Sulawesi survivors
Agnes Anya

The Jakarta Post
Jakarta |

Wed, October 17, 2018

| 09:36 am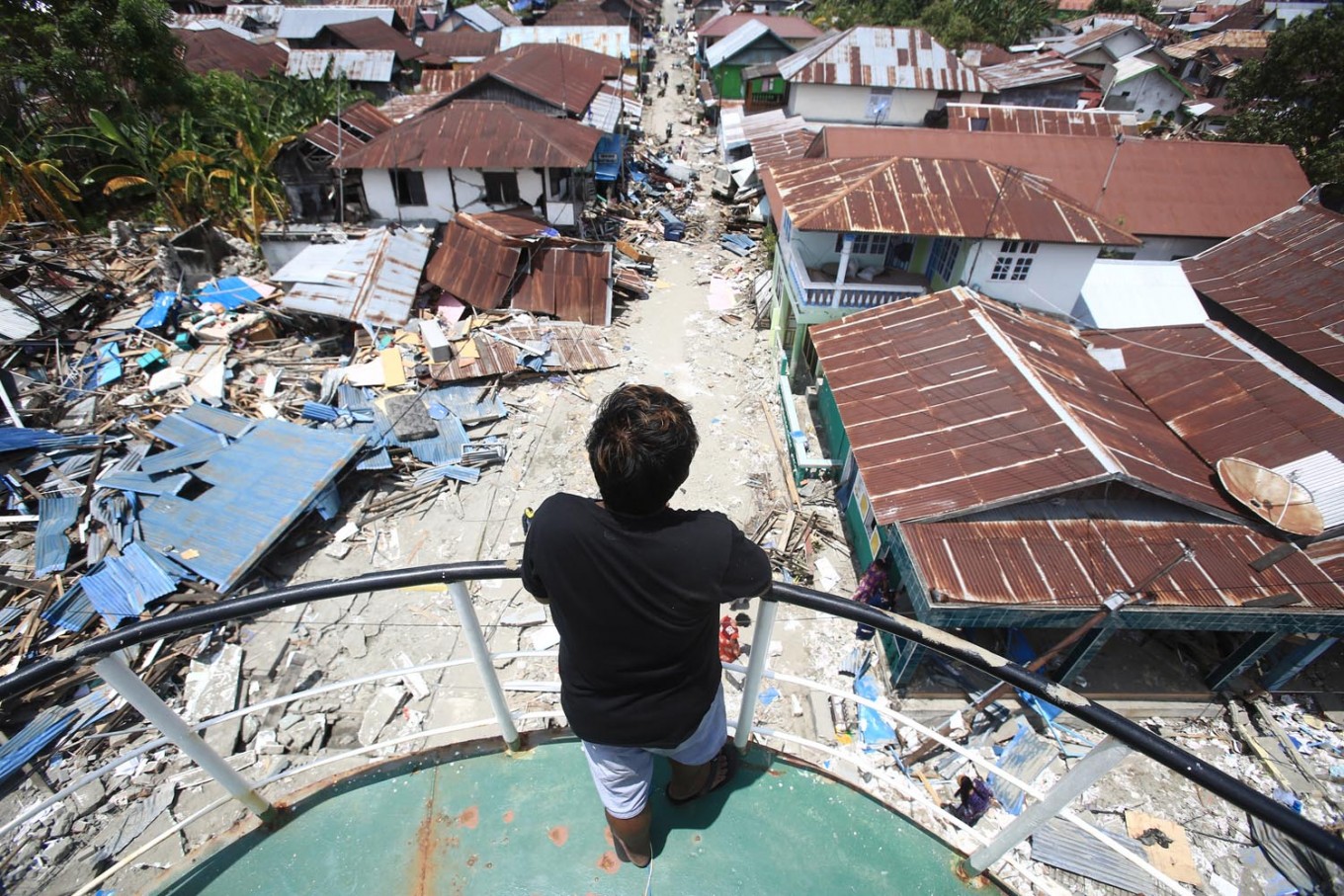 A member of the crew of the Sabuk Nusantara stands on his ship on Thursday, October. 4, 2018, the vessel was tossed onto the land in the tsunami at Wani Port in Donggala, Central Sulawesi. (JP/Dhoni Setiawan)
The people of the Netherlands showed their solidarity with survivors of the multiple disasters in Central Sulawesi by raising at least US$12.7 million to help relief efforts.

The funds were raised through Giro 555, a public bank account for donations for emergency situations such as disasters, involving the media and celebrities, said Indonesian Ambassador to the Netherlands, I Gusti Agung Wesaka Puja.

"Their solidarity was spontaneous. Indonesian people in the Netherlands also held various fund rising events," he told The Jakarta Post on Monday.

He added that by last week, the movement, called national action, had collected some 11.2 million euros ($12.7 million).

On Oct. 10 nine Dutch aid organizations kicked off the campaign to raise funds for the survivors. The movement was aired on TV stations and radio channels, according to a report on the Netherlands-based NGO, ICCO Cooperation.

During the fundraising, people across the Netherlands held various events to raise money.

Children, for instance, did various chores, such as collecting plastic bottles, washing cars, baking and selling cookies, and mowing lawns, to raise money for the impacted people and region.

Later in the evening, ICCO Cooperation reported the total amount stood at 11.2 million euros.

"As cooperating relief organizations, we are grateful that the people of the Netherlands have committed themselves en masse to the victims of Sulawesi," Marinus Verweij, ICCO chairman and campaign chair for Sulawesi said in the report.

The nine aid organizations expected more donations to come in the next weeks, the report said.

Tiarma Panjaitan, aid worker for ICCO, said the organization's first priority was the safety of people in Sulawesi.

"We've made large quantities of medication available for people who need it. Many people were injured after the earthquake and tsunami. After the first aid, it is important to get the reconstruction started," she said in the report.

Separately, Roel van der Veen, spokesperson for the Dutch Embassy in Jakarta, said the government had not promoted the national campaign, it had come fully from the people themselves.

"We [the government] have been supporting the relief effort but there are separate movements by the people. But, we are happy with that as more help is better," he said.

Nonetheless, the Central Sulawesi fundraising made a difference as the people seemed to have a "sense of involvement" and were well connected with Indonesia, he added.

Such fundraising activity was "normal" in the Netherlands but the total amount they had collected was unusually large, according an Indonesian living in the country Alberto Sanjaya.

He said he was grateful many people had been willing to contribute to save many lives back in his home country.

"It is mesmerizing to know that they have made these efforts in these ways. It is not only raising funds as the outcome, but those activities also bring joy in trying to help others," he said.
Topics :

Join the discussions