I'm sorry for spreading lies that Jokowi was a communist: La Nyalla
News Desk

The Jakarta Post
Jakarta |

Sun, October 28, 2018

| 06:30 pm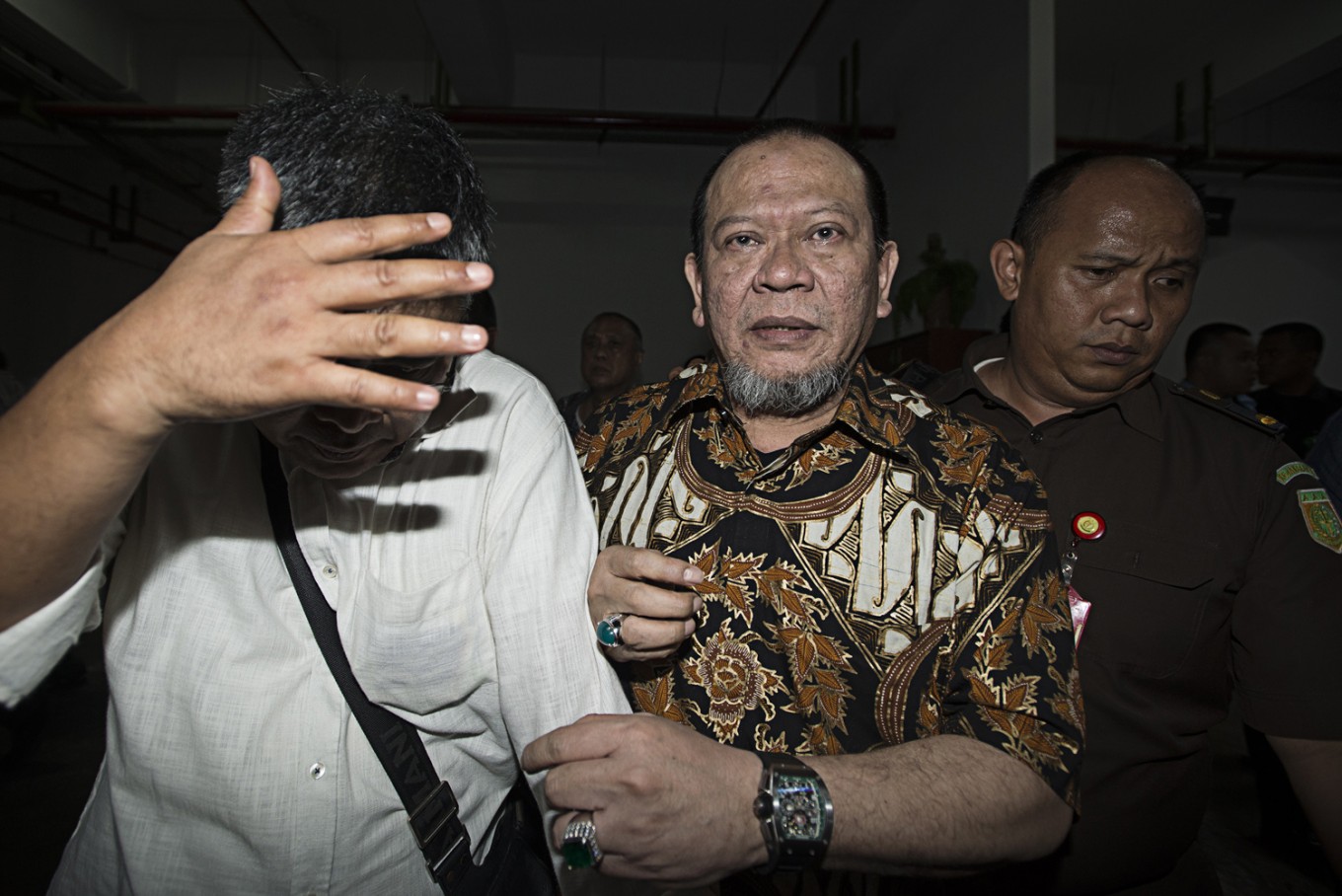 Not guilty -- The Indonesian Chamber of Commerce and Industry's (Kadin) East Java branch chairman, La Nyalla Mattalitti, (center, with batik shirt) is escorted out of the Jakarta Corruption Court after being declared not guilty in a hearing on Tuesday. (Antara/Rosa Panggabean)
Chairman of the East Java branch of youth organization Pemuda Pancasila (PP), La Nyalla Mattalitti, 59, has apologized to President Joko "Jokowi" Widodo for spreading rumors that the latter was a member of now-defunct Indonesian Communist Party (PKI).
"I apologize as I also took part in spreading negative information during the 2014 presidential election, including the issue that Jokowi was a descendant of members and supporter of the PKI," La Nyalla told reporters after his 30-minute meeting with the President in Surabaya, East Java, on Sunday.
In the 2014 race, La Nyalla, former graft suspect who was later acquitted, was a campaign team member for the Prabowo Subianto – Hatta Rajasa ticket.
In the 2019 election, Prabowo is challenging Jokowi again, with businessman-turned-politician Sandiaga Uno. However, La Nyalla has thrown support behind Jokowi's reelection bid, saying that Jokowi's campaign has "clearer and more concrete programs".
Speculation is rife that La Nyalla made the move after Prabowo did not accommodate his political interests. In the 2018 East Java gubernatorial election, La Nyalla was mentioned as a figure to have the most potential to a secure gubernatorial nomination from Prabowo's Gerindra Party. However, Prabowo decided to endorse the Saifullah Yusuf – Puti Guntur Soekarno ticket instead.
La Nyalla claimed Jokowi told him to let bygones be bygones.
Jokowi and La Nyalla met amid the national working committee meeting of the Jokowi–Ma'ruf Amin campaign team in Surabaya, on the occasion of which Jokowi called on all officials on the team to explain infrastructure programs and clarify the PKI issues to the public.
"The point is, all of the team members, at both the national and regional level, have to be able to explain all the programs that we have been working on," Jokowi said. "They also have to explain to the people that it [the PKI issue] is not true and a lie." (foy/evi)
Join the discussions