'Those who litter here are monkeys': Greater Jakarta's litterbugs defy threats, warnings
Riska Rahman

The Jakarta Post
Jakarta |

Sat, November 3, 2018

| 10:43 am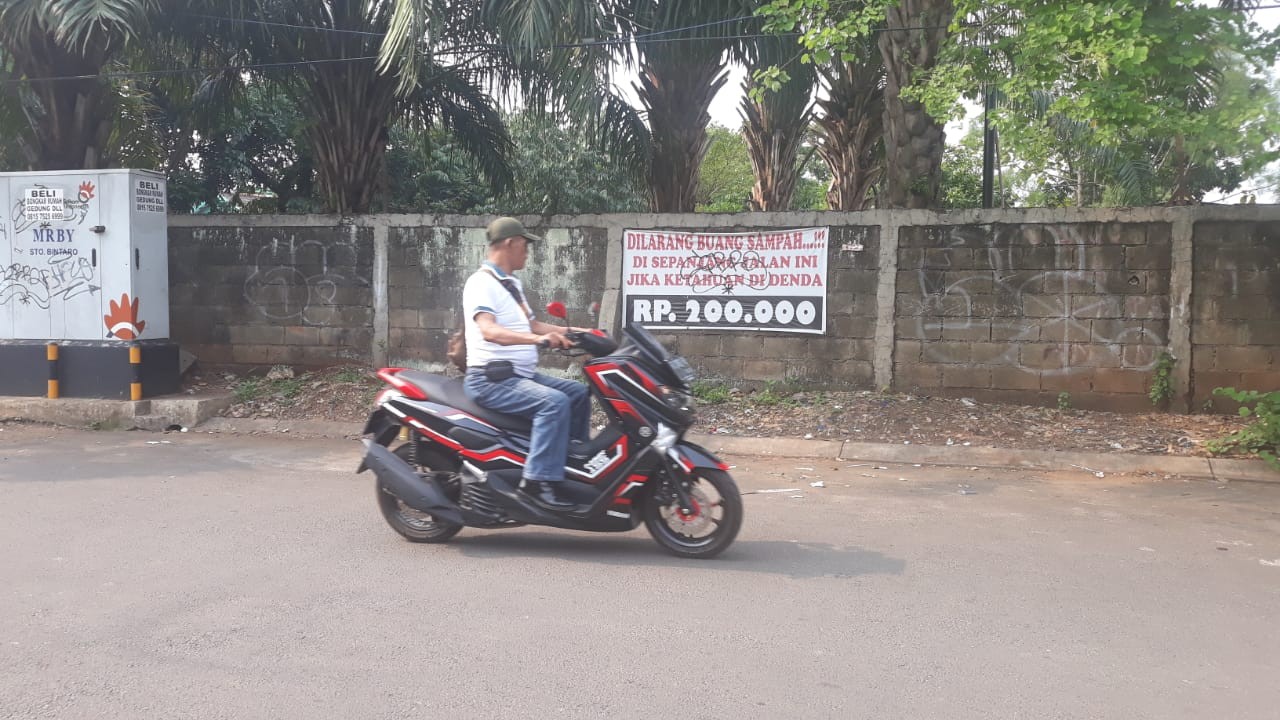 On a road that separates Jl. Nusa Jaya, Pondok Ranji and Bintaro Plaza Residence apartments in South Tangerang, a 2 meter by 1 meter white banner with faded red lettering plastered on a wall says "Do not litter on this road! Those who are caught in the act will be fined Rp 200,000 [US$13]". (JP/Riska Rahman)
Waste management is a challenging and never-ending issue faced by many administrations, including those in Greater Jakarta.
While administrations carry out programs to deal with the issue, some communities have also taken an approach of creativity and deterrence to prevent people from littering and keep their neighborhoods clean.
In Greater Jakarta, it often takes more than putting up a sign saying "no littering" to prevent litterbugs from littering.
On a road that separates Jl. Nusa Jaya, Pondok Ranji and Bintaro Plaza Residence apartments in South Tangerang, a 2 meter by 1 meter white banner with faded red lettering plastered on a wall says "Do not litter on this road! Those who are caught in the act will be fined Rp 200,000 [US$13]".
Right beside the banner, there is another smaller, newer-looking black banner showing a picture of a praying woman wearing a long, maroon veil with the words, "Oh, God, please strike the people who throw their garbage on this road with lightning!"
Although residents put up the banners a year ago, garbage comprising what looks like food waste and plastic was seen placed under the banners.
"Because of its seclusion, people always throw their garbage there because they know that nobody will catch them in the act," Ujang, 25, a resident who also set up an ice coconut stall 50 m away from the banners told The Jakarta Post on Thursday.
He added that those who throw their garbage away on the side of the road are mostly passers-by who do not live in the area.
People who throw their trash under the banners did not just leave small pieces of garbage such as plastic bottles. Often times, Ujang said he saw filled plastic bags containing food waste that emanated an unpleasant smell or even rubble from construction sites.
A similar banner was also found on the side of Jl. Aria Putra in Jombang, Ciputat, also in South Tangerang.
Residents who have had enough of seeing people throwing bags full of waste erected a blue, 3 meter by 1 meter banner stating "God, please take the lives of anyone who litters here!"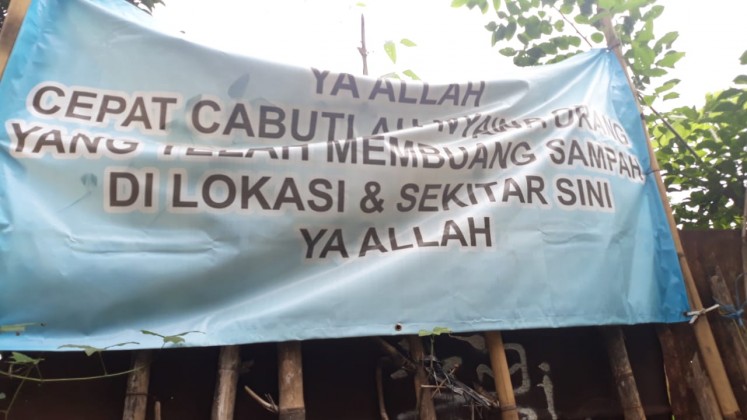 A banner, found on the side of Jl. Aria Putra in Jombang, Ciputat, in South Tangerang, says, "God, please take the lives of anyone who litters here!" (JP/Riska Rahman)
However, in contrast to the banners found in Pondok Ranji, the banner seems to have been effective in discouraging people from littering there.
"Usually, motorists and motorcyclists would stop and throw their dripping wet waste here," said 50-year-old motorcycle taxi driver Eko Purwanto.
"But since the sign was put up a few months ago, I don't think anyone has ever thrown their garbage there again."
Residents of South Tangerang may take a religious approach to prevent littering in their neighborhood, but other places around Greater Jakarta use a harsher way to warn litterbugs.
Damar Iradat, 27, said residents spray-painted a plain white wall in an alleyway in Tomang, West Jakarta, in which they likened people who use the alley as a dump site to apes.
It is not uncommon to see signs like "Only dogs litter here" or "Those who litter here are monkeys".
Social analyst from the University of Indonesia, Devie Rahmawati, said despite residents' creative efforts to discourage people from littering, signs might not always work.
"Our society has been desensitized after seeing threatening warnings or the use of profanity because many of them have always been exposed to such words, especially on social media," she told the Post, adding that the warnings would not create the necessary fear to deter people from littering.
Furthermore, she said, littering has also become a part of the culture for Jakartans and Indonesians alike, so the cautions would never be effective in changing such bad habits despite a litterbug's level of education or economic status.
To prevent people from further polluting the city with their trash, Devie said, local administrations should firmly enforce bylaws and fine litterbugs to help keep the city clean.

Join the discussions