They played dead on the ground: Survivor recounts OPM massacre
News Desk

The Jakarta Post
Jakarta |

Wed, December 5, 2018

| 01:31 pm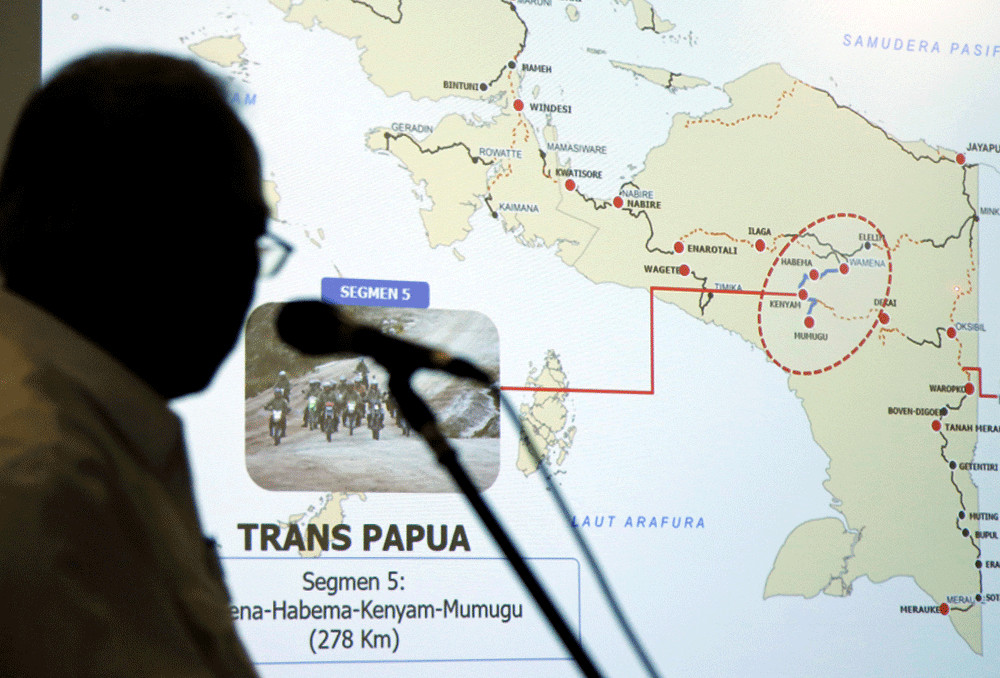 Far-flung terrain: Public Works and Housing Minister Basuki Hadimuljono displays a map of Papua during a news conference in Jakarta on Tuesday after at least 24 construction workers building a bridge in a remote district in Papua province were reportedly killed by a separatist group. (Reuters/Willy Kurniawan )
Jimmi Aritonang, a father of four, had only recently started his job as a foreman working on a bridge in Nduga regency, Papua, for state-owned construction company PT Istaka Karya when a nightmare ordeal began.
In the span of three days, Jimmi said he and 24 other Istaka Karya workers were kidnapped, tied up, forcefully marched and shot at by gunmen linked to the Free Papua Movement (OPM)
Jimmi, who told his story to the Cendrawasih military command and gave the first first-hand account of what had transpired, managed to escape by playing dead. But at least 19 of his fellow workers were killed by the rebels.
"Based on the testimony of a surviving witness [Jimmi], the number of victims who are confirmed to have been massacred by gunmen near the Puncak Kabo hill is 19," Cendrawasih military command spokesman Col. Muhammad Aidi said on Wednesday as quoted by kompas.com.
Jimmi told Aidi that all the employees of state-owned construction firm PT Istaka Karya in Nduga regency, Wamena, had decided not to work on Dec. 1, because armed rebels were celebrating the anniversary of the National Liberation Army of West Papua that day.
Despite the precaution, on Saturday afternoon around 50 armed gunmen raided the workers' camp and forced all 25 people to walk toward the Karunggame River.
On Sunday, the workers were once again forced to move, this time toward the Puncak Kabo hill. On the way there, they were ordered to squat and line up in five rows.
"Not long after that, the gunmen started to dance around while yelling out jungle noises unique to rural Papua. Then they brutally shot at the workers. Some workers were shot dead on the spot while others played dead on the ground," Aidi said.
The gunmen then left the victims and continued their journey to Puncak Kabo. The 11 workers who played dead then attempted to make their escape.
"Unfortunately, they were spotted by the gunmen and were chased. Five people were caught and killed, while six others managed to escape to Mbua. Two remain missing while four, including Jimmi Aritonang, were saved after being secured by TNI [Indonesian Military] forces in Mbua," he said.
Jimmi's ordeal did not end there though, as early on Monday, the TNI post where Jimmi and his friends were being secured was attacked by a group of rebels armed with guns, arrows and spears.
"It turned out that they were still chasing [the workers]," Aidi said.
One soldier was killed and another injured in the attack.
He added that a joint TNI-National Police task force had since successfully secured Mbua and moved the victims.
Jimmi's brother-in-law, Lefrend Siahaan, said his family was overjoyed by Jimmi's "miracle" escape.
"Now that we know he survived, our extended family is so relieved," he said. "Thank you, Lord Jesus. You always provide Your miracles to us. Thank you, Lord." (kmt)
Join the discussions